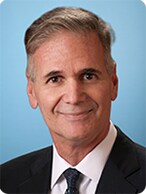 College: Duke University, 1976
Medical education: Washington University, MO, 1980
Residency: Duke University, Orthopaedic Surgery, 1986
Fellowship: Boston Children's Hospital/Harvard University Medical School, Pediatric Orthopaedic Surgery, 1987
Dr. Devito is the Director of the Spine Program at Children's and specializes in the treatment of scoliosis and other complex spinal disorders and deformities in children, adolescents and young adults. Dr. Devito focuses on spondylolytic disorders and degenerative disc disease in adolescent athletes.
Dr. Devito has more than 30 year of surgical orthopaedic experience. He has studied the Russian-created Ilizarov external fixator in Europe and became one of the founding members of ASAMI-North America, now known as the Limb Lengthening and Reconstruction Society. He has also studied advanced techniques with internationally renowned spine surgeons in France and Germany and continues to push the envelope of modern spinal innovations.
Dr. Devito is a leading surgical authority on the use of robotics for scoliosis surgery in children and adolescents. He is also experienced with the VEPTR device used to treat complex chest wall deformities seen in congenital scoliosis and early onset scoliosis. He received the Health-Care Innovations Heroes award for his work in this area. Dr. Devito also uses the magnetic growing rod (MAGEC) as another tool to help manage early onset scoliosis.
Clinic locations
Area of focus
Spinal care
Limb deformity
Clinical interests
Scoliosis and spinal deformities
Spondylolysis
Degenerative disc disease
Research interests
Design and development of an implant for the repair of spondylolytic defects in the lumbar spine (pars repair)
Planning software to analyze and predict the three-dimensional correction of spinal deformity
Prospective data collection and outcome evaluation for the use of robotic guidance in spinal surgery
Effect of pedicle screw fixation on global spinal balance in scoliosis
Publications
Professional affiliations
American Academy of Orthopaedic Surgeons
Pediatric Orthopaedic Society of North America
American Academy of Pediatrics, fellow
North American Spine Society
Association for the Study and Application of the Methods of Ilizarov–N. America
Group International Cotrel-Dubousset
Piedmont Orthopaedic Society
Southern Orthopaedic Association