What is nephrology?
Nephrology is a specialty that treats conditions and diseases of the kidneys.
What do pediatric nephrologists treat?
Congenital kidney problems
Cystic kidney disease
Enuresis
Glomerulonephritis
Hematuria (blood in the urine)
Hemolytic uremic syndrome (HUS)
Hypertension (high blood pressure)
Kidney failure
Kidney stones
Nephrotic syndrome
Proteinuria (protein in the urine)
Urinary tract infections
Why choose our pediatric Nephrology Program?
Children's Healthcare of Atlanta is home to one of the leading pediatric nephrology programs in the country, ranked No. 11 by U.S. News & World Report. At Children's, our team of pediatric-trained nephrologists treats children and teens who have a broad range of kidney problems, whether common, complex or rare.
The nephrology team at Children's includes 12 full-time pediatric nephrologists who have more than 150 years of combined experience. Our pediatric Kidney Transplant Program is the largest in the Southeast and one of the largest in the U.S. Likewise, our pediatric dialysis unit is one of the largest in the country. Our cutting-edge research has led to U.S. Food and Drug Administration (FDA) approval for four new treatments for children with kidney disease.
Through Children's Physician Group, our pediatric nephrology practice offers convenient outpatient clinics throughout metro Atlanta and surrounding communities to evaluate, diagnose and treat children with kidney problems.
Chronic Kidney Disease (CKD)
The Mary Boyle Chronic Kidney Disease Clinic is located at Children's Egleston Hospital. At this clinic, we:
Treat children who have potential medical complications from chronic kidney disease, such as anemia, bone disease, high blood pressure and poor growth.
Prepare children for dialysis and kidney transplant, when necessary.
Deliver quality medical care while addressing the psychosocial needs of our patient families.
Allow patients to see a full range of our CKD experts during one clinic visit.
Chronic Dialysis Clinic
Our stand-alone pediatric dialysis clinic is one of the largest in the country, and offers hemodialysis and peritoneal dialysis. A multidisciplinary team of physicians, nurses, social workers and kidney dietitians work together to provide exceptional care for children who are experiencing kidney failure.
General Nephrology
In our General Nephrology Clinic, we see children with a variety of kidney problems. Some of the most common conditions that we treat include hydronephrosis, kidney stones, recurrent urinary tract infections, blood or protein in the urine, cystic kidney disease, nephrotic syndrome and glomerulonephritis.
Pediatric Hypertension
Our multidisciplinary approach to care has made our Hypertension Clinic one of a few of its kind in the Southeast.
This clinic provides comprehensive care to infants, children and teens who have high blood pressure. The team includes pediatric nephrologists, a registered nurse and a nutritionist.
Our Hypertension Clinic offers:
Evaluations
Consultations
Nutritional evaluation and intervention
24-hour ambulatory blood pressure monitoring
Kidney Transplant Clinic
Our Kidney Transplant Clinic is one of the largest pediatric kidney transplant programs in the Southeast, providing full pre- and post-transplant services for children who need a kidney transplant. Since our program's inception in 1980, we have performed more than 740 lifesaving pediatric kidney transplants.
Learn more about kidney transplants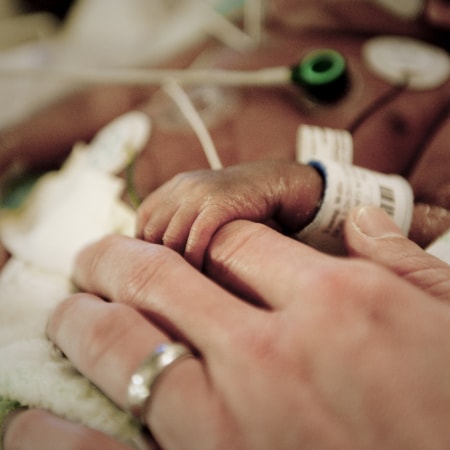 Leading Care for Kidney Failure
The first pediatric hospital in the Southeast to offer life-saving dialysis device
Children's is proud to be one of the first pediatric hospitals nationally to offer Cardio-Renal Pediatric Dialysis Emergency Machine (CARPEDIEM), a ground-breaking dialysis device designed specifically for infants with kidney failure or injury.
Resources for Patient Families
Nephrologists
Advanced practitioners
Brittney Arnold, CPNP
Meredith Combs, CPNP
Carissa Hayes, CPNP
Elizabeth LaHaie, CPNP
Melissa Trabold, CPNP
Anh Trieu, PA
Chronic kidney disease and pre- and post-kidney transplant clinics are held at the Emory Children's Center Building, while general nephrology and hypertension clinics are held at our other neighborhood locations.