Children's Healthcare of Atlanta offers you the chance to build a stellar academic career with unmatched opportunities for collaboration among some of the best research and academic centers in the nation. We work with the following neighboring institutions to develop cutting-edge treatments and technologies to answer the most perplexing childhood medical questions:
At Children's, you also gain exposure to a high volume and variety of cases in one of the nation's largest pediatric healthcare systems. Our various campuses give you firsthand experience working in an academic setting, a private practice setting and an urban hospital setting.
Awards and recognition
Children's is constantly striving to raise the bar in pediatric healthcare, and our efforts have not gone unnoticed.
US News & World Report: Children's consistently ranks among the nation's top pediatric hospitals. This report ranks hospitals for excellence in outcomes, program structure and national reputation.
Seramount: For the 18th consecutive year, Children's has been named one of the 100 Best Companies by Seramount, thought leaders focused on improving diversity, equity and inclusion in the workplace. Their experts recognized our commitment to forward-thinking employee programs in women's advancement, childcare assistance, mentorship and flexibility
Atlanta Business Chronicle: Children's has been recognized on the Atlanta Business Chronicle's lists of "Atlanta's Healthiest Employers," "Best Places to Work" and "Atlanta's 25 Largest Employers." Our professionals have been consistently recognized as finalists and winners for annual Atlanta Business Chronicle Healthcare Heroes Awards.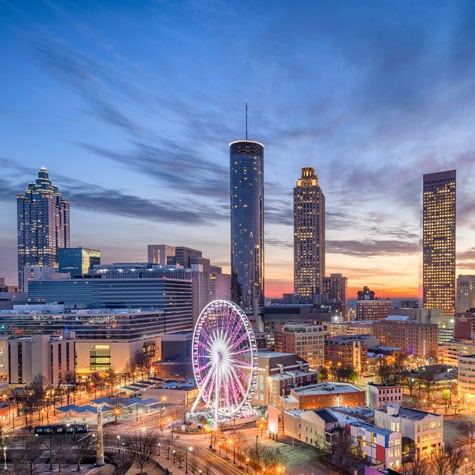 Why Atlanta?
Modern, world-class, rich in history.
Ranked among the fastest-growing metro areas in the country, Atlanta combines Southern hospitality with the amenities of any world-class city. More than 6.5 million metro Atlanta residents enjoy the city's rich history, cultural diversity and lower cost of living.
EXPLORE ATLANTA
As the primary pediatric teaching site for both Emory University and Morehouse School of Medicine, Children's is dedicated to shaping the future of healthcare through our fellowship offerings. Each of our fellowships is accredited by the Accreditation Council for Graduate Medical Education (ACGME).
Learn More About Children's and Get an In-Depth Look at Some of Our Opportunities
Children's at a glance

With more than 60 pediatric specialties and programs, top healthcare professionals, and leading research and technology, Children's is the trusted leader in caring for kids.

General Pediatric Residency Program

Children's and Emory University provide world-class training through the General Pediatric Residency Program, sub-specialty programs and fellowship programs.

Pediatric Cardiology Program

Children's offers a three-year fellowship program for promising physicians interested in an outstanding experience at an academically productive and clinically robust regional referral heart center.

Pediatric Hematology/Oncology Fellowship Program

Children's offers a three-year fellowship in collaboration with Emory University School of Medicine—one of the nation's largest training programs of its kind.

Pediatric Nephrology Fellowship Program

Our goal is to train academically oriented pediatric nephrologists who will be involved in a lifetime of excellence in patient care, teaching and research.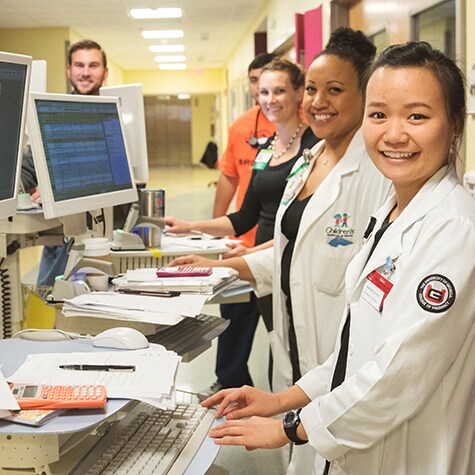 General Pediatric Residency Program
Developing pediatricians with clinical acumen and a lifelong passion for inquiry
Children's serves as the pediatric teaching facility for the Emory University General Pediatric Residency Program. Graduates of this program are well-prepared to enter general pediatric practice, subspecialty training, or a career in teaching and research.
LEARN MORE
As a participant in the Nonclinical Summer Internship Program at Children's, you will work on meaningful, project-based assignments for 10 weeks during your summer break. You will gain valuable hands-on experience that will prepare you for the next steps in your education or career. Interns will interact with business partners and contribute to important projects from Day 1. The internship program will expose you to the Children's organization through a variety of events, including meet and greets with key leaders, department-specific information sessions, hospital tours and more.
Children's offers internships in various nonclinical departments across the organization, including public relations, foundation, quality and information technology. Summer internship opportunities are listed on the Children's career portal.
Note: Children's does not offer a Clinical Summer Internship Program.
Qualifications
Children's recruits college students who meet the following criteria:
Progression toward an undergraduate or graduate degree in a field related to the internship (typically rising junior or above)
GPA of 3.0 or above on a 4.0 scale, preferred
Relevant coursework and/or projects
Strong work ethic and demonstrated initiative
Solid process, analytical and time management skills
Demonstrated leader with strong communication skills
Extensive community service and/or extracurricular activities
Proficient with Microsoft Office Suite (Word, Excel, PowerPoint, Outlook)
Authorized to work in the U.S.
Children's is not able to hire students who require a visa sponsorship.
Note: Internship offers are contingent upon the satisfactory completion of a pre-employment health screen (to include drug and nicotine screen) and a thorough background check, as well as demonstrated evidence of the applicant's ability to work for any U.S. employer.
Important dates
Summer internship opportunities will be posted on the Children's career portal in early January. Interested students must apply online to be considered. Applications are typically accepted through early February. The most qualified candidates will be contacted by a member of the recruiting team for an interview.
The internship program usually begins after Memorial Day and runs through July.
Location
Most nonclinical summer internships are at the Children's Support Center, located northeast of downtown Atlanta off Interstate 85 at North Druid Hills Road. The Support Center is home to the nonclinical departments that support Children's.