Children's is constantly striving to raise the bar in pediatric healthcare, and our efforts have not gone unnoticed.
US News & World Report: Children's ranks among the nation's top pediatric hospitals on the U.S. News & World Report list of "Best Children's Hospitals." Recognized as one of the most comprehensive listings of its kind, the report ranks hospitals for excellence in outcomes, program structure and national reputation in 10 pediatric specialty areas.
Seramount: For the 18th consecutive year, Children's has been named one of the 100 Best Companies by Seramount, thought leaders focused on improving diversity, equity and inclusion in the workplace. Their experts recognized our commitment to forward-thinking employee programs in women's advancement, childcare assistance, mentorship and flexibility.
Atlanta Business Chronicle: Children's has been recognized on the Atlanta Business Chronicle's lists of "Atlanta's Healthiest Employers," "Best Places to Work" and "Atlanta's 25 Largest Employers." Our professionals have been consistently recognized as finalists and winners for annual Atlanta Business Chronicle Healthcare Heroes Awards.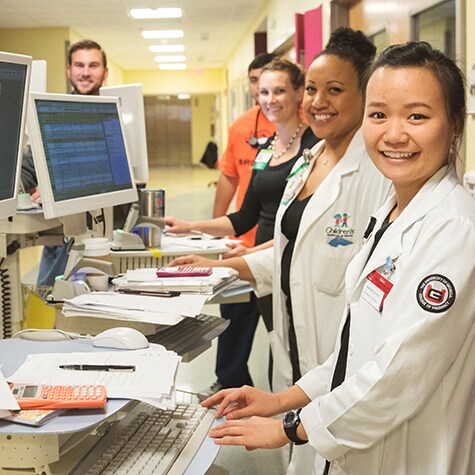 Pediatric Core Residency Program
Developing pediatricians with clinical acumen and a lifelong passion for inquiry
Children's serves as the pediatric teaching facility for the Emory University Pediatric Core Residency Program. Graduates of this program are well-prepared to enter general pediatric practice, subspecialty training, or a career in teaching and research.
LEARN MORE
As the primary pediatric teaching site for Emory University's Accreditation Council for Graduate Medical Education (ACGME) accredited fellowship offerings, Children's Healthcare of Atlanta is dedicated to shaping the future of healthcare. Children's also offers additional accredited (POSNA) and post-accreditation pediatric sub-specialty fellowships.