Learn More about Our Research Program
How Is Children's Leading Innovative Research?
Without innovative medical research, we wouldn't have knowledge of or access to lifesaving treatments available to patients today. And without collaboration with our academic and scientific partners, our healthcare institution wouldn't be prepared to tackle the many medical issues our specialized pediatric doctors see each and every day.
In collaboration with our metro Atlanta partners, Children's Healthcare of Atlanta pediatric research studies are conducted by our physicians, scientists, and a mix of other clinical practitioners and academics. These researchers seek to answer questions about the health of our patient population, which includes infants, toddlers, teens and young adults up to 18 years old. Some studies involve an innovative medical treatment, such as a new medicine, medical instrument or test, while others focus on a new technique or innovative clinical method.
By using what we discover through clinical trials and studies, Children's provides current evidence-based quality care to children and helps make sure our doctors and clinical staff—as well as medical professionals worldwide—know about recent breakthroughs in pediatric care.
Our research covers everything from a better understanding of how a cell and its molecular machinery work (basic research) to applying this knowledge to pediatric diseases in the lab (translational research) and exploring new medical strategies and treatments in children (clinical trials), as well as looking at large groups of children with a particular disease to better understand it (epidemiological studies).
Our Pediatric Research Collaborations
We work with neighboring academic and scientific institutions to answer questions about the most difficult childhood medical conditions through research. Collaborations with the following institutions have helped shape groundbreaking research for decades: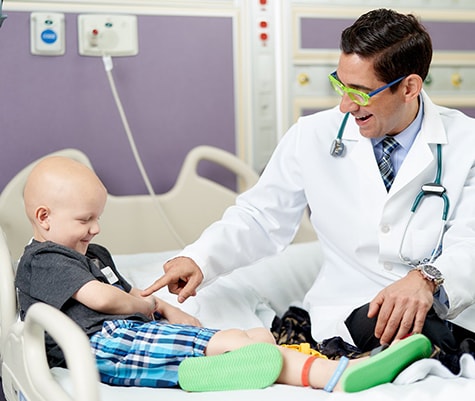 Our team of innovative researchers is involved in more than 1,500 active studies in the community, with an emphasis on:
View All
Fellowships, Residencies and Internships
Choosing Children's for your fellowship, residency or internship enables you to collaborate with some of the best academic and medical research centers in the country while also gaining experience at one of the nation's largest pediatric healthcare systems. Learn more about our programs.
Transforming the Future of Pediatric Medicine
Shaping tomorrow's care
By collaborating with our neighboring academic and scientific institutions, as well as building a transformative North Druid Hills campus that will include a new hospital, Children's is focused on the future of pediatric research and treatment.
TAKE A PEEK