Pediatric ophthalmologists offer medical and surgical treatment of eye conditions for children from infancy to age 18. Common conditions treated at Children's Healthcare of Atlanta include:
Eye muscle disorders
Tear duct problems
Eyelid defects or problems
Pediatric cataracts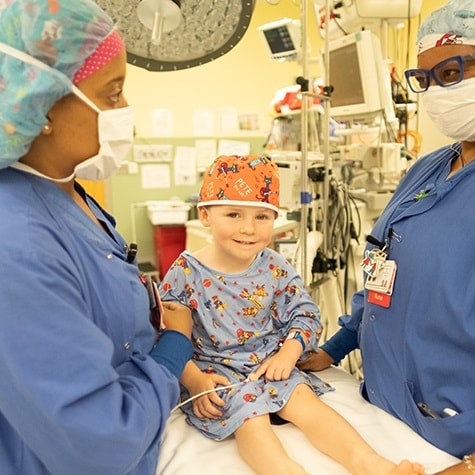 Nationally Recognized Care
We are the first facility in Georgia with a Level 1 Children's Surgery Verification.
We have earned Level 1 status from the American College of Surgeons for Children's Surgery Verification—its highest designation. No other hospitals in Georgia have achieved this level. So when your child needs surgery, you can take comfort in knowing he is in a facility that meets the highest distinction.
Learn more
Ophthalmologists on the Children's medical staff are pediatric-trained and perform a wide range of surgical procedures to correct eye defects or conditions in children, teens and young adults.
The surgeons on team use procedures, supplies and equipment designed especially for children. Our anesthesiologists are also specially trained to keep kids safe and comfortable during and after surgery, and our entire staff is committed to improving the quality of life for children and families.
Pediatric Anesthesia
Some facilities can't guarantee a pediatric anesthesiologist for your child—we do.
While some hospitals may not be staffed to meet this need, at Children's, every baby, child and teen receives care from a pediatric anesthesiologist who understands best practices for growing bodies.
Learn more