What are orthotics?
Orthotics, or orthoses, are medical devices a child wears to help correct a condition of the bones or muscles. Patients diagnosed with spina bifida, cerebral palsy, a spinal cord injury or stroke may benefit from an orthosis. Orthoses can help control a joint, assist in movement or aid in rehabilitating a fracture.
What are prosthetics?
Prosthetics, often referred to as artificial limbs, are medical devices created to replace all or part of a child's missing limb that may be a result of a disease, a trauma or a condition present at birth. Prostheses help restore the functions of a missing body part.
What do orthotists and prosthetists do?
Our experts in orthotic and prosthetic care at Children's Healthcare of Atlanta, known as orthotists and prosthetists, are specialists in creating custom designs for children who need orthopedic braces or artificial limbs. We apply the latest advances in technology so that growing children can continue to reach functional goals at home, in the classroom and while playing.
Orthotic and prosthetic devices are prescribed by a doctor and can help children who have:
Limb deficiency: full or partial loss of an arm or leg
Cerebral palsy: disorder affecting movement and coordination
Spina bifida: incomplete closing of the spinal column
Scoliosis: curves of the spine
Plagiocephaly: a flattening of an infant's head on the back or side
Brachycephaly: a flattening that is mostly straight across the back of an infant's head
Pectus carinatum: a condition, also referred to as "pigeon chest," in which part of the sternum (breastbone) protrudes
Clubfoot: a birth defect in which a child's foot is twisted out of shape or position
Traumatic brain injury: usually results from a violent blow or jolt to the head or body
Limb sparing: surgery to preserve a limb
Burns: damage to the skin or deeper tissues caused by the sun, hot liquids, fire, electricity or chemicals
Neurological disorders: diseases of the brain, spinal cord, cranial nerves, peripheral nerves, nerve roots, autonomic nervous system, neuromuscular junction and muscles
Congenital Muscular Torticollis
Researched strategies to help effectively treat CMT
Congenital muscular torticollis (CMT) is a common postural deformity in newborns that can lead to long-term consequences if untreated. Colleen Coulter, PT, DPT, PhD, PCS, Physical Therapist at Children's, recently co-authored a research study with strategies to effectively treat some of our smallest patients.
Learn More
Depending on your child's needs, Children's offers a number of programs to patients and families to help determine how to best care for your child.
Cranial Remolding Helmet: Proper Fit and Care
Proper fit and care are important for your child's cranial remolding helmet

Learn the tips to properly take care of your child's cranial remolding helmet, whether he is wearing it or not, and what to look out for to help ensure a proper fit.

In addition to our board-certified orthotists and prosthetists, the team includes orthopedic surgeons, nurses, physical therapists, occupational therapists and pediatric physiatrists, who all specialize in rehabilitation medicine. Specialized physical therapy services are available for patients who are referred for limb difference or cranial remolding treatment. All team members are highly trained and experienced in caring for children and teens. We can help your child physically, emotionally and socially overcome barriers and achieve their goals.
Certified prosthetists orthotists
Emma Blass, MSPO, CPO, LPO
Karl Barner, CPO, LPO
Amy Bridges, CPO, LO
Catherine Leigh Davis, MSPO, CPO, LPO, FAAOP
Kiera Daigle, CPO
Brian Emling, MSPO, CPO, LPO
Jennifer Galbraith, MSPO, CPO, LPO
Rebecca Hernandez, CPO, LPO
Mark Holowka, MSPO, CPO, LPO, FAAOP
Laura Klagstad, MSPO, CPO, LPO
Denise Larkins, MSPO, CPO, LPO
Laura Levinson, MSPO, CPO, LPO
Scott Thach, MSPO, CPO, LPO
Richard Welling, MSPO, CPO, LPO
Certified prosthetists
Brian Giavedoni, MBA, CP, LP
Leesa Meyers, CP, LP
Certified orthotists
Jessica Corso, CO, LO, FAAOP
Staci MacKay, CO, LO
Chelsea Richards, CO, LO
Andy Wolfe, CO, LO
Certified orthotic assistants
Greg Carey, COA
Paul Jackovitch, CO, LO
Megan Shulk, COA
Physical therapist
Colleen Coulter-O'Berry, PT, DPT, PhD, PCS
Jill Cannoy, PT, DPT, PCS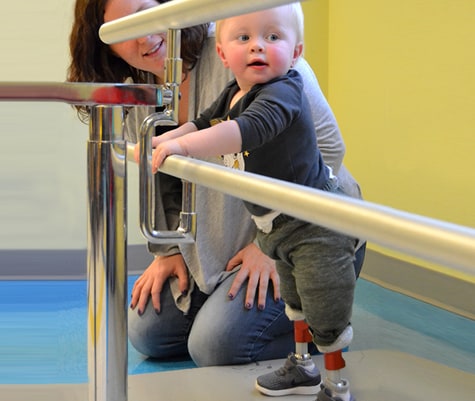 Support and resources for families