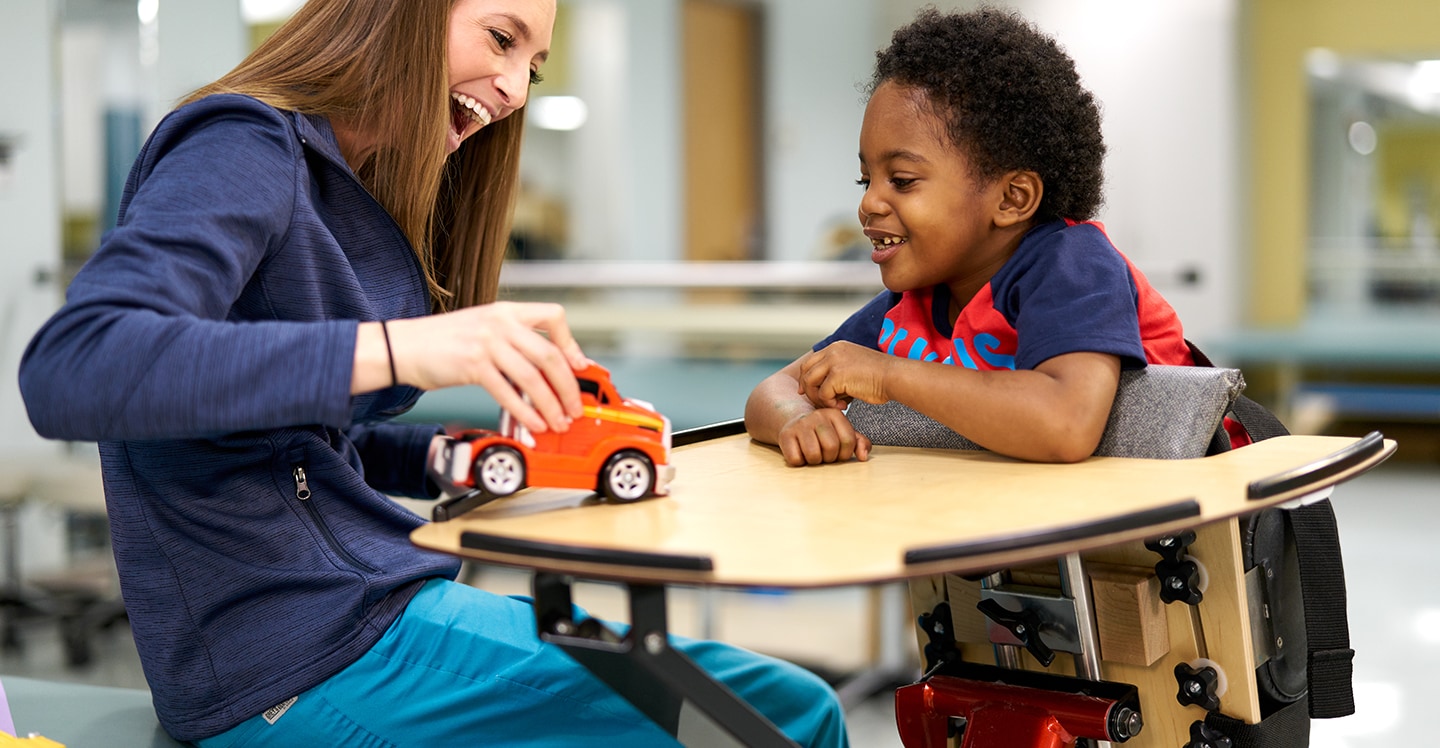 Children's Healthcare of Atlanta provides pediatric rehabilitation services to children with impairments due to accidents, illnesses, injuries, congenital (present at birth) defects, syndromes and other conditions. Depending on their needs and the recommendations of our rehabilitation specialists, kids from birth to age 18 can begin rehabilitation during any of the four treatment phases: acute, inpatient, day rehabilitation or outpatient.
In addition, we measure and track how our patients are doing at admission, during inpatient and outpatient treatment, and when they return home. This allows us to evaluate our treatments and help make sure we're consistently providing high-quality care. The results from recent years confirm that we've delivered superior rehabilitative care and assistance with recovery.
We provide rehabilitative care for conditions that include:
We also offer specialized services for teenagers because they confront challenges involving maturity, physical changes, and intellectual and sexual awareness.
Our pediatric rehabilitation programs deliver a wide range of services to assist patients and their families throughout recovery, including:
Director, Rehabilitation Services
Susannah Kidwell, MS, CCC-SLP
Manager, Clinical Operations
Destiny LaShoto, BSN, RN, CPN
Manager, Rehabilitation Community Outreach
Manager, Orthopedic and Rehabilitation Services
Els Van den Eynde, OTR/L, MBA, CBIST
Pediatric physiatrists
Speech pathologists
Sarah Harmon
Nashifa Momin
Pediatric nurse practitioners
Fallon S. Crews, CPN
Fawn Hastay, CPNP
Anna-Lisa M. Tarabicos, CPNP
Nurse coordinators
Dana Dinnerman, RN, CPN
Jawenia Doyley, RN
At Children's, we want to make sure patients and families are informed about the patient's rehabilitation. Therefore, we offer a number of helpful resources to help guide parents through care.