A Letter from our Chief Nursing Officer, Linda Cole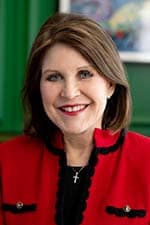 Ever since my mom handed me a book about nurses with stories from as far back as the civil war, I learned about nurses' dedication to other people, and I realized I wanted to be a part of a profession this special. To this day, I see that same fire in the hearts of our nurses at Children's. Whether new graduates or experienced nurses, our nurses embrace an enduring commitment to exceptional care and providing a meaningful experience for our patients and families—even through the challenges of a global pandemic—that continues to blow me away each day.
As a national leader in pediatrics with an essential role in our community, I'm honored to advocate for our nurses and frontline staff in my role as Chief Nursing Officer at Children's. The unique skills, knowledge and compassion our nurses embody truly makes the care we provide stand out. The results of their hard work invite thousands of expressions of gratitude from families each year. This quality of care is also why the American Nurses Credentialing Center (ANCC) has designated Scottish Rite and Egleston as Magnet hospitals and Hughes Spalding as a Pathway to Excellence hospital.
Our nursing Professional Practice model encapsulates the professional identity of our nurses—the definition of what it means to be a Children's nurse and how we provide the highest-quality patient-centered care for our patients and families. Our professional practice model not only guides us in evaluating our professional nursing practice, but it also supports our nurses in advancing in their careers. Despite the many challenges we have faced throughout healthcare recently, the impact of our nurses will continue to show in the outcomes of our patients and their families for years to come. I invite you to see just a few of the amazing outcomes and stories in the latest annual nursing report.
Sincerely,
Linda Cole, MBA, BSN, RN, FACHE, NEA-BC
Chief Nursing Officer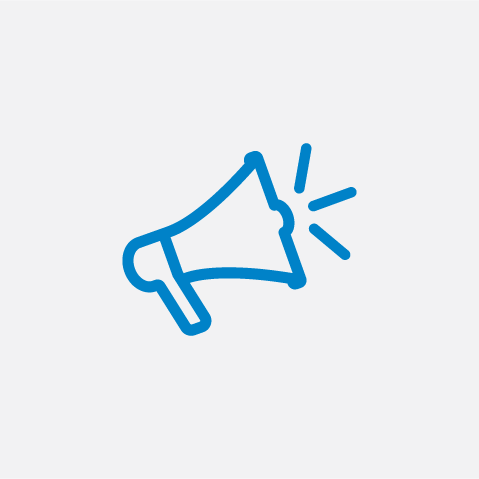 Egleston Hospital Receives Second Prestigious Magnet® Designation
Conferred by the American Nurses Credentialing Center (ANCC), the world's largest and most prestigious nurse credentialing organization, Magnet Recognition Program® designation is the highest international distinction a healthcare organization can receive for nursing care.
Read More
Professional Nursing Practice at Children's
The professional practice model (PPM) is a framework that serves as a guide for defining, overseeing and evaluating professional nursing practice to ensure and support the advancement of the nursing profession at Children's. The PPM, also referred to as our practice framework, represents nurses' professional identity through the following eight components that describe how nurses at Children's practice, collaborate, communicate and develop professionally to provide patient-centered care of the highest quality: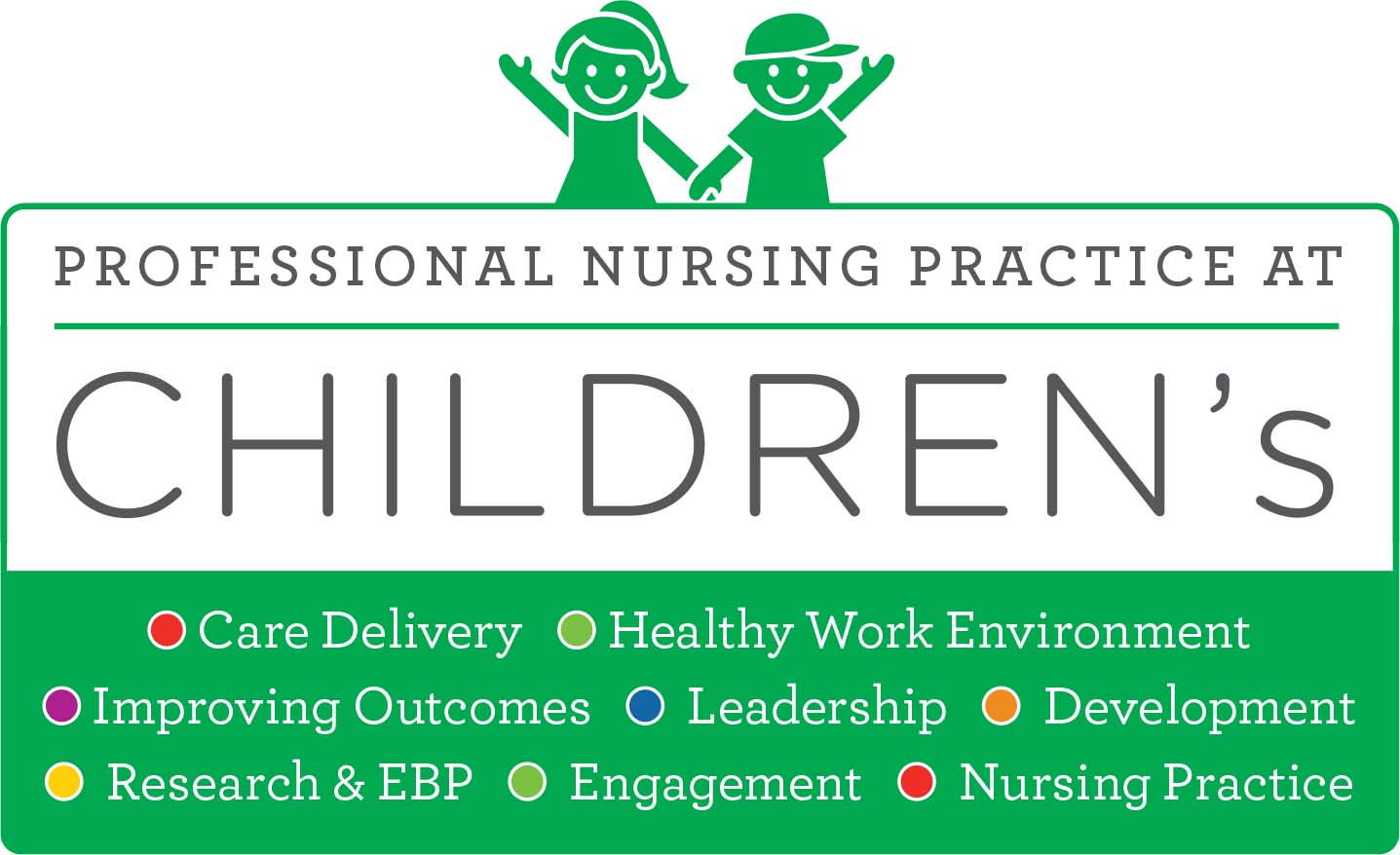 Care Delivery
The foundation of practice begins with care delivery, making sure patients and families remain at the center of practice. Relationship-based care (RBC) is our model of care delivery that cultivates nurses' key relationships with patients, colleagues and each other.
Healthy Work Environment
To find balance within the key relationships of RBC, nurses and interprofessional partners foster a caring and healing environment and have the resources required for safe, patient-centered care delivery.
Improving Outcomes
Creating and sustaining a culture of safety is vital to improving outcomes and the level of care provided to patients.
Leadership
Transformational leaders provide strategic vision for nursing through leadership support and advocacy, and they empower nurses at all levels and across all settings to share in decisions that affect their practice.
Development
Nurses are committed to lifelong learning and have opportunities for professional development. Nurses teaching and developing their peers is essential to passing the profession on to the future.
Research and Evidence-Based Practice
Clinical inquiry and evidence-based practice enables nurses to identify new knowledge, apply innovative approaches to care delivery and implement the best care for patients.
Engagement
Professional recognition and valuing nurses for their contributions to the practice support professional advancement. Nurses are committed to serving patients in the community through healthcare outreach.
Nursing Practice
Demonstrating professional accountability through practice standards supports autonomous nursing practice. Advanced nursing practice demonstrates clinical expertise and encourages top-of-license practice.
By the nature of the profession, nurses are committed to lifelong learning. By offering high-impact programs with a reduced time commitment, Children's provide critical training and development for our nurses, without compromising the time needed to do their jobs effectively.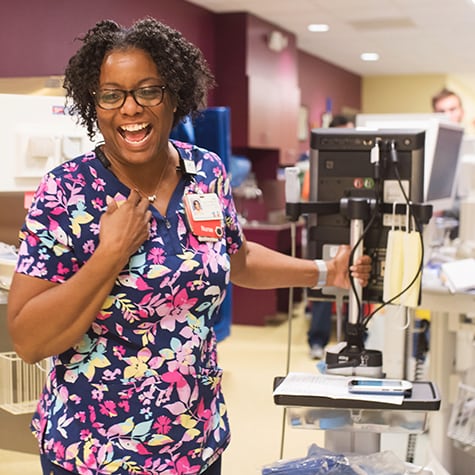 Onboarding Program
We provide a comprehensive onboarding program for experienced nurses and recent grads.
At Children's, we teach you everything you need to know about being a pediatric nurse. Whether you are an experienced nurse switching from adult care to pediatric care or a recent graduate, we have the resources and tools to help you make a successful transition.

LEARN MORE
Advancing Your Nursing Career
The Children's My Nursing Career Path Program offers direct patient care nurses a variety of development opportunities and allows nurses to build a customized career portfolio based on their interests. The purpose of the program is to promote career development and raise the bar of professional excellence among clinical nurses while also providing recognition and advancement opportunities.
The program outlines flexible criteria for demonstration of excellence within four domains of professional nursing practice at Children's: practice, engagement, development and outcomes. Clinical nurses can earn points by documenting their roles and specific projects. The program provides suggested learning activities for clinical nurses who wish to further explore related development opportunities.
My Nursing Career Path Levels
Clinical Nurse 1 (CN1)
Clinical Nurse 2 (CN2)
Clinical Nurse 3 (CN3)
Clinical Nurse 4 (CN4)
Clinical Nurse 5 (CN5)
Education Assistance
Children's encourages learning, development and continuing education and understands the value of supporting employee growth. In addition to an extensive course catalog provided through the Learning Department to help employees learn new skills, Children's also offers a program for educational assistance. Employees seeking to further their education may be eligible for financial assistance for classes through the Children's Education Assistance Program. Regular full-time and part-time employees with at least six months of service to Children's are eligible to apply for the program.
Continuing Medical Education
Looking for upcoming CME opportunities?
Children's offers a variety of continuing medical education (CME) opportunities, including conferences, workshops and web-based programs.
Learn More
Shared Leadership
Shared Leadership is an interprofessional, collaborative governance structure where members share in decision-making that impacts professional practice and the work environment. Children's Shared Leadership structure includes councils at the system, campus, and unit levels. These councils play a vital role in ensuring nurses and interprofessional collaborative partners have an active role in making decisions that impact professional practice. Through Shared Leadership, members are responsible and accountable for defining, implementing, and evaluating professional practice. The structure of Shared Leadership is part of the Leadership component of our Professional Practice Model (PPM), where nurses share in decisions that affect nursing practice.
Nursing Leaders at Children's
Linda Cole, MBA, BSN, RN, NEA-BC, FACHE
Chief Nursing Officer
404-785-2080
linda.cole@choa.org
Angela Vangarelli, MSN, RN, CPN, NE-BC
Vice President, Nursing and Hospital Operations, Scottish Rite Hospital
404-785-4287
angela.vangarelli@choa.org
Cheryl Head, MBA, BSN, RN, NE-BC
Vice President, Nursing and Hospital Operations, Egleston Hospital
404-785-1269
cheryl.head@choa.org
Children's Healthcare of Atlanta is dedicated to advancing the science of pediatric nursing. Children's recognizes that a robust program of nursing research is essential to the provision of the highest quality patient care and the overall advancement of nursing as profession. The program of Research and Evidence-Based Practice (EBP) provides the necessary resources and leadership to ensure that care delivery is data-driven and systematically evaluated.
Within this program, the nurses at Children's are provided with:
Expert support to develop and test innovative, cost-effective practice and models of care
Continuous mentorship and educational activities
Access to research literature and understanding a system of review to determine best practice
Clinical research support
Technical and methodological assistance such as data management, IRB protocol development and survey design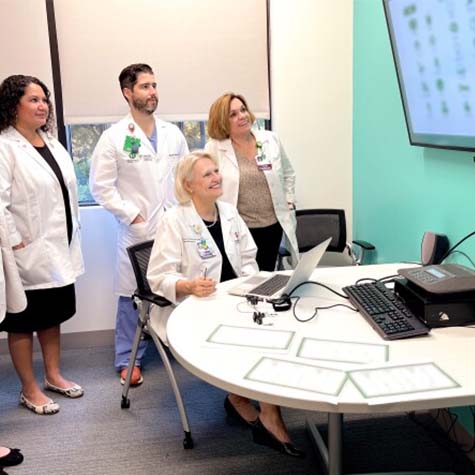 Children's Nursing Research Department awarded J&J Research Grant
A team of Children's nurses aim to create an interactive nursing communication application to overcome language barriers and help clinical staff efficiently respond and provide care to limited English proficiency (LEP) patients.
learn more