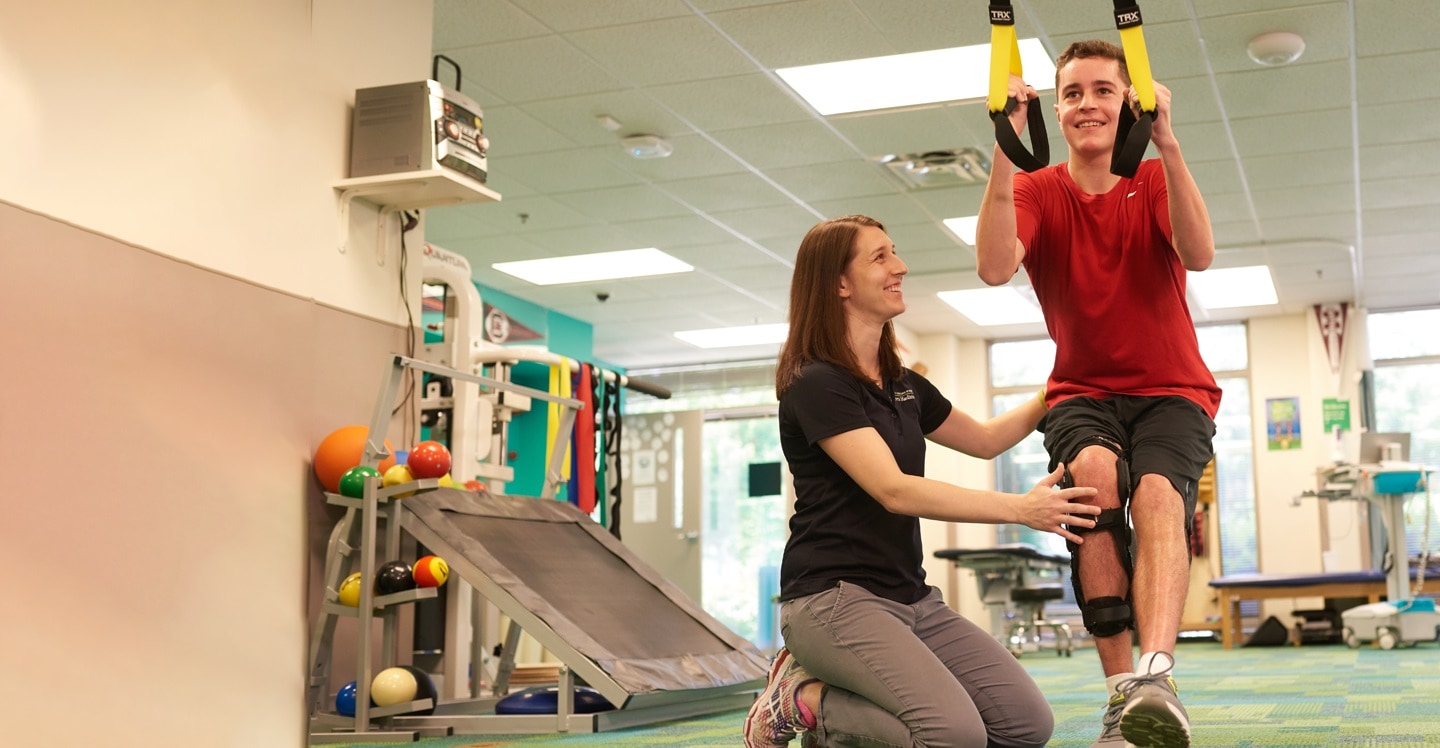 Children's Healthcare of Atlanta pediatric sports physical therapists understand the athletic demands of kids and teens who play competitive sports. And since growing athletes are subject to overuse issues due to sport specialization and year-round sport participation, our team is trained to identify how an injury could limit your athlete's ability to perform. We work to address these issues so your teen can return to sports as quickly and safely as possible after an injury. Our pediatric sports physical therapists also specialize in identifying the proper mechanics of sport-specific movements, helping pinpoint and fix incorrect mechanics. In addition, we teach ways to prevent injuries, keeping your teen in the game and preparing them for a full return to an age-appropriate level of activity and sports participation.
What makes teen sports physical therapy different from adult therapy?
Teen athletes like yours are still growing and developing—in both body and mind. They have very different nutritional, sleep and recovery needs from adults. First of all, most adults do not participate in competitive sports at such high levels of frequency and intensity, so they do not sustain the same types of injuries that teens are likely to sustain. In addition, injuries are unique to young bodies when they occur in the areas of the growth plates—the areas in the bone that allow for growth.
Our pediatric sports physical therapists must first get to know your child. What drives your teen? What sports are they passionate about? What are their goals? Developing this rapport plays a positive role in the outcomes of sports physical therapy. Youth athletes also need more variety and challenge because they can get bored doing the same thing over and over. To prevent this, we help ensure our sports physical therapy is age-appropriate, innovative and stimulating enough to keep your teen engaged throughout the plan of care, all while focused on their recovery.
Our sports physical therapy team understands the sports your teen plays. Our Sports Medicine Program can help athletes who have pain, are injured or want to prevent injury. Our specialists evaluate each athlete's body mechanics and history of injury to create an exercise or therapy plan tailored to their performance goals. We also provide injury prevention tips specific to each athlete's sport. We have pediatric experts who specialize in:
Baseball and softball
Basketball
Cheerleading
Dance
Football
Golf
Gymnastics
Hockey
Lacrosse
Running
Skating
Soccer
Swimming
Tennis
Volleyball
Wrestling
Reducing Risk of Injuries
How can technology reduce your athlete's risk of injury?
We use motion analysis technology to help detect mechanical inefficiencies in sport motions. Then we teach the athlete to make corrections that reduce the risk of injury and improve performance.
SCHEDULE A SESSION
The pediatric sports physical therapists at Children's are licensed healthcare specialists whose goal is to help growing athletes decrease pain and restore or improve movement.
Following an evaluation, our team develops a plan of care for each patient that includes techniques to manage and reduce pain, improve function for everyday activity and return athletes to their sport.
The Children's sports physical therapy team specializes in treating growing athletes because we only work with kids and teens. Our skilled team recognizes when they are ready to progress to the next level of treatment and know how to motivate them.
Many of our sports physical therapists have advanced certifications.
Orthopaedic Certified Specialist (OCS): These sports physical therapists are advanced practitioners who are board-certified in orthopedic physical therapy through the American Physical Therapy Association and have demonstrated specialized knowledge, skill and experience in orthopedic care.
Strength and Conditioning Specialists (CSCS): These sports physical therapists are certified through the National Strength and Conditioning Association in the development and implementation of strength and conditioning programs for specific sports.
Sports Certified Specialist (SCS): These sports physical therapists are advanced practitioners who are board-certified in sports physical therapy rel="noopener noreferrer" through the American Physical Therapy Association and are considered experts in athletic injury management, including acute care, treatment and rehabilitation, prevention and education.
What kinds of special equipment is used for sports physical therapy?
We often use specialized equipment and technology in sports physical therapy to help in the treatment of our growing athletes. One example is video motion analysis to find and correct sports techniques that may contribute to injuries or affect performance. All of our sports physical therapy gyms feature sport-specific resources like ballet barres, dance floors and mirrors, gymnastics mats, throwing nets, treadmills and more. We manage more than 52,000 sports physical therapy patient visits each year, giving our therapists the experience needed to handle a wide array of athletes, from adolescent swimmers to high school football players.
Did you know sports physical therapy is just part of the picture?
Our pediatric physical therapists are part of a larger sports medicine team that encompasses a complete continuum of care for growing athletes. Our team also includes athletic trainers, sports primary care physicians, and sports surgeons. Working together with sports physical therapists, our line-up of pediatric sports medicine professionals guide athletes from assessment of their injuries through diagnosis, treatment and rehabilitation until they can safely return to play.
Our physical therapists who specialize in sports treat athletes at several locations across metro Atlanta. If you think your teen needs physical therapy for their sports injury, contact your pediatrician for a referral.
Sports Medicine Physical Therapy is a department of Children's at Scottish Rite Hospital.
Renata Armendariz, PT, DPT, OCS
Molly Baker, PT, DPT
Kyle Clark, PT, DPT, SCS
Allison Duley, PT, DPT
Jeff Dunahoo, PTA
Brad Earnest, PT, DPT
Nancy East, PT, DPT
Allison Esposito, PT, DPT
Eddie Fagan, PT, SCS
Caroline Fabian, PT, DPT, CSCS
Ann Gordon Finney, PT, DPT
Eugene Hannah, PT
Suzy Higgins, PT, DPT, PCS
Sarah Holland, PT, DPT
Allen Jarratt, PT, DPT, OCS, MTC
Lita Keeley, PT, DPT
Kennedy Koonce, PT, DPT
Pam Kirchner, PTA
Skippy Mattson, PT, ATC
Keith May, PT, DPT, SCS, ATC, CSCS
Blair McClanahan, PT, DPT
Jennifer Meyer, PT, DPT
Taylor Middleton, PT, DPT
Kat Moriles, PT, DPT
Sarah Nameth, PT, DPT, CSCS
Anna Nowlan, PT, DPT, SCS
Megan Pastore, PT, DPT, OCS, SCS
Tatiana Paz, PT, DPT
Alea Penner, PT, DPT
Jeannie Perkis, PT, DPT, ATC, OCS, SCS
Aaliyah Pettway, PT, DPT
Austin Posey, PT, DPT
Melvin Sam, MS, MOT/DPT
Jessica Satterfield, PT, DPT, CMTPT
Kyle Shumeyko, PT, DPT
Allison Smith, PT, DPT, MTC, ATC
Ashton Stone, PT, DPT
Brian Taglieri, PT, DPT, MTC, CSCS
Erin Zoch, PT, DPT, OCS, CMPT
Sports physical therapy management
Julie Johnson, PT, MPT, SCS, CSCS, Clinical Manager, Sports Physical Therapy and Sports Residency Program Director