Georgia Power Foundation Donates $15 Million
Georgia Power Foundation donates $15 million to Children's Healthcare of Atlanta's North Druid Hills campus
ATLANTA (January 27, 2020) — The Georgia Power Foundation has announced a $15 million donation to Children's Healthcare of Atlanta for their North Druid Hills campus, which includes a hospital set to open in 2025. Paul Bowers, Georgia Power Chairman, President and CEO, announced the gift during the 17th annual Hope and Will Ball, one of the largest fundraising events for the healthcare system.
"Georgia Power is proud to support Children's Healthcare of Atlanta's efforts to make a new hospital and expanded campus a reality for all children in Georgia," said Bowers. "Our focus has never wavered over the last 135 years, and that is to make our communities better, stronger and safer. This hospital will be a critical cornerstone in Children's mission of providing breakthrough pediatric research and best-in-class care for our children."
Located at Interstate 85 and North Druid Hills, the 70-acre campus is the largest healthcare project in Georgia's history. The project includes a pediatric hospital, attached clinic space, and more than 20 acres of greenspace and miles of walking trails and paths for patients and families. The Center for Advanced Pediatrics, which opened in July 2018, was the first new structure completed at the campus.
During the Hope and Will Ball, Bowers was also recognized as the honoree for his many contributions to Children's Healthcare of Atlanta through his time on both the Children's System and the Children's Foundation boards. He served as Foundation Chair from 2015 to 2018, during which time he helped grow fundraising for the hospital to an all-time high, laying critical groundwork for the expansion of the North Druid Hills campus. Today, he remains a Children's Trustee and serves on the board's Governance and Development Committee.
"Paul Bowers has been a tireless advocate of Children's Healthcare of Atlanta, serving as Chairman of our Foundation Board and as a member of the System Board," said Donna Hyland, Chief Executive Officer of Children's. "His heart for children and our mission to make kids better today and healthier tomorrow sets an incredible example for all. We are grateful for his time, his philanthropic expertise and his compassion. We were so proud to honor him at the 2020 Hope and Will Ball, and we are humbled by Georgia Power's gift of $15 million, which we know will play an important role in inspiring future corporate support for our North Druid Hills project."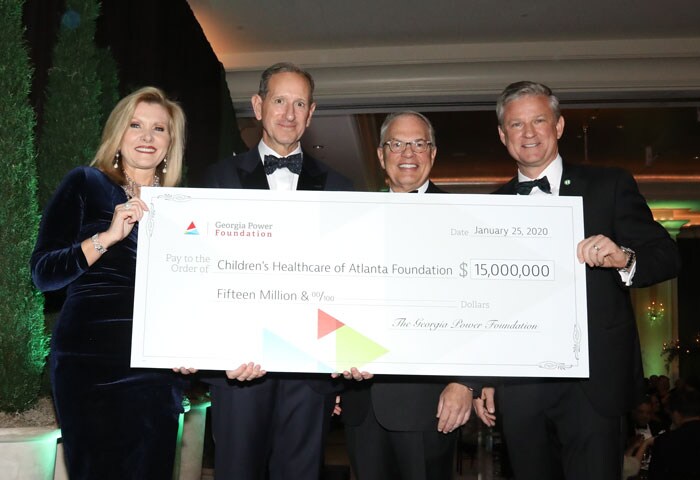 For more information:
Allyson Wright
allyson.wright@choa.org
About Children's Healthcare of Atlanta
As the only freestanding pediatric healthcare system in Georgia, Children's Healthcare of Atlanta is the trusted leader in caring for kids. The not-for-profit organization's mission is to make kids better today and healthier tomorrow through more than 60 pediatric specialties and programs, top healthcare professionals, and leading research and technology. Children's is one of the largest pediatric clinical care providers in the country, managing more than one million patient visits annually at three hospitals, Marcus Autism Center, the Center for Advanced Pediatrics and 20 neighborhood locations. Consistently ranked among the top children's hospitals by U.S. News & World Report, Children's Healthcare of Atlanta has impacted the lives of kids in Georgia, across the United States and around the world for more than 100 years thanks to generous support from the community. Visit www.choa.org for more information.
The Georgia Power Foundation
The Georgia Power Foundation, a nonprofit 501(c)(3) organization, is the fourth-largest corporate giving foundation in Georgia. The Foundation provides grants to organizations that are enriching communities across the state and is part of Georgia Power's corporate and community relations strategy focusing on Improving Education, Environmental Stewardship, Arts & Culture, and Health & Human Services.