The Children's Healthcare of Atlanta Fetal Care Center serves babies from all across the region who have congenital defects or fetal abnormalities.
The goal of our center is to collaborate with obstetricians and perinatologists (obstetricians specializing in high-risk pregnancies) to assist women and families experiencing high-risk pregnancies in developing a comprehensive care plan. As the care plan is developed, the expectant family will be introduced to the services we offer and the providers that may be assisting with the delivery and/or post-delivery care of their child.
The Fetal Care Center offers a variety of services, from evaluation and diagnosis to postnatal surgical intervention and care, including fetal MRI and ex utero intrapartum treatment (EXIT) procedures. Before your baby is born, our team will work with you to develop a plan of care.
After the baby is born, we will work with you and your delivering physician to transport your baby to either Children's Egleston Hospital or Children's Scottish Rite Hospital, where your baby's physician will meet you to continue caring for your baby. Depending on your baby's condition, you may be able to choose the facility where your baby will receive care.
A dedicated case manager will provide coordination and serve as a primary point of contact for expectant families and physicians. The case manager will also help you find resources to help care for your child in the hospital and at home.
What conditions are treated in the Fetal Care Center?
Bladder exstrophy
Bladder outlet obstruction
Bowel obstruction
Bronchogenic cyst
Bronchopulmonary sequestration
Cervical teratoma
Congenital high airway obstruction syndrome (CHAOS)
Choledochal cyst
Congenital cystic adenomatoid malformation
Congenital diaphragmatic hernia
Conjoined twins
Cystic hygroma
Duodenal atresia
Esophageal atresia
Fetal hydrops
Gastroschisis
Hemangioma
Hydrocolpos
Hydronephrosis
Imperforate anus
Microstomia
Multicystic dysplastic kidney
Omphalocele
Ovarian cyst
Pierre Robin sequence
Prune belly syndrome
Teratoma
Sacrococcygeal teratoma
Twin-to-twin transfusion
Vacterl associations
Where You Take Your Child for Surgery Matters
Deciding where to take your child for surgery matters

From birth to 21 years of age, your child's body is growing, and that is why they need to be treated by a pediatric surgeon.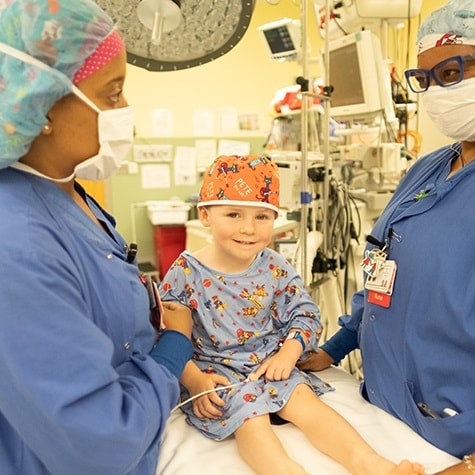 Nationally Recognized Care
We are the first facility in Georgia with a Level 1 Children's Surgery Verification.
We have earned Level 1 status from the American College of Surgeons for Children's Surgery Verification—its highest designation. No other hospitals in Georgia have achieved this level. So when your child needs surgery, you can take comfort in knowing he is in a facility that meets the highest distinction.
Learn more
Our coordinated, multidisciplinary team consists of physicians from multiple specialties and a dedicated case manager who provides individualized support. As part of one of the largest pediatric providers in the country, the Fetal Care Center has access to resources and expertise that are unmatched in the region.
Specialties represented on our Fetal Care Center team include:
Led by our guiding team, each one of our providers has the knowledge and expertise in fetal care to provide outstanding care. Our case manager provides coordination and serves as the primary point of contact for families.
Fetal Care Center guiding team
Private practice physicians in our Fetal Care Center
Pediatric Anesthesia
Some facilities can't guarantee a pediatric anesthesiologist for your child—we do.
While some hospitals may not be staffed to meet this need, at Children's, every baby, child and teen receives care from a pediatric anesthesiologist who understands best practices for growing bodies.
Learn more