Center for Advanced Pediatrics Opens
260,000-square-foot, non-emergency Center for Advanced Pediatrics facility opens July 24.
ATLANTA (July 10, 2018) — Children's Healthcare of Atlanta announced today that the Center for Advanced Pediatrics, a 260,000-square-foot outpatient, non-emergency facility, will open July 24. The new center is the only one of its kind in Georgia and will bring together multiple pediatric clinics, programs and specialists under one roof. The Center for Advanced Pediatrics aims to provide a better way to treat children and teens with chronic diseases and complex care needs.
The Center for Advanced Pediatrics is conveniently located at the intersection of North Druid Hills Road and Interstate 85 in Brookhaven to provide easier access for families. It is the first new structure completed at the North Druid Hills campus, a major pediatric medical campus that will also be home to a relocated pediatric hospital, support staff offices, and more than 20 acres of greenspace and miles of walking trails and paths. The Center for Advanced Pediatrics, which broke ground in January 2017, will house more than 450 physicians and employees who anticipate managing more than 100,000 outpatient visits in the first year.
"This is a groundbreaking moment for the entire Children's team and our community of patient families, supporters and donors," said Donna Hyland, Chief Executive Officer at Children's. "The opening of the Center for Advanced Pediatrics marks a key milestone in our North Druid Hills campus journey. We're creating a transformative pediatric destination to provide quality care for future generations to come, reinforcing our deep commitment to making Georgia's kids better today and healthier tomorrow."
The innovative eight-floor outpatient facility will provide care across more than 20 pediatric specialties, with more than 250 rooms for patient care, exams, consults and procedures. Additional building features include a café, telemedicine capabilities, conference rooms, collaborative clinical space, patient family respite areas, mother's rooms on every floor and a teaching kitchen to enhance specific clinical programs. Centrally located to Egleston, Hughes Spalding and Scottish Rite hospitals, the Center for Advanced Pediatrics is currently seeking LEED Gold Certification.
The center will also offer in-house basic imaging and lab services for quick and easy access, as well as a pediatric research center providing a convenient, dedicated location for patients to participate in clinical trials. Nearly an entire floor will be dedicated to treatment and research for breathing and airways to bring together the areas of pulmonology, allergy/immunology, cystic fibrosis and sleep.
At opening, the Center for Advanced Pediatrics will offer first floor clinic services, including otolaryngology (ENT), general surgery, gynecology, lab and X-ray. As additional pediatric specialties and services, including gastroenterology, pulmonology, cardiology and diabetes, relocate from current locations in nearby clinics and campuses to the new facility, remaining floors will open on a rolling basis throughout August, September and October 2018.
The facility, located at 1400 Tullie Circle, is a medical office building providing outpatient care only. It is not a hospital and will not provide any emergency or walk-in services.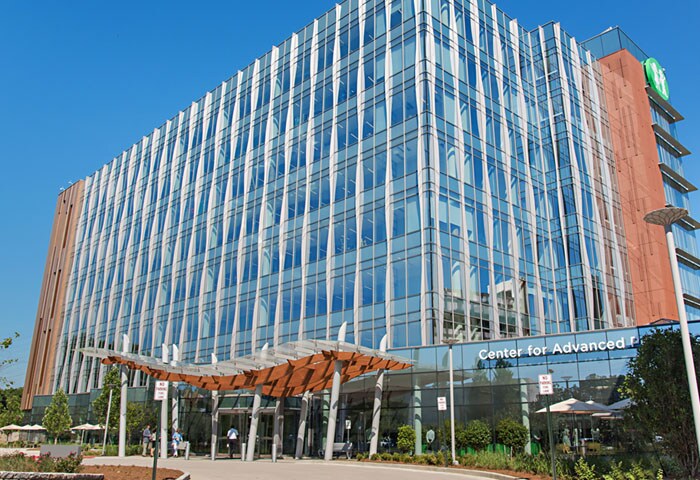 For more information:
Jessica Pope
Manager, Public Relations
404-785-6748
jessica.pope@choa.org
About Children's Healthcare of Atlanta
As the only freestanding pediatric healthcare system in Georgia, Children's Healthcare of Atlanta is the trusted leader in caring for kids. The not-for-profit organization's mission is to make kids better today and healthier tomorrow through more than 60 pediatric specialties and programs, top healthcare professionals, and leading research and technology. Children's is one of the largest pediatric clinical care providers in the country, managing more than one million patient visits annually at three hospitals, Marcus Autism Center, the Center for Advanced Pediatrics and 20 neighborhood locations. Consistently ranked among the top children's hospitals by U.S. News & World Report, Children's Healthcare of Atlanta has impacted the lives of kids in Georgia, across the United States and around the world for more than 100 years thanks to generous support from the community. Visit www.choa.org for more information.