Construction Update: March 18, 2021
Continuous construction work will take place March 24-26 for a special project that will ensure backup power is available to our hospital.
Thank you for your patience as we continue construction on Arthur M. Blank Hospital at the Children's Healthcare of Atlanta North Druid Hills campus. Below you will find construction updates and traffic impacts related to this development.

Continuous Construction Work: March 24-26
We would like to provide you with advance notice that continuous construction work will take place Wednesday morning, March 24, through Friday, March 26. This is for a special project that will ensure backup power is available to our hospital when the building is complete. The nature of this work requires that it must be completed once started – without any pauses or delays in activity – and involves 48 to 72 hours of nonstop work. The City of Brookhaven is aware of this effort and has approved a variance for this project.

Please know that at times this project's work noise level is expected to be similar to typical daytime work and may include vehicle motion alarms at different times of day. We will make every effort to minimize the noise and any other disruptions for nearby residents and businesses. The work will take place near the Epi Breads Atlanta bakery and closest to the Executive Parkview Townhomes.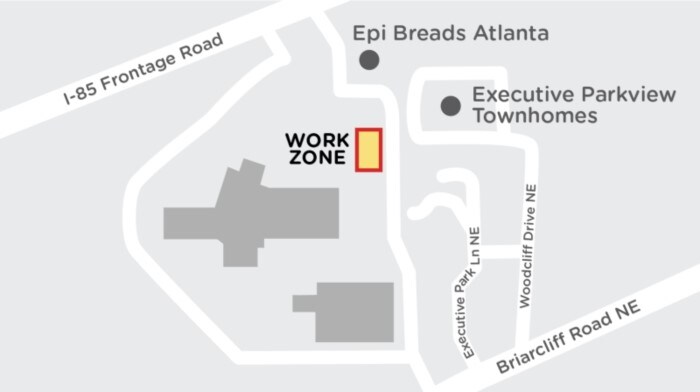 There will only be a few of these special projects throughout the construction of the campus, and we do not expect that anything else will require this intense of an ongoing effort later in the construction period. We will communicate details about any other "one-off" efforts that will require us to vary our work routine as far in advance as possible. As always, we appreciate your ongoing patience and support throughout this process.
Stay Informed
We want to keep you in the loop as our project progresses. You can opt-in to construction updates below or contact us with any construction-related questions about the North Druid Hills campus.
Sign Up