Construction Update: July 17, 2020
Utility work will take place on Briarcliff Road July 20 through July 24. Partial road closures will occur while work is underway.
Thank you for your patience as we continue construction on the North Druid Hills campus. Below you will find construction updates and traffic impacts related to this development.
Utility Work on Briarcliff Road to Begin Monday, July 20
The installation of a new water tap connection to the main located in Briarcliff Road will begin next week, impacting traffic in the area. We have worked closely with DeKalb County to develop a detailed traffic control plan to minimize the traffic impact. We do not anticipate a full closure of Briarcliff Road or any water service interruptions for nearby businesses or residences.
Work will begin Monday, July 20, and will be restricted to the non-peak traffic hours of 9 a.m. to 3 p.m. Construction workers will flag the impacted areas and use "stop/slow" signs to facilitate the flow of traffic. Outside of construction hours, the road will be plated and all lanes will be open. All work is expected to be completed by the end of the day on Friday, July 24, weather permitting.
The work is segmented into two phases, as shown below, to limit the traffic impact.
Phase 1: July 20-22
Temporary closure of both eastbound travel lanes of Briarcliff Road between North Druid Hills Road and Woodcliff Drive.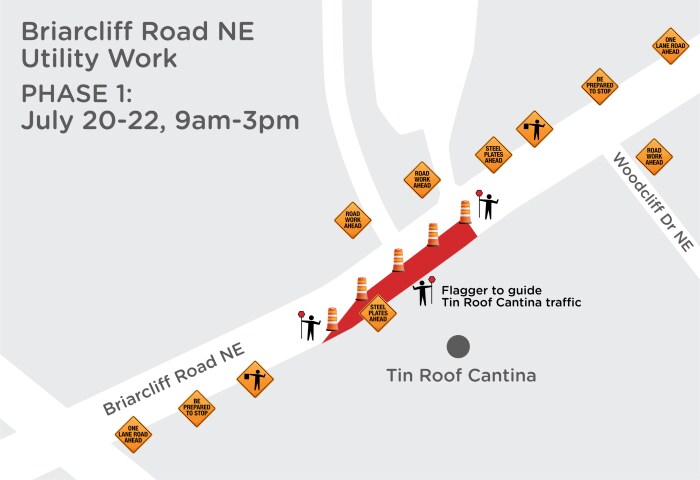 Phase 2: July 23-24
Temporary closure of the westbound travel lane of Briarcliff Road and eastbound travel lane of Briarcliff Road between North Druid Hills Road and Woodcliff Drive. This work will also impact access to the sidewalk on the northern side of Briarcliff Road in the active construction zone. A temporary sidewalk will be available for pedestrian use.
Stay Informed
We want to keep you in the loop as our project progresses. You can opt in to construction updates below, or contact us with any construction-related questions about the North Druid Hills campus.
SIGN UP