When Malcolm Wiley was a freshman, he set a goal to become the first black wrestler from his high school to win a state championship. Now a senior, he has captured not just one, but two individual state wrestling titles. But it almost didn't happen.
In the fall of his junior year, Malcolm's kneecap dislocated for the fourth time in two years during a wrestling tournament. His dad, Malcolm Wiley Sr., knew it would keep happening if they didn't seek treatment. With his son's athletic career on the line, they went to see Michael T. Busch, MD, an orthopedic surgeon and the Surgical Director of Sports Medicine at Children's Healthcare of Atlanta.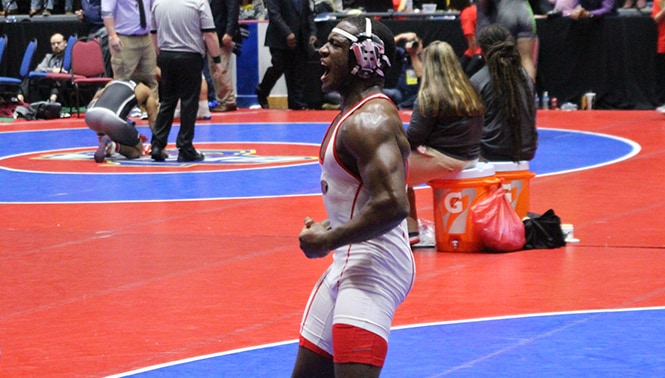 "Malcolm had a dislocating kneecap that had become a severe hindrance to him competing in wrestling," Dr. Busch said. "Besides degrading his sports performance, he would likely develop premature arthritis if the kneecap continued to dislocate."
A tailored treatment plan
Dr. Busch told Malcolm and his parents that his knee wouldn't get better on its own—he would have to have surgery, which could make him miss his entire junior season. Malcolm Sr. remembers hearing the news:

"I'm crying, my son is crying," Malcolm Sr. said. "We were disappointed because that entire summer my son had been participating in national competitions and getting really good. We were going to have to throw all his work away."

Fortunately, Dr. Busch had a plan that would keep Malcolm on the mat without making his injury worse. Dr. Busch proposed a minor surgery that would remove loose fragments in Malcolm's knee and allow him to finish out the season, with the help of physical therapy. Once the season was over, Dr. Busch would make the final repair in a more extensive operation.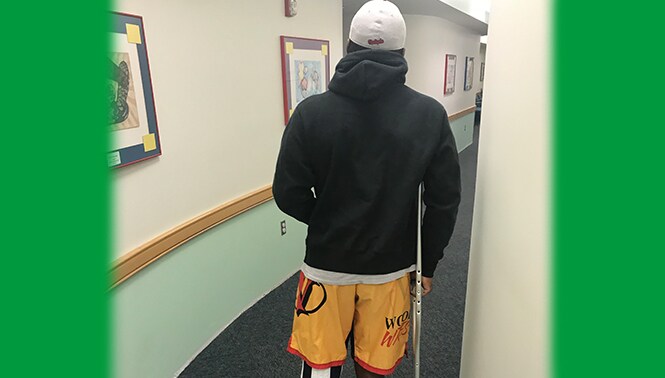 Seeing results
That first surgery, along with the rehabilitation work Malcolm put in, gave him the strength and stability he needed to make it to the state championship—and win.
The second surgery was scheduled for a week after Malcolm earned his first state title. His entire off-season was given over to recovery and rehabilitation, and he was cleared to return to wrestling right before his senior season began. That season ended with another trip to the top of the podium for Malcolm.

Our orthopedic specialists focus not only on the orthopedic issues teen athletes face, but also on their athletic, academic and family needs, incorporating these considerations into individualized treatment plans.

"There are other people who do orthopedics for kids who may not understand the focus on athletes, particularly high performing athletes," said Malcolm Sr. "Malcolm is the captain of the wrestling team and poised to do great things. Dr. Busch is making sure he can walk for the rest of his life while understanding this is an important time in his wrestling career and balances that with what needs to be done."