Faced With Complications, Angelica Gets Stronger
When Angelica came to Children's Healthcare of Atlanta, her pneumonia had spiraled out of control. Thanks to a number of expert procedures and her mother's kidney, she's not just healthy today. She's a star.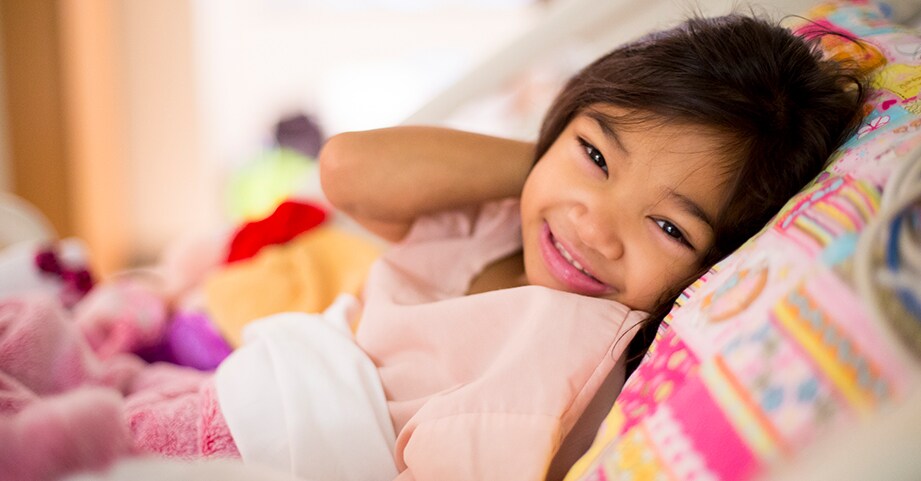 Angelica's parents knew something was wrong. Despite their doctors' reassurances, they could see that their vivacious 4-year-old girl was in real pain and getting worse.
When the family took Angelica to the Emergency Department at Children's, they learned that her condition was even more dire than they could have imagined.
A cluster of severe symptoms
"My wife called me the next morning and told me they were already starting surgery to put in a chest tube," says James Hale, Angelica's father. "It was nothing but bad news."
Angelica had contracted pneumonia. The infection was so severe that her lung had started bleeding into her abdomen. Angelica had also developed sepsis—a serious blood infection that was devastating her kidneys.
"The blood plasma was polluted, and her lungs were just ravaged," says James. "It was earth-shattering. We were rocked."
The fight for her life
Angelica was immediately admitted to the Pediatric Intensive Care Unit (PICU). There, her care team worked for three days to stabilize her and fight the infection. James credits Munir Kapasi, MD, a Pediatric Intensivist and Neonatologist at Children's, with saving his daughter's life during those crucial first days.
Angelica needed extracorporeal membrane oxygenation (ECMO), a treatment in which a patient's blood is oxygenated by a sophisticated artificial lung so the patient's lungs can recover. And so, Angelica was transported by helicopter to Children's Egleston Hospital, home to one of the few ECMO centers in the Southeast.
Angelica received ECMO treatment for 12 days. "We thought we were about to lose our daughter," James says. "We had no idea how long this journey would be."
Once Angelica was sufficiently stable, she received surgery to repair her lung, which had lost nearly half of its function. Due to the blood infection, she had also developed hemolytic uremic syndrome (HUS), a condition that was severely impairing her kidneys.
A bit of good fortune
Throughout her treatment, Angelica's care team was sure to keep her family up to date. "The doctors and nurses absolutely kept us informed," says James. "They were great!"
For more than a year, Angelica received dialysis to filter pollutants from her blood. Her ordeal had also left her kidneys scarred, so she needed a kidney transplant. Luckily, Angelica's mother, Eva, was a near-perfect match for donation.
Once she regained her strength, Angelica and her family returned to Children's for the procedure. After the transplant, Angelica bounced back quickly—finally able to just be a kid again.
When it comes to treatment, Angelica's father was clear about the difference Children's was able to make: "I'm really glad we brought her to Children's," James says. "We're so, so lucky. Taking her to a pediatric hospital saved her life."
A rising star
Four years after her kidney transplant, Angelica appeared on Season 12 of "America's Got Talent," capturing the hearts of millions of viewers.
In the season finale, Angelica sang "Stronger (What Doesn't Kill You)" alongside one of her idols, Kelly Clarkson. She became the youngest runner-up in the show's history.
Since her time at Children's, Angelica has often devoted her time to raise awareness for medical issues, including serving as the spokesperson for the Sepsis Alliance's It's About TIME campaign.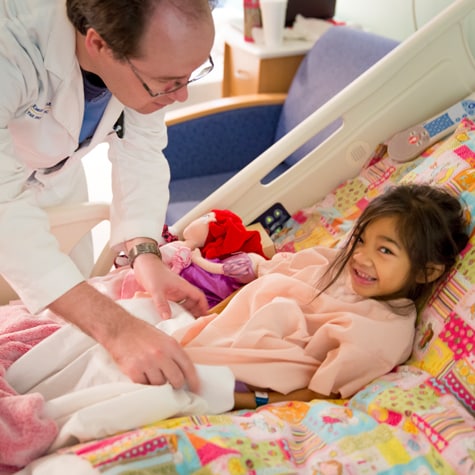 A Top-Rated Program
Expertise in kidney transplants and second chances
With one of the largest pediatric kidney transplant programs in the country, Children's combines proven technology and a caring, child-friendly approach.
See More
Another Dose of Inspiration