Leukemia Was No Match for Andrew
Andrew's condition was a complete surprise—but the way the brave young soccer enthusiast fought back wasn't a surprise at all.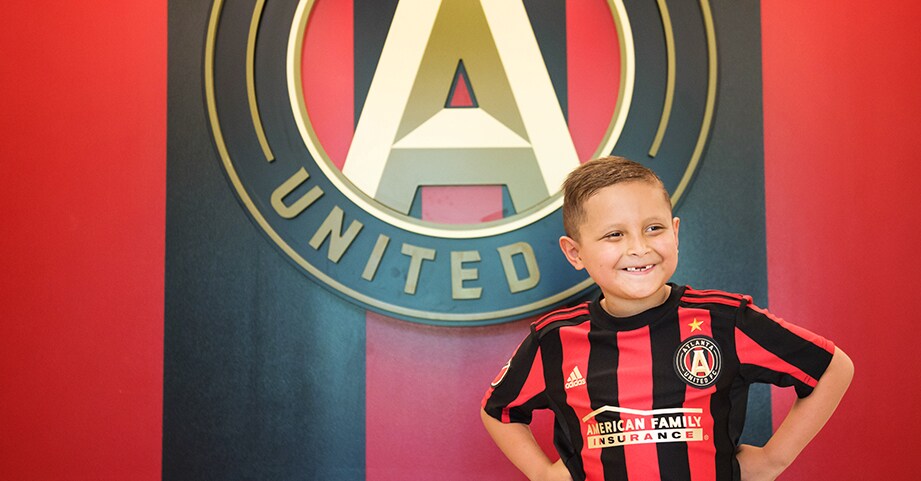 Andrew has loved sports his whole life. He's played soccer since he was 2 years old and plans to play professionally when he grows up.
So when his mother, Stephanie, noticed her regularly athletic son struggling on the basketball court, her instincts kicked in: something was wrong.
"Andrew was having a hard time breathing and getting through practice," she says.
At first, she thought Andrew might be struggling with asthma. The family pediatrician had recommended he use his inhaler before practices, but he wasn't seeing improvement.
"We had to leave practice early that day," she says.
During a second visit to the pediatrician, Andrew was asked to do jumping jacks. He began crying, explaining that it was difficult to breathe. His heart rate was high, and his skin appeared yellowish.
A difficult diagnosis
Andrew was referred to the Children's Healthcare of Atlanta Emergency Department for additional bloodwork. Two days before Thanksgiving, his family received the terrible news: Andrew was diagnosed with acute lymphoblastic leukemia (ALL).
"I was in shock because I couldn't believe it," Stephanie says. "I told the doctor that he's never been sick. I just didn't think it was possible—not my child."
Andrew was immediately admitted to the Aflac Cancer and Blood Disorders Center of Children's—home to one of the country's leading pediatric cancer programs. There, he received a blood transfusion and was hospitalized for nearly a month while undergoing chemotherapy.
Extensive treatment
Next, Andrew needed 10 months of intensive treatment. After that, a maintenance phase consisting of a constant routine of chemo pills, injections, checkups and visits to the clinic for infusion chemotherapy took another two years.
"Children's has been amazing," says Stephanie. "From helping us cope with this diagnosis to answering my millions of questions, they have been there for us and made us feel like we weren't going through this alone."
A bright outlook
Andrew, ever a loving and outgoing presence, was excited to return to school, where he started second grade after missing half of first grade for treatment.
When he returned to the classroom, Andrew had quite the story to tell.
In recognition of Childhood Cancer Awareness Month in September, Andrew was invited to fulfill his wildest professional soccer dream and join his heroes on the pitch.
On Sept. 14, 2019, Andrew participated in Atlanta United's most hallowed tradition: hitting the Golden Spike. In front of 70,000 cheering fans, Andrew showed that spike—and cancer—who's boss.
Setting the Standard for Care
A world-class cancer treatment center right here in Atlanta
For 25 years, the Aflac Cancer and Blood Disorders Center of Children's Healthcare of Atlanta has been one of the leading childhood cancer programs in the country, both providing leading care and researching possible cures.
See How
Another Dose of Inspiration—Be Part of Our Story