A New Type of Transplant Helps Defeat Avery's C. diff
When Avery's C. diff refused to yield to antibiotics, her care team turned to a promising new therapy to restore her gut to normal: a fecal microbiota transplant (FMT).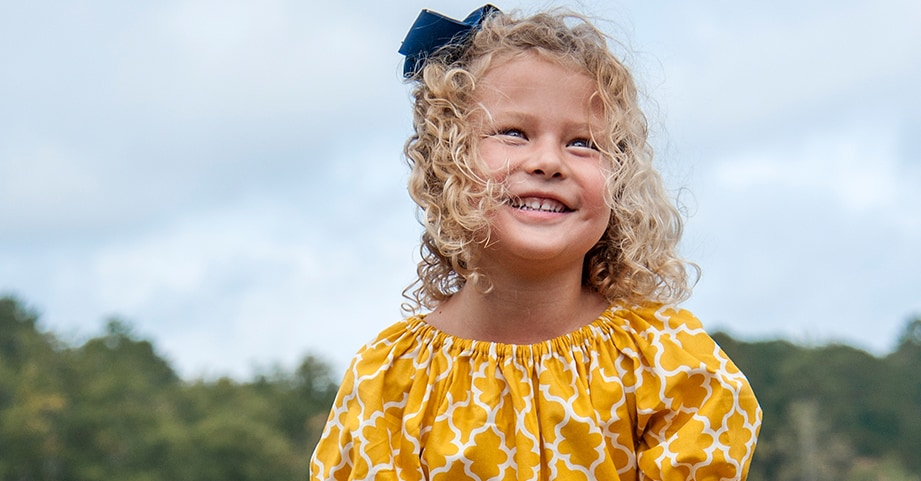 Avery had always been an energetic child. But when she was 3 years old, she started feeling sick and lethargic, prompting her mother to take her to the pediatrician.
There, Avery was diagnosed with a sinus infection. After a 10-day course of antibiotics, Avery seemed to be recovering. But then she started experiencing loose stools.
Avery had contracted Clostridium difficile, more commonly known as C. diff. The infection is both dangerous and fast-moving. In some cases, failure to control it can even prove fatal.
A wave of treatments—and side effects
Avery's symptoms subsided when her family pediatrician prescribed probiotics, but symptoms returned once she stopped taking them.
Next, a course of strong antibiotics helped stabilize Avery but came with severe side effects: night terrors and mood swings.
Avery's symptoms continued to worsen over time. She began to suffer severe dehydration, arthritic aches and constant stomach pain.
A promising new therapy
Avery's doctor began to consider less conventional solutions and recommended a recently developed approach to the problem: an FMT.
"We were desperate," says Amy, Avery's mother. "We were pumping our child full of antibiotics that made her feel terrible. The transplant was a more natural alternative."
In the procedure, human stool—collected through screened donations, much like a blood bank—is liquefied and transplanted to the patient during an endoscopy or colonoscopy. The therapy's goal is to rebalance the gut's healthy microorganisms, driving out the C. diff bacterium.
"Her medicine had killed off all her good bacteria,'' Amy says. "Her body couldn't replenish it. She was always going to be susceptible to C. diff coming back."
Amy began a search for a nearby doctor who could perform the procedure. Soon, she was referred to Jeffrey Lewis, MD, a Gastroenterologist at Children's Healthcare of Atlanta.
From discreet to enthusiastic
For more than a year, Dr. Lewis had been advocating for the approval of FMT for child patients. Avery would be his first pediatric patient to receive the treatment.
The procedure proved to be a success, allowing Avery to return to her high-energy self.
Initially, Avery's parents were hesitant to go into detail about the treatment. "Our friends and family didn't understand it," Amy says. "They were relieved she was better, but they were taken aback by the specifics."
Today, though, they're far more open about FMT and its promising results. Avery's family remains grateful to Dr. Lewis and Children's for embracing cutting-edge therapies and helping Avery get back to being a happy, healthy kid.
A Specialized Team
One of the nation's leading gastroenterology programs
Children's is home to one of the leading pediatric gastroenterology, hepatology and nutrition programs in the country. Our multidisciplinary team treats infants, children and teens with a wide range of conditions, from reflux to inflammatory bowel disease to fatty liver disease.
Explore More
Another Dose of Inspiration