What started as a routine annual well-check appointment in October 2017 for Effie Ward, ended up with her receiving a scoliosis diagnosis and eventually undergoing brain surgery.
"Unfortunately, Effie is always the one who gets the short stick," explained her mother, Julie Ward. "She has had anxiety issues in the past, had eye surgery when she was just 4 years old and now has to wear glasses, she seems to have to work harder than my boys in school, and now this. She's just always had these obstacles to jump over."
After Effie's pediatrician discovered she had scoliosis, she was ordered to have an X-ray, where radiologists learned that she had a double curve in her spine. Julie contacted Children's Physician Group–Orthopedics and Sports Medicine to figure out the next step. That's when the family met with Joshua S. Murphy, MD, a Pediatric Orthopedic and Spine Surgeon at Children's.
"I advised Effie and her family that she'd need a brace to help improve the curvature in her spine," Dr. Murphy said. "I also ordered an MRI, because I noticed some abnormal abdominal reflexes during her check-up."
Less than an hour after the MRI, Julie received a phone call from Children's that her daughter had a Chiari malformation—a condition in which brain tissue extends into your spinal canal—and significant fluid on her spinal cord. Effie would need brain surgery in the next two weeks.
"She went from a well visit to scoliosis to brain surgery in just three weeks," Julie said. "It was a hot mess of a whirlwind, but Effie has been such a trooper."
Effie, now almost 12 years old, underwent brain surgery on Nov. 6, 2017, and doctors were able to repair the Chiari malformation and reduce the amount of fluid on her spine.
The most amazing part is that six weeks later, Effie was able to get back to something she loves—running with her mom. And in early 2019, she completed two half marathons.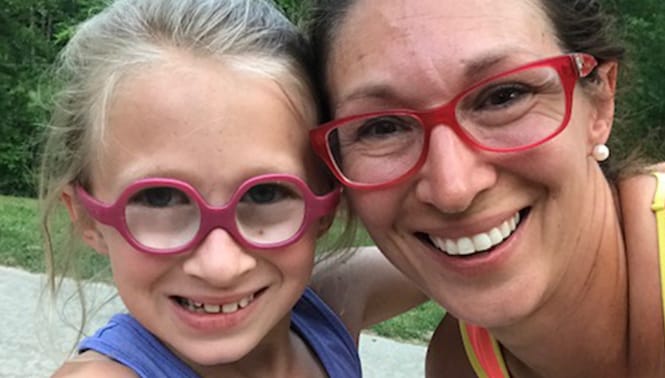 "I'm relaxed and in my own little world when I run," said Effie, adding that she was super proud of herself for completing the half marathons earlier this year.