James Fortenberry, MD, Chief Medical Officer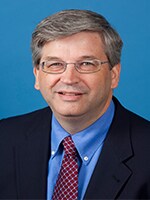 Dr. Fortenberry first joined Children's as an attending physician in the Egleston hospital Pediatric Intensive Care Unit in 1992. He was named as Physician-in-Chief in 2009, having previously served as Chief of Egleston's Division of Critical Care Medicine from 2003 to 2009, Chief of Medicine Service Line from 2009 to 2018 and Medical Director of Pediatric Extracorporeal Membrane Oxygenation (ECMO), a service that provides support with a heart-lung bypass machine for gravely ill children with lung or heart failure.
Throughout his career, Dr. Fortenberry has been involved in a variety of medical staff administrative and quality improvement initiatives. He has served in many capacities with the American Academy of Pediatrics, the Society of Critical Care Medicine, the Extracorporeal Life Support Organization, for which he is the Past-President, and the American Board of Pediatrics, where he served as the Chair of the Critical Care Sub-Board. He is an internationally sought-after lecturer on sepsis and novel therapeutic modalities.
A native of Atlanta, Dr. Fortenberry attended the University of North Carolina at Chapel Hill and received his medical degree at the Medical College of Georgia at Augusta. Dr. Fortenberry completed a pediatric residency at Carolinas Medical Center in Charlotte, N.C., followed by a fellowship in pediatric critical care at Texas Children's Hospital in Houston, Texas.