Donna W. Hyland, Chief Executive Officer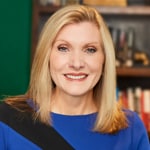 For more than 30 years, Donna W. Hyland has helped shape the delivery of healthcare to children in Georgia and beyond.
First as Chief Financial Officer, then Chief Operating Officer and now as Chief Executive Officer, Hyland has overseen monumental growth and achievement at Children's Healthcare of Atlanta. She was instrumental during the merger of Egleston Children's Health Care System and Scottish Rite Children's Medical Center, as well as the addition of Hughes Spalding and Marcus Autism Center, which led to the formation of what is now one of the largest pediatric healthcare systems in the country. Today, Children's is consistently ranked as a top pediatric hospital by U.S. News & World Report.
Hyland's dedication to pediatric healthcare has resulted in recognition as one of Atlanta and Georgia's most influential leaders. In 2023, she was inducted by the Georgia Historical Society and the Office of Governor as a Georgia Trustee.
Her commitment to the community extends outside of Children's, where she serves on the boards of Atlanta Committee for Progress Inc., Cousins Properties Incorporated, Genuine Parts Company, Georgia Research Alliance, Metro Atlanta Chamber of Commerce Executive Committee, Ryan Seacrest Foundation, Stone Mountain Industrial Park, Inc. and Truist Atlanta Advisory Board.