Janine Musholt, President of Foundation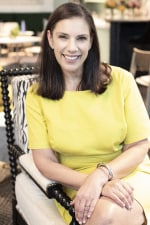 Janine Musholt brings more than two decades of experience as a fundraising professional to the Children's Healthcare of Atlanta Foundation. Her skill set includes seeking improvements in strategy, fundraising, board relations, stakeholder communication, change management, team leadership and operations.
Previously, Janine served as Executive Vice President of Advancement & External Affairs for the Woodruff Arts Center in Atlanta. She led the organization's efforts to raise funds to support the Alliance Theatre, Atlanta Symphony Orchestra and High Museum of Art. While at the Woodruff Arts Center, she created and completed the Transformation Campaign, raising $111 million to grow endowment, provide greater access for families and renovate the center's Alliance Theatre. In addition to overseeing these fundraising efforts, Janine led the Woodruff Arts Center's marketing and communications, event sales, food and beverage program, Board of Trustees, and legislative and external relations. Janine was also recognized as an Arts Leader of Metro Atlanta (ALMA) in 2014.
Before joining the Woodruff Arts Center, Janine enjoyed 17 years of traveling around the world as part of the Olympic Movement, serving as Chief Development Officer for the U.S. Olympic & Paralympic Committee in Colorado. Before holding that position, she was Vice President of Fundraising for U.S. Ski & Snowboard in Utah. Janine began her career—and her love of deadlines—while working for The Denver Post, Colorado's beloved, Pulitzer Prize-winning daily newspaper.
Janine is a member of Leadership Atlanta's Class of 2019 and President of the Arbor Montessori School Board. A native of New Jersey, she received a bachelor's degree in American Studies from Dickinson College in Carlisle, Penn. She lives in Decatur, Ga., with her husband, their daughter and many pets.