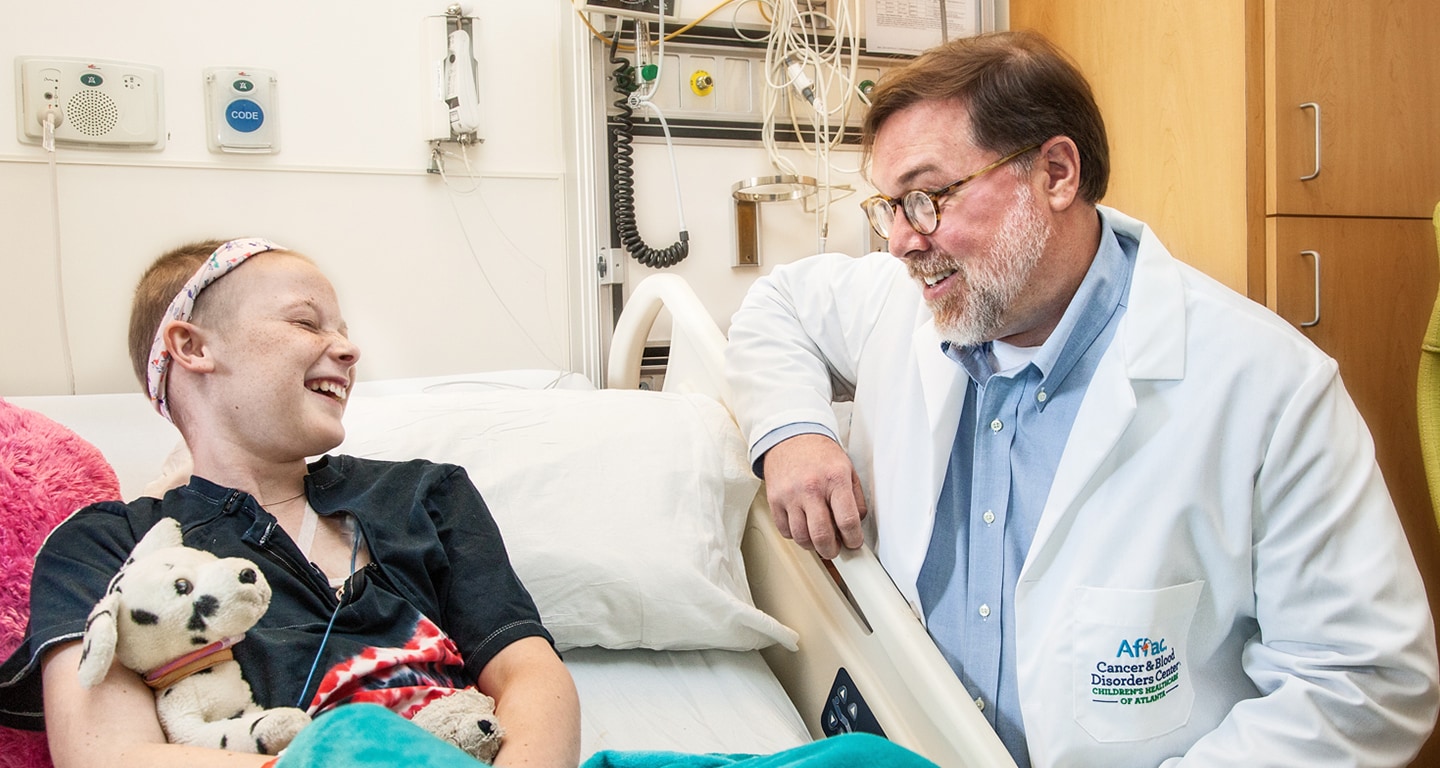 The Psychology Program at the Aflac Cancer and Blood Disorders Center of Children's Healthcare of Atlanta works with families who have a child diagnosed with cancer or a blood disorder. The program has specialists who work in two primary domains: pediatric psychology and pediatric neuropsychology.
Pediatric psychology addresses emotional and behavioral concerns related to having medical problems (sadness about diagnosis or worry about symptoms) and promotes healthy behaviors (exercising and taking medications) for children, adolescents and young adults in pediatric hospitals and doctor's offices.
Pediatric neuropsychology focuses on understanding how your child's brain affects his thoughts, learning, feelings and behaviors. We provide specialized assessment and recommendations to maximize school and community success now and in the future.
Oftentimes, a diagnosis of pediatric cancer or blood disorders will mean a lifetime of medical follow-up. Pediatric psychology and neuropsychology are available to provide emotional and behavioral support at the time of diagnosis, through a child's treatment and into the child's transition to an adult healthcare setting.
Psychological services for patients and their families help children, adolescents and young adults learn to cope with and manage their diseases. We understand that you know your child best. We work closely with your family to help make sure your child's individual needs are met. Our focus is always on the well-being of our patients. We believe children should have a high quality of life, despite medical challenges.
Utilizing problem-solving and skills-based and system-focused strategies, our team provides:
Read Stories of Hope and Inspiration From Our Patients and the Aflac Cancer and Blood Disorders Center
Research has shown that children do better during and after a medical treatment when they are cared for by professionals who specialize in pediatric care. Our team, which includes pediatric psychologists, neuropsychologists, psychometrists and licensed professional counselors, is specially trained and experienced in caring for children with cancer or blood disorders and their families.
Our approach is family-centered, and our work extends beyond the inpatient and outpatient settings to include assistance in a child returning to school and getting back to a happy and healthy life. We often work with allied health professionals, social workers, child life specialists, nurses, music therapists and hospital chaplains to provide comprehensive psychosocial care that is tailored to the needs of each patient and family.
In addition to clinic visits and hospitalizations, our Psychology Program offers traditional therapy sessions at the Children's Healthcare of Atlanta Egleston, Hughes Spalding and Scottish Rite hospitals. Senior and board-certified psychologists who are nationally renowned for their work in pediatric psycho-oncology and psycho-hematology specialize in the treatment of pain, medicine adherence, self-management, medical decision-making and helping patients transition from pediatric care to adult care.
Children's will also provide your family with the information, resources and skills needed to feel confident in caring for, advocating for, coordinating care and managing the psychological, behavioral or school-based needs that may arise as a result of treatment.
Families may request to meet with a pediatric psychologist during their child's inpatient hospital admission or outpatient medical visits. Speak to your hematology/oncology treatment team, who will be happy to address your concerns. You may also request pediatric neuropsychology services.
Our team is here to make sure your child is cared for by skilled, compassionate experts in a child-friendly, family-centered setting.
Receiving a cancer diagnosis for your child can be an emotional and overwhelming experience. At the Aflac Cancer and Blood Disorders Center, we are here to support you and your family. Whether treating a toddler during an emergency or helping a teen through chemotherapy treatments, we make it our mission to provide the best care—and best experience—for every child. Family is a big part of your child's well-being. Not only are you a vital member of your child's healthcare team; you are a source of security and comfort.
We work to support your whole family while your child is in our care—and after she goes home.