Children's Healthcare of Atlanta, in collaboration with Emory University School of Medicine and Georgia Urology Pediatrics, offers a two-year fellowship in pediatric urology to qualified applicants who have completed an ACGME-approved residency in Urology. We accept one fellow each year.
Our goal is to train pediatric urologists to become experts, leaders, teachers and researchers in their field. Upon successful completion of the Pediatric Urology Fellowship Program, fellows will be skillful in all aspects of clinical and surgical management of pediatric urology. They will also develop sound academic experience for scholarly advancement in our field.
Additional details about the Pediatric Urology Fellowship Program:
Two-year fellowship accredited by the Accreditation Council for Graduate Medical Education (ACGME)
Training in the entire disease spectrum of pediatric urology
First-year fellows:

100% clinical
Full resident coverage at Children's pediatric hospitals
Backup call with attending

Second-year fellows:

80% research and 20% clinical experience
Backup call with attending

Training at two freestanding, state-of-the-art pediatric hospitals
Working with eight pediatric urologists who perform more than 4,000 procedures annually
Performing robotic and minimally invasive surgery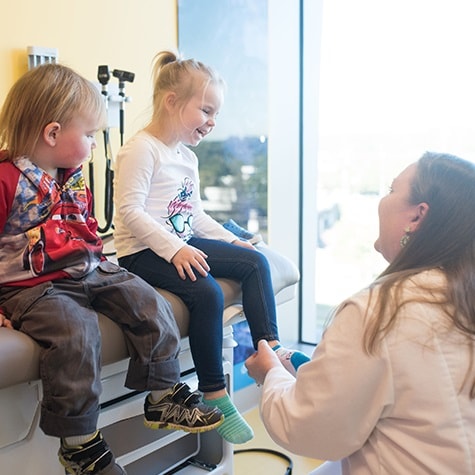 A Closer Look
Our Urology Fellowship Manual
Learn more about the curriculum, competencies, clinical work, research, call schedules and logistics of our Pediatric Urology Fellowship Program.
Learn more
The Pediatric Urology Fellowship Program at Children's was developed by John R. Woodard, MD, retired Chief of Urology at Children's. The urologists in our program serve the Atlanta area (more than 6.5 million people), most of Georgia (over 10.6 million people) and neighboring states. We conduct approximately 20,000 clinic visits each year and perform more than 4,000 procedures annually. This high volume of patients allows our fellows to exceed average numbers of all surgeries and consistently fall above the 90th percentile.
Our curriculum
In our fellowship program, our team is devoted to developing new and better preventive programs, diagnostic services and treatments through clinical research. We have a rich and diverse research environment and take pride in tailoring research experiences to the interests of our fellows. Our areas of interest include vesicoureteral reflux, ureteropelvic junction obstruction, urolithiasis, hypospadias and urinary tract reconstruction.
Additionally, we are uniquely positioned to advance research by leveraging the vast capabilities in Atlanta, including our work with Emory University School of Medicine, Emory University Rollins School of Public Health, Georgia Institute of Technology, Centers for Disease Control and Prevention (CDC), Intuitive Robotic Training Center and the Global Center for Medical Innovation (GCMI). During the second year of the program, fellows are invited to join Edwin Smith, MD, a Pediatric Urologist at Children's, on a one-week mission trip to El Salvador in Central America.
Robotic surgery is performed on the Intuitive Da Vinci Xi platform with double console training at Children's. A dedicated robotic surgery team is present for each case, which includes bedside assistance. We routinely perform robot-assisted surgery on the kidney, ureter and bladder.
Pediatric radiology at Children's offers the entire spectrum of pediatric imaging, including diuretic renography, CT scan with dose-reducing technology and magnetic resonance urography (MRU), which was refined at Children's. A dedicated pediatric interventional radiology team is also available for renal access before percutaneous nephrolithotomy (PCNL).
Our facilities
Patients are scheduled for visits at 11 Georgia Urology Pediatrics offices. Our main office is equipped with video-urodynamic equipment and employs an ultrasound technician. We perform 800 video-urodynamic studies each year on average. Most offices have ultrasound and uro-flow capabilities.
Surgical procedures are almost exclusively performed at Children's facilities, including two hospitals and two outpatient surgery centers. Consultations are almost exclusively seen in the Children's inpatient or Emergency Department settings. Children's features three freestanding pediatric hospitals, Children's Egleston, Hughes Spalding (not covered by the Urology Program) and Scottish Rite hospitals, with more than 670 beds total.
The Children's Arthur M. Blank Hospital, a 19-story, 446 bed facility currently under construction is slated for completion in fall 2024. The 1.5 million-square-foot hospital will be located on the northeastern corner of North Druid Hills NE and Interstate 85 in Brookhaven, and will include space for additional operating rooms, specialty beds, diagnostic equipment and clinical research to enhance patient care in Georgia and beyond.
Egleston Hospital, located about 10 miles from Scottish Rite Hospital, is situated within the Emory University School of Medicine campus and accommodates a busy renal transplant center. Hughes Spalding Hospital is located in the heart of downtown Atlanta. At each of our hospitals, we participate in multispecialty clinics, including the Disorders of Sex Development (DSD) Clinic, Pelvic and Anorectal Clinic (PARC), Spina Bifida Clinic and Tuberous Sclerosis Complex (TSC) Clinic, as well as the Fertility Preservation Program.
Newborn urology consultations are seen at Northside Hospital Atlanta, where minor surgeries may be performed. It is a 621-bed facility with the highest newborn delivery rate in the United States.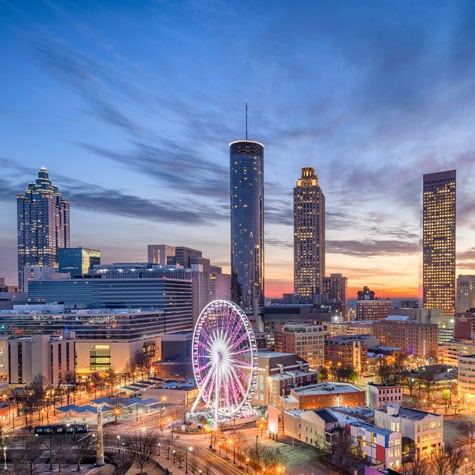 Why Atlanta?
Modern, world-class, rich in history.
Ranked among the fastest-growing metro areas in the country, Atlanta combines Southern hospitality with the amenities of any world-class city. More than 6.5 million metro Atlanta residents enjoy the city's rich history, cultural diversity and lower cost of living.
EXPLORE ATLANTA
Our pediatric urology team offers comprehensive care to all patients with specially designed facilities, innovative equipment, educational programs and family support services. Our multidisciplinary approach integrates the efforts of many dedicated pediatric professionals, including physicians, nurse practitioners, nurses, pharmacists, nutritionists, social workers, child life specialists, psychologists, hospital teachers, chaplains and case coordinators. Leaders, visiting professors and previous fellows in our Pediatric Urology Fellowship Program include:
Woodard & Parrott Visiting Professorship in Pediatric Urology
H. Norman "Butch" Noe, 1998
W. Hardy Hendren III, 1999
Kenneth A. Kropp, 2000
R. Dixon Walker III, 2001
Michael E. Mitchell, 2002
Terry W. Hensle, 2003
Howard M. Snyder III, 2004
Jack S. Elder, 2005
Richard C. Rink, 2006
Gil Rushton Jr., 2007
Rafael Gosalbez, 2008
Martin A. Koyle, 2010
Christopher S. Cooper, 2011
Steven J. Skoog, 2012
David A. Bloom, 2013
Saul P. Greenfield, 2014
Earl Y. Cheng, 2015
Richard S. Hurwitz, 2016
2017 canceled
Anthony A. Caldamone, 2018
John C. Pope IV, 2019
Angela M. Arlen, 2020
Sam Cohen Visiting Professorship
Israel Franco, 2016
Jonathan C. Routh, 2016
2017 canceled
John M. Gatti, 2018
John C. Pope IV, 2019
Paul F. Austin, 2021
Kate H. Kraft, 2022
Disorders of Sex Development (DSD) Clinic Visiting Professorship
Elizabeth B. Yerkes, 2022
1975—Thomas S. Parrott (Scottish Rite Children's Medical Center, Atlanta, Ga.; passed July 7, 1997)
1983—Timothy S. Trulock (Albany Urology Clinic and Surgery Center, Albany, Ga.)
1985—H. Gil Rushton Jr. (Children's National, Washington, D.C.)
1987—James J. Wolpert (Pediatric Surgical Associates, St. Paul, Minn.)
1991—Rafael Gosalbez (Nicklaus Children's Hospital, Miami, Fla.)
1992—Craig A. Smith (DuPage Medical Group, Winfield, Ill.)
1993—Joseph G. Barone (Robert Wood Johnson Medical Group, Somerset, N.J.)
1994—Luis M. Perez (Children's Urology of the Carolinas, Charlotte, N.C.)
1994—Edwin A. Smith (Georgia Pediatric Urology, Atlanta, Ga.)
1995—David J. Riden (Wellstar Pediatric Urology, Atlanta, Ga.)
1997—Scott A. Berkman (Valley Children's Healthcare, Madera, Calif.)
1999—John M. Gatti (Children's Mercy Hospital and Clinics, Kansas City, Mo.)
2001—Luis G. Baez-Trinidad (San Juan, Puerto Rico)
2001—Erica L. Schalow Mercer (Nemours Children's Specialty Clinics, Jacksonville, Fla.)
2002—Marcos Perez-Brayfield (HIMAHEALTH, Caguas, Puerto Rico)
2003—Adam G. Baseman (Kaiser Permanente Pediatric Urology, Santa Clara, Calif.)
2004—Leah P. McMann (Tripler Army Medical Center, Hawaii)
2004—James M. Elmore (Georgia Pediatric Urology, Atlanta, Ga.)
2005—Joseph A. Molitierno Jr. (Pediatric Urology Associates, Charlotte, N.C.)
2006—Wolfgang H. Cerwinka (Georgia Pediatric Urology, Atlanta, Ga.)
2008—Jonathan D. Kaye (Cook Children's Urology, Fort Worth, Texas)
2009—Jonathan F. Kalisvaart (Providence Pediatric Urology, Spokane, Wash.)
2009—Scott P. Cuda (Madigan Army Medical Center Urology Clinic, Tacoma, Wash.)
2010—Arun K. Srinivasan (Children's Hospital of Philadelphia, Philadelphia, Pa.)
2011—Laura S. Merriman (Alaska Urology, Anchorage, Alaska)
2012—Angela M. Arlen (Yale New Haven Health, New Haven, Conn.)
2013—Kristin M. Broderick Boren (Wellstar Medical Group, Atlanta, Ga.)
2014—Michael L. Garcia-Roig (Georgia Pediatric Urology, Atlanta, Ga.)
2015—Anthony J. Tracey (SUNY Upstate Pediatric Urology, Syracuse, N.Y.)
2016—Michelle A. Lightfoot Gupta (Providence Pediatric Urology, Spokane, Wash.)
2017—Aylin N. Bilgutay (Hackensack Meridian Medical Group, Edison, N.J.)
2018—Charlotte Q. Wu (John Hopkins University Pediatric Urology, Baltimore, Md.)
2019—Karmon M. Janssen (Walter Reed National Military Medical Center, Washington, D.C.)
2020—Jennifer M. Lovin (Pediatric Urology Associates, Charlotte, N.C.)
2021—Ricardo Arceo Olaiz
2022—Cameron Hinkle
At Children's, we participate in the AUA/SPU Pediatric Urology Fellowship Match Program. Qualified candidates have completed an ACGME-accredited urology residency, are eligible to take the American Board of Urology licensing examination and are eligible to apply for the Georgia State Medical license.
How to apply
Submit a Universal Pediatric Urology Fellowship Application Form, including a personal statement, curriculum vitae and three letters of recommendation.
Send application to Justice H. Farmer, Fellowship Program Coordinator, at jfarmer@gaurology.com in the winter before the chief residency year.
Interviews are held in the spring before the chief residency year.
Contact us
Additional questions regarding the application process, fellowship opportunities and other general questions should be directed to:
Wolfgang H. Cerwinka, MD
Urology Fellowship Program Director
Justice H. Farmer
Fellowship Program Coordinator