Fellows who are selected for the Pediatric Rehabilitation Medicine Fellowship Program are part of a rehabilitation team that provides physiatry care for children with special healthcare needs, making more than 10,000 patient contacts each year. And we have one of the largest pediatric rehabilitation inpatient units in the country.
Our curriculum
Participants in the Pediatric Rehabilitation Medicine Fellowship Program have the opportunity to:
Care for children with acute and chronic disabilities.
Gain exposure to unique areas of pediatric medicine and rehabilitation, such as cancer rehabilitation and cardiac rehabilitation.
Have access to a comprehensive team of board-certified medical and allied health specialists for training and mentorship.
Learn medical and therapeutic interventions for improving patient quality of life.
Experience inpatient and outpatient clinical encounters that are essential in providing the appropriate training and experiences that would lead to qualification for pediatric rehabilitation medicine subspecialty board examination.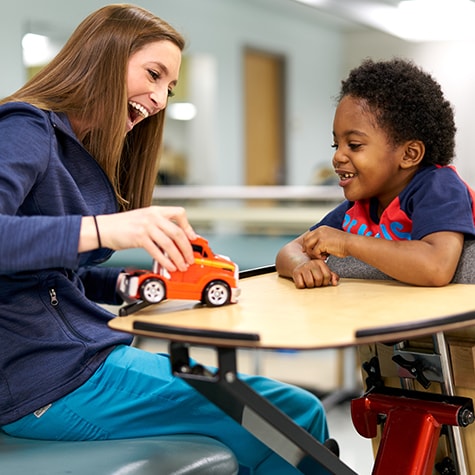 Children's Rehabilitation
Offering comprehensive inpatient and outpatient settings of care
From neurological illnesses and hearing loss to burns and orthopedic injuries, our rehabilitation team treats children with a variety of impairments in four treatment phases: acute, inpatient, day rehabilitation or outpatient.
Learn More
Prerequisites for fellowship
In order to be considered, applicants must have completed an ACGME-accredited, three-year physical medicine and rehabilitation residency program or an ACGME-accredited combined five-year pediatric/physical medicine and rehabilitation residency by the beginning of the Pediatric Rehabilitation Medicine Fellowship Program.
Application requirements checklist
Applicants who are interested in participating in the fellowship should submit:
Completed application form
Current curriculum vitae (CV)
Personal statement (one page only)
Three letters of recommendation* (no more than four letters)
Recent photograph
Medical school transcript
Copies of United States Medical Licensing Examination (USMLE) scores or Comprehensive Osteopathic Medical Licensing Examination of the United States (COMLEX) scores
Immigration visa copy (if applicable)
Education Commission for Foreign Medical Graduates (ECFMG) certificate (if applicable)
*We appreciate letters from faculty members who know you well and can speak to the personal qualities that will make you a good fellow. One letter should be from the director of your residency training program.
Applicants who are interested in applying for the fellowship will need to apply through ERAS.
Amy Walker
Program Associate
Emory Physical Medicine and Rehabilitation Residency and Pediatric Rehabilitation Fellowship
Phone: 404-712-5511
Fax: 404-712-5895
Email: amy.walker2@emory.edu