Children's Healthcare of Atlanta, in collaboration with Emory University School of Medicine, offers a competitive and demanding Pediatric Emergency Medicine Fellowship that helps establish proficiency and create confidence in our graduates. Our attending physicians are highly recognized members of the medical community and provide trainees with a wealth of knowledge and opportunities.
We offer an environment that is supportive, stimulating and rewarding. We are uniquely positioned to advance research nationally by leveraging the vast capabilities in Atlanta, including:
At Children's, you also gain exposure to a high volume and variety of cases at one of the nation's largest pediatric healthcare systems.
Awards and recognition
Children's is constantly striving to raise the bar in pediatric healthcare, and our efforts have not gone unnoticed.
U.S. News & World Report: Children's consistently ranks among the nation's top pediatric hospitals. This report ranks hospitals for excellence in outcomes, program structure and national reputation.
Fortune magazine: Children's has been recognized on Fortune's elite list of "100 Best Places to Work" in the U.S. more than a dozen times.
Working Mother magazine: Children's has been named one of the "100 Best Companies for Working Mothers" for more than a decade.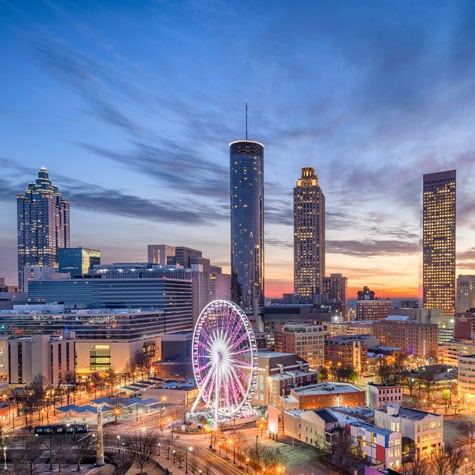 Why Atlanta?
Modern, world-class, rich in history.
Ranked among the fastest-growing metro areas in the country, Atlanta combines Southern hospitality with the amenities of any world-class city. More than 6.5 million metro Atlanta residents enjoy the city's rich history, cultural diversity and lower cost of living.
EXPLORE ATLANTA
Year 1 curriculum
First-year fellows will acquire all the basic cognitive and technical skills for the compassionate care of acutely ill and injured children. Each fellow will develop skill in obtaining an accurate history and physical assessment of his or her patients, as well as developing and carrying out plans for the management and disposition of each patient. First-year fellows should develop competence in technical skills, such as advanced resuscitation and airway management, percutaneous central intravenous lines, intraosseous needle placement, splinting and advanced wound care. First-year fellows are expected to obtain PALS, ACLS and ATLS certifications.
First-year schedule:
Pediatric emergency medicine: five blocks
Anesthesia: one block
Critical care: one block
Adult emergency medicine and procedures: one block
Emergency ultrasound: one block (two-week rotation)
Orthopedics and sports medicine: one block
Research: two blocks
Toxicology: one block (three-week rotation)
Trauma: one block
Year 2 curriculum
Second-year fellows will acquire more complex procedural skills, as well as developing increased independence in decision-making regarding medically complex and high-acuity patients. Increased supervising and clinical education of medical students and residents will be expected as well. Second-year fellows often become PALS instructors.
Second-year schedule:
Pediatric emergency medicine: five blocks
Adult emergency medicine an emergency ultrasound: one block
Child protection: one block
Research: six blocks
Year 3 curriculum
Third-year fellows will have all the necessary skills and knowledge to care for the most ill and injured children. Third-year fellows will concentrate on aiding in the flow and overall management of the Emergency Department, with attending physicians. Third-year fellows will be expected to take the lead on medical and trauma resuscitations, as well as taking calls from referring institutions during this period of training.
Third-year schedule:
Pediatric emergency medicine: five blocks
Adult emergency medicine: one block
Emergency medical service: one block
Research and electives: six blocks
How to Apply
Submit your application for our Pediatric Emergency Medicine Fellowship.
Applications should be submitted through ERAS. We typically interview candidates in September and October. Interview slots fill quickly, so we encourage you to submit your application as early as possible.
APPLY