Taking a Proactive Approach to Monitor Sedona's Genetic Risk for Cancer
When one daughter was diagnosed with cancer, the Tipton family turned to the Cancer Predisposition Program at Children's Healthcare of Atlanta to help determine if their younger child, Sedona, was at risk.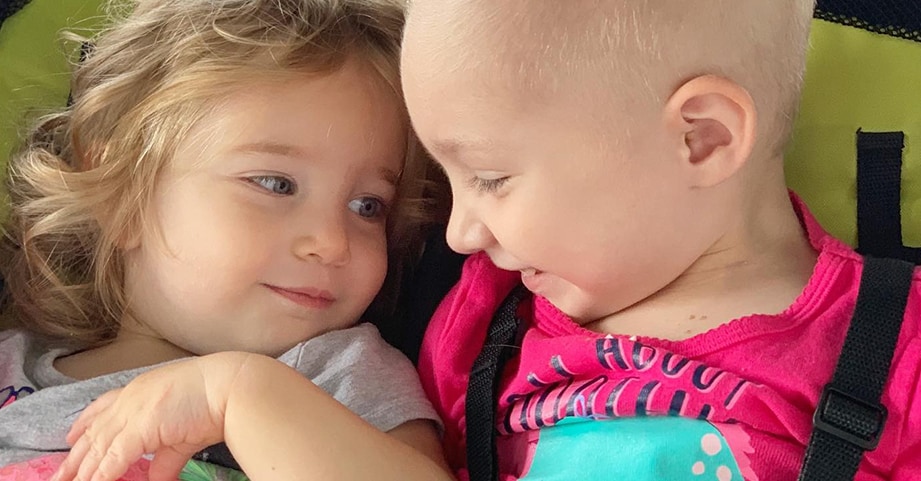 Just a few months after learning their 3-year-old daughter Madeline had cancer, Bethany Cermak and Eric Tipton discovered their 1-year-old daughter Sedona might also be at risk for pediatric cancer.
It was February 2019 when Madeline started having fevers and complaining of leg pain. She was screaming around-the-clock about the discomfort. The doctors at Children's discovered that Madeline had a tumor called neuroblastoma the size of a football in her stomach. It was pressing down on her bladder and displacing her intestines, kidneys and spine.
"Madeline received six rounds of chemotherapy, which resulted in some tumor shrinkage," says Bradley A. George, MD, a Pediatric Hematologist/Oncologist at Children's. "Once we saw no further tumor shrinkage from chemo, she underwent surgery to remove as much of the tumor as possible without causing any further nerve or organ damage."
Today, Madeline has a residual tumor, which Dr. George says was anticipated. Her outlook is excellent and she is enjoying being back at preschool. She will continue to have scans, but no further treatment is necessary at this time. "With intermediate-risk disease, you don't have to get everything out, and the vast majority of kids will never develop progression of disease even if we leave tumor behind," says Dr. George.
Active surveillance helps ensure early diagnosis
As Madeline completed her chemo treatments and underwent surgery, Bethany noticed persistent swelling in one of Sedona's legs. Their family pediatrician referred them to an orthopedist, who discovered that Sedona had hemihypertrophy. This is a condition in which one side of the body or a part of one side of the body is larger than the other.
"Due to an increased risk of liver and kidney tumors, as well as neuroblastoma, there are recommendations for tumor surveillance in children with hemihypertrophy," explains Melissa Martin, MSN, CPNP, a Nurse Practitioner at Children's.
Because the overgrowth may cause an increased risk of pediatric cancer—and with Madeline's history of neuroblastoma—Melissa and Dr. George referred Sedona's family to the Cancer Predisposition Program in the Aflac Cancer and Blood Disorders Center of Children's. The center is one of the largest pediatric cancer and blood disorders programs in the country, treating more than 8,500 pediatric patients every year from 43 states across the U.S.
The program, which was established in 2017, allows families to pursue genetic testing to determine whether family members may be at an increased risk of developing tumors and cancer.
"The Cancer Predisposition Program will help develop a surveillance plan for Sedona to identify any cancers she may be at risk for developing," Dr. George says. "Depending on results of her evaluation, they may be able to see if Madeline has the same pediatric cancer predisposition syndrome and help plan screening tests for her as well."
A pediatric cancer predisposition syndrome occurs when a child is born with a genetic mutation that changes how a specific gene works. This gene, often called a tumor suppressor gene, cannot protect cells from becoming cancerous. This increases the overall risk for affected children to develop cancer or a number of benign tumors, especially at younger ages.
Children and family members are tested using the individual's saliva or a blood test. "Sedona tested negative for any genetic markers or mutations, but we will continue to follow up yearly with the Cancer Predisposition Program team and continue with scans every three months for both girls," says Bethany.
And while Bethany admitted that it would be nice to have a clear link between Madeline's neuroblastoma and Sedona's hemihypertrophy, she anticipates that one will develop during follow-up care with the center throughout the years as science advances. "We just want to make sure we can get the answers and advice to help our girls in the future. Also, I feel like our participation in the program will help advance science for other kids."
"Bethany and Eric are true partners with us in the care of their children," Melissa says. "They make appropriate inquires and are extremely dedicated and attentive to their children."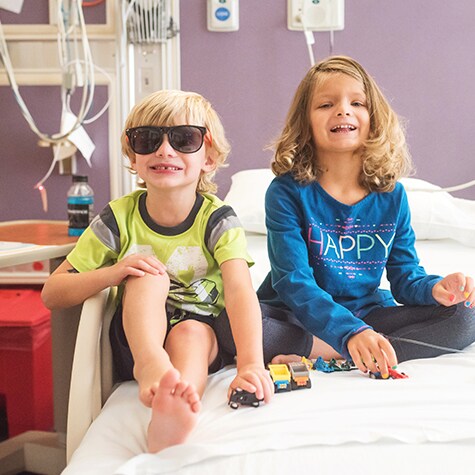 Looking Out for Cancer Predisposition Syndromes
Careful monitoring and comprehensive testing helps ensure a prompt diagnosis and treatment.
When cancer runs in the family, parents often struggle with the unknown. That's why we help them stay one step ahead of a child's diagnosis with regular screening and open communication.
See More
Fighting Cancer With Courage