Going Out of the Way to Help Lena Overcome Cancer
After Lena was diagnosed with rhabdomyosarcoma, a rare childhood cancer, her family chose to take her to Children's Healthcare of Atlanta despite the four-hour drive. Today, they are beyond thankful they made the trek.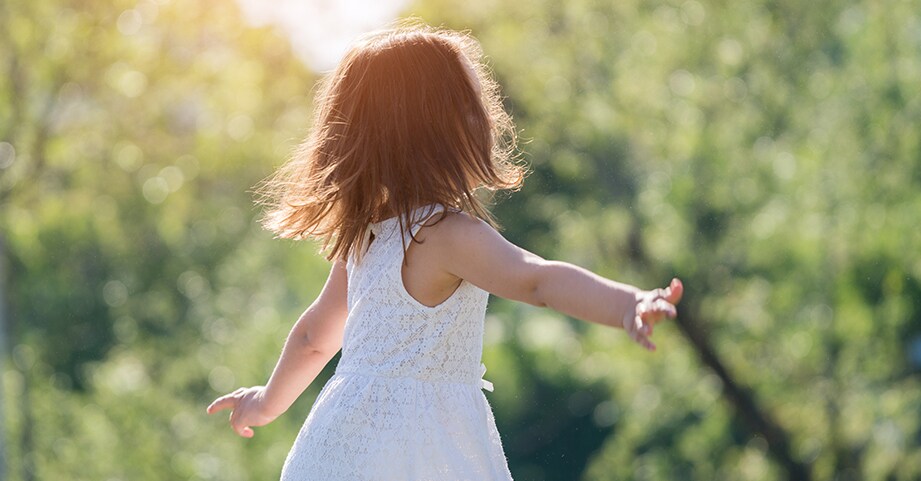 An ice cream sandwich may not seem like a big deal. But when you're a 5-year-old with cancer who has just woken up from a procedure, ice cream can make all the difference.
It was the summer of 2017 when Elizabeth Marston noticed a red spot on the inside of her daughter's right nostril. She wasn't concerned at the time, but a friend who is also a nurse suggested they see a pediatrician.
The pediatrician prescribed Lena a round of antibiotics, but the spot didn't seem to get any better, so she was referred to an otolaryngologist (ENT). The ENT took a biopsy of the spot and determined that it was an aggressive type of solid tumor called rhabdomyosarcoma.
A few days later, Elizabeth and her husband, Matt, decided to make the nearly four-hour drive from their home in south Georgia to Atlanta. They wanted to have their daughter checked out by the team at Children's.
At Children's, doctors confirmed Lena's cancer diagnosis, and she was admitted into the Aflac Cancer and Blood Disorders Center of Children's. She underwent a surgical procedure shortly thereafter to have a port placed, and she began her first round of chemotherapy.
The family was on the road quite a bit, taking Lena to and from appointments for treatments and checkups. For the Marston's, there was no other choice: "When your child is sick and there's a plan, you follow the plan to help her get better," says Elizabeth.
A confident choice
Entrusting Children's with their daughter's care was not a decision the family made lightly. But time and again, they were reminded that they made the right choice.
Once, when Lena awoke from a procedure uncontrollably crying, she couldn't calm down and kept asking for an ice cream sandwich and barbecue chips, Elizabeth recalls.
"The cafeteria was closed at the time, and I'm not sure how she did it, but the nurse got Lena two ice cream sandwiches," Elizabeth says. "If we needed something, people would make it happen there; and they went way beyond what they had to do to fill their job description. You don't get that anywhere, and we really didn't even expect it."
Fortunately, chemotherapy was effective for Lena, so she didn't need to have surgery. Within a couple of months, you couldn't see the tumor in her nostril any longer. On June 14, 2018—just shy of a year after starting her cancer journey—Lena finished her last chemo treatment and rang the bell in the Aflac Cancer and Blood Disorders Center.
Today, there's no tumor. All that's left is a little scar tissue in Lena's nose.
Elizabeth says they are so happy they made the decision to drive north and take a chance on one of the largest pediatric cancer programs in the country. "There is something very special that happens through everyone that's involved in the Aflac Cancer and Blood Disorders Center," she says. "The children and families are going through so much, but every day, these folks keep getting up, coming to work and doing everything they can to not just cure the illness, but care for the whole child. They are invested in truly loving the patients and their families."
Lena is now in remission and has checkups with her pediatric cancer team, but other than that, she is enjoying life to the fullest, being her spirited, spunky self.
Cancer and Blood Disorders Care
Home to one of the top 10 childhood cancer centers in the country
The Aflac Cancer and Blood Disorders Center of Children's Healthcare of Atlanta has a large team of providers dedicated to caring for all forms of leukemia and lymphoma, ensuring every child receives highly specialized treatment tailored to her disease.
See More
Fighting Cancer One Step at a Time