Evelyn's Crohn's Came On Early. So She Joined the Search for a Cure.
Doctors and researchers are still working to understand Crohn's disease. While receiving treatment, Evelyn Whitaker also contributed to the ongoing research at Children's Healthcare of Atlanta.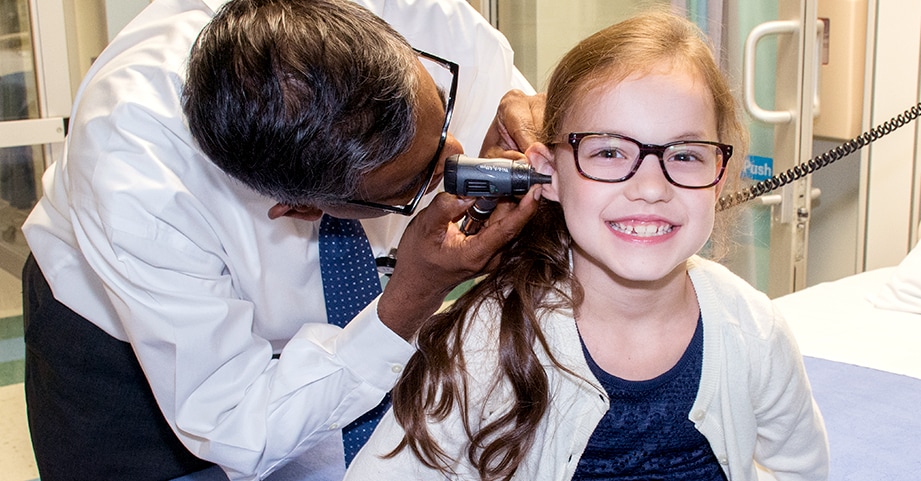 For months, Evelyn's condition was a mystery. The 8-year-old girl was experiencing listlessness, constipation and stomach pain—but the cause was unclear.
"We kept taking her to the doctor's office, but they couldn't find anything obvious like a strep infection," says Liz Whitaker, Evelyn's mom.
After about a month, a blood test revealed that Evelyn's blood was low in iron. So the family added iron supplements to their daughter's diet—to no avail.
"We came to the conclusion that her body just wasn't absorbing it in her intestines," says Liz. "That was our first clue that the problem was probably Crohn's."
Immune system confusion
While Crohn's disease can strike anyone, it most commonly appears in young adults over the age of 15. Evelyn would have been an uncommonly early onset case.
The family was referred to Subra Kugathasan, MD, Scientific Director of the Center for Pediatric Inflammatory Bowel Disease at Children's. He performed a colonoscopy that confirmed Evelyn's diagnosis.
Crohn's is a bowel disease in which the digestive tract's beneficial bacteria are mistaken for harmful pathogens by the immune system, which mounts a response that can cause inflammation and further symptoms, including severe diarrhea, weight loss and malnutrition.
Because Chron's is a chronic disease, patients experience periods of both flare-ups and relative calm, in which they have no apparent symptoms. But the root cause never completely disappears.
A growing concern
Affecting about half a million people in the U.S.—including 100,000 pediatric patients—Crohn's disease seems to be growing in prevalence.
"The incidence of Crohn's disease is doubling every 20 years, and most of the increase is coming from the pediatric age groups," says Dr. Kugathasan.
Dr. Kugathasan and his colleagues at Children's are devoted to treating and eventually curing Crohn's. But tracking down a cause—and eventually a cure—is tricky.
For instance, the genetic component of the condition isn't entirely clear. While Crohn's tends to run in families, four out of five new patients diagnosed with Crohn's have no family history with the disease.
And so Dr. Kugathasan is examining environmental factors—including diet—to determine their role. Since the disease is virtually nonexistent in developing countries, some researchers have hypothesized that Westerners could be "too clean."
"The thinking is that for your immune system to be hardened, to mature, you have to have continuous stimuli with minor infections and all kinds of bacteria and microbes," says Dr. Kugathasan. "When you don't have that kind of stimuli, your immune system does not get challenged, and it may misbehave or overreact by attacking your own body."
A brave and willing participant
Key to Dr. Kugathasan's ongoing research is the acquisition of both stool and tissue samples from patient volunteers. Evelyn's one of them.
"He had us bring in some samples from Evelyn," says Liz. "And then when he did her colonoscopy, he asked if they could take some biopsies to use for research. We all agreed to that, thinking, 'Why not participate, if it helps to come up with some answers to this disease?'"
Today, Evelyn is thriving. But the family remains guarded in their optimism. "She's like herself again, but I know the disease is in remission, and it can come back," says Liz. "It was really scary at first. I'm so glad we brought her to Children's when we did. Dr. Kugathasan, the nurses and staff took such good care of her—they're amazing, and we're very thankful."
A Specialized Team
One of the nation's leading gastroenterology programs
Children's is home to one of the leading pediatric gastroenterology, hepatology and nutrition programs in the country. Our multidisciplinary team treats infants, children and teens with a wide range of conditions, from reflux to inflammatory bowel disease to fatty liver disease.
Explore More
Another Dose of Inspiration