A Bone Marrow Transplant Gave Tendoh a Future Free From Sickle Cell Disease
After a childhood filled with painful complications from sickle cell disease, Tendoh Timoh, MD, FACC, received a successful blood and marrow transplant (BMT) that changed his life forever.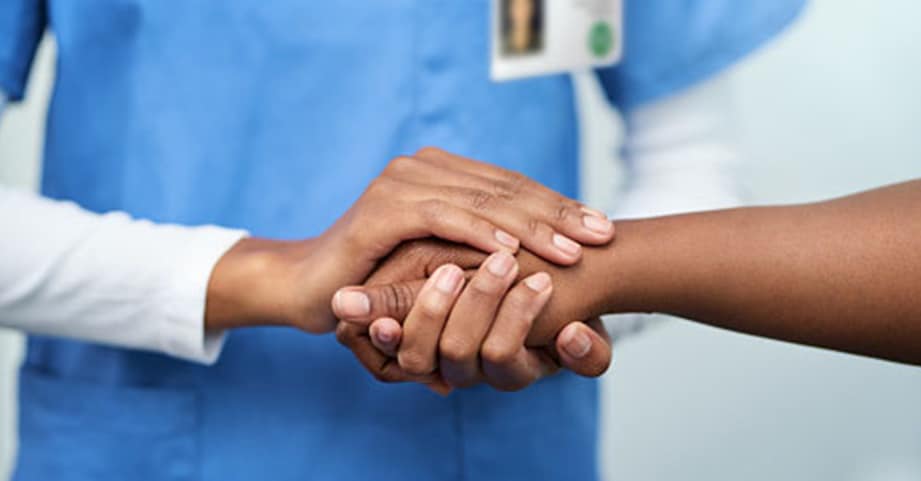 Dr. Timoh, a cardiologist at a hospital in Massachusetts, empathizes with every patient he meets that "he's been there."
Dr. Timoh spent the first 17 years of his life in and out of the hospital, trying to heal and be a kid despite setback after setback—just like some of his patients. But thanks to doctors at the Aflac Cancer and Blood Disorders Center of Children's Healthcare of Atlanta and his own brother, Dr. Timoh has a life he never could have dreamed of before his treatment.
Learning and relearning how to walk
Diagnosed with sickle cell disease at 6 months old, Dr. Timoh endured painful episodes and complications stemming from the disease, including asplenism, acute chest syndrome, numerous infections and a hip replacement.
With each sickle cell crisis, he recalls, "You literally cannot move. It feels like a hundred different needles on every single one of your joints. And once the crisis is over, you have to relearn how to use those joints."
As a result, Dr. Timoh says he learned and relearned how to walk multiple times a year.
Unsurprisingly, these complications kept Dr. Timoh from having a typical childhood. He couldn't play sports and missed at least a third of every school year. His mother and siblings cared for him throughout his episodes and frequent hospital stays, with his illness consuming the family's energy year after year.
For Dr. Timoh, the future felt bleak. "Sickle cell disease makes you less future-oriented, because you want to have goals, but you consider that those goals are probably not going to be achievable, so why even try?"
A treatment to turn the tide
In some cases, a BMT can successfully treat sickle cell disease by replacing the sickled cells with healthy cells from a donor.
When Dr. Timoh was 17, the doctors at the Aflac Cancer and Blood Disorders Center presented this option to his family. "My mom was a little hesitant," he recalls, "but it made me more future-oriented at that point, just even thinking about it."
They decided to move forward, and Dr. Timoh was lucky to find a matching donor in his own house: his brother, Patrick. During what would have been his senior year of high school, Dr. Timoh endured months of inpatient chemotherapy to prepare his body to accept the BMT, followed by a yearlong recovery process.
Dr. Timoh's bright future
"A lot of things changed after my treatment," Dr. Timoh says. He was able to graduate from high school and pick up sports. His experience at the Aflac Cancer and Blood Disorders Center inspired him to pursue his career in medicine. "I feel very fortunate about having been at the center," he says, "because I think they provided superb care."
Today, he is married with two children, enjoys playing tennis and basketball, and treating his patients.
Dr. Timoh credits his success to the Aflac Cancer and Blood Disorders Center: "I'm able to help patients because they were able to help me."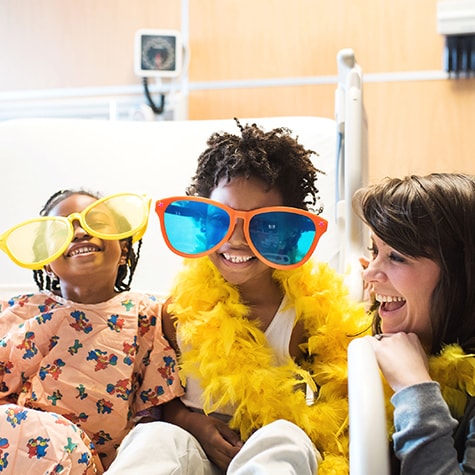 Cancer and Blood Disorders Care
Home to one of the largest pediatric hematology programs in the country
When the side effects of sickle cell disease keep kids from doing the things they love, our team of specialists is there to provide the comprehensive care and advanced therapies they need to get back to the childhoods they deserve.
Get Informed
Life With Sickle Cell Disease: Stories of Strength and Perseverance