How Raelyn Bounced Back After a Long Battle With ALL
Fighting acute lymphocytic leukemia (ALL) wasn't easy for feisty preschooler Raelyn, but with the help of the team at Children's Healthcare of Atlanta, she endured more than two years of treatment and is in remission—and elementary school.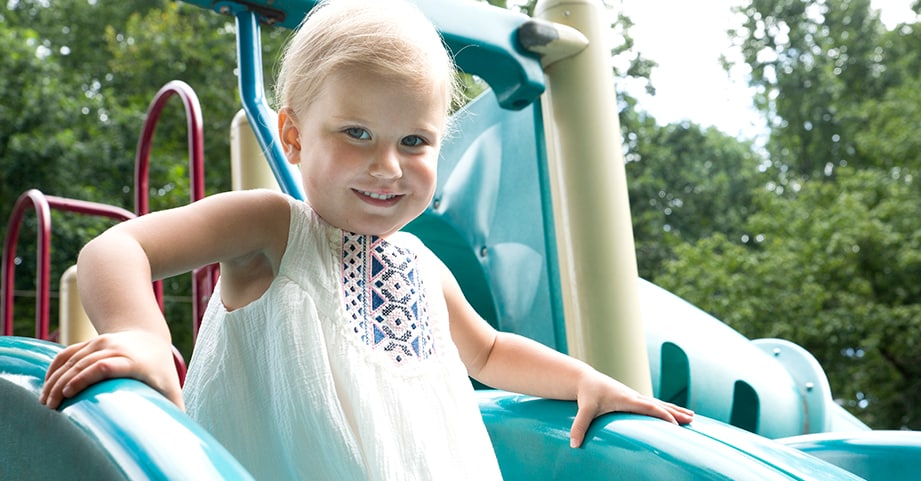 Mondays were their special day: Three-year-old Raelyn and her mom, Sarah, would play outside, run errands or just enjoy their time home alone together while Raelyn's brother was at school.
But one Monday in March, Raelyn woke up with a stomachache that wouldn't go away. "Something in my gut told me that we needed to take her somewhere because she does not act like this," says Sarah. "She never complains about being sick."
From a stomachache to a cancer diagnosis
Emergency department doctors confirmed Sarah's suspicions. "They told me: 'Her lab work doesn't look right. Her platelets are very low; her spleen is enlarged—it's the size of a football.' So they admitted her to run some tests. They said it could be cancer or an infection," Sarah says. "I just thought, my child doesn't have cancer; there's no way. I had noticed some distension in her stomach, but I thought it was gas. She had been having some bruising, but that's typical for a 3-year-old. I'm a nurse, and I didn't see it."
Test results later revealed that Raelyn had ALL. She started weekly chemotherapy treatment at the Aflac Cancer and Blood Disorders Center of Children's, which went on for eight months at first. "Every day, I would wake up expecting her to be ill, but she is just so strong," says Sarah. "Every day, she amazed me."
Taking treatment like a champ
Some days were challenging, of course. Raelyn fought and cried when she needed a blood draw or port access. But Ms. Lindsay, a child life specialist, worked with Raelyn to relieve her anxiety, distracting her with toys and games. "Ms. Lindsay was her clinic friend, and she was there for every port access," says Sarah. "After a few weeks, there were no tears, and Raelyn would look forward to going to the center."
As part of the maintenance phase of her treatment, Raelyn received chemotherapy through her port once a month and spinal chemo every three months. She also took as many as 10 pills daily to keep her on the road to a full recovery. Raelyn's chemo continued, and after 26 months of treatment, her doctors finally declared her to be in remission—which meant she could start kindergarten on time and cancer-free.
Raelyn the mermaid
Today, Raelyn is a happy, energetic child who loves to swim with her brother and says she wants to be a mermaid when she grows up. And though their schedules have evolved since her diagnosis, Raelyn still loves to have special days with mom, and as she's gotten older, she's branched out a bit, too.
"Her doctors encouraged me not to keep her in a bubble because her psychological development is just as important as her physical treatment," Sarah says. "So she's had swimming lessons in the summers and loves going to school. She's a kid who gets to live life to the fullest now."
Setting the Standard for Care
A world-class cancer treatment center right here in Atlanta
For 25 years, the Aflac Cancer and Blood Disorders Center of Children's Healthcare of Atlanta has been one of the leading childhood cancer programs in the country, both providing leading care and researching possible cures.
See How
Stories of Courage and Beating Cancer