What is the Transcatheter Closure of Patent Ductus Arteriosus (PDA) in Infants Program at the Children's Healthcare of Atlanta Heart Center?
Our multidisciplinary program leverages expertise from neonatology, cardiology and interventional cardiology at Children's to provide non-surgical options for premature babies who are adversely affected by a persistent PDA. Patients are referred to us from neonatal intensive care units (NICUs) throughout the state of Georgia; we are the only cardiac program in Georgia providing this less-invasive, catheter-based therapy, and our innovative treatments and use of newer implantable devices that allow treatment of the smallest hearts, even in babies as small as 1.5 pounds. Their hospitalization course may be shortened after definitive PDA therapy allowing these babies to go home to their families sooner, potentially with improved lung function.
With a renowned cardiac catheterization lab that has one of the top 10 largest patient volumes in the country, parents can feel reassured knowing that their child will receive high-quality care from a hospital that is highly ranked nationwide in both neonatology and cardiology.
`What is Patent Ductus Arteriosus (PDA)?
The ductus arteriosus is a naturally occurring connector vessel between the two large vessels leaving the heart, the aorta and pulmonary artery. A ductus arteriosus normally is present in all babies when they are in the womb. It provides a pathway for blood to be diverted away from the lungs, which are not being used to provide oxygen to the blood before birth. Once a baby is born and the lungs are being used, the ductus arteriosus should shrink and close on its own. Sometimes, the ductus arteriosus does not completely close after birth, which can lead to medical issues including harm to the developing lungs, abnormally high pressures in the lung vessels, and symptoms of congestive heart failure. When the ductus arteriosus does not completely close on its own, it's called patent (or persistent) ductus arteriosus, or PDA.
What are the symptoms of PDA and how is it treated?
Symptoms of a significant persistent PDA include:
An increasing need for respiratory support
Evidence of abnormally high blood pressure in the lung arteries (pulmonary hypertension)
Cardiac enlargement with symptoms of congestive heart failure
Poor growth
Feeding intolerance, potentially leading to gut injury
Diversion of blood away from critical organs
Sometimes medications such as ibuprofen or acetaminophen can be used to try to get the PDA tissue to constrict and close, but it is not always effective. Catheter-based treatments are often implemented as a non-surgical option.
What are long-term expectations for patients with PDA?
For many full term babies, having a PDA is not a significant issue and it can be closed later, sometimes several years in the future. Having a persistent PDA is more common in premature babies, and some of these babies can be more severely affected by a PDA. It can cause breathing issues, abnormally increased blood pressure in the lung vessels and make growth more difficult due to feeding intolerance, and it could result in severe life-threatening gut problems. If left untreated, a PDA may result in long-lasting damage to the lungs and lung vessels and may increase the risk of severe gut damage called necrotizing enterocolitis in some babies.
What kind of treatment and services does the Transcatheter Closure of Patent Ductus Arteriosus in Infants Program provide?
We use innovative treatments/equipment and aim to avoid invasive procedures to the extent possible to treat this condition. We often can provide a less invasive alternative to traditional open chest surgery to close a persistent PDA. Our program combines the expertise of the neonatology, cardiology and interventional cardiology teams at Children's.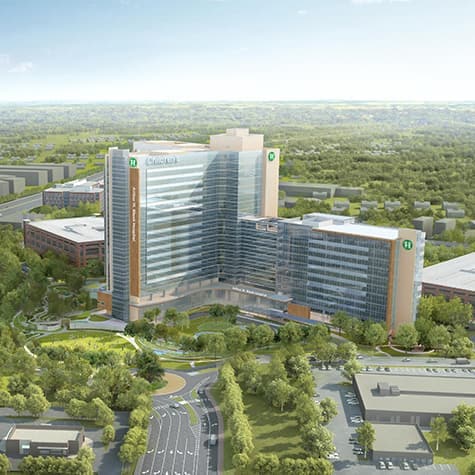 The Future of Pediatric Care
Over the next few years, we are building a new, state-of-the-art campus designed to improve outcomes, help clinicians deliver high-quality care and develop innovative research so that our patients can live healthier lives.
Learn more
Allen Ligon, MD
Meredith Roman, PNP
Caitlin Calkins, PNP
We're Here to Help with Matters of the Heart