What is pulmonary hypertension?
Pulmonary hypertension is a disorder of the arteries in the lungs that results in elevated blood pressure in the lungs and strain on the heart. Sometimes, pulmonary hypertension has no known cause, but it more frequently occurs as a consequence of another disease, such as congenital heart disease, congenital diaphragmatic hernia, bronchopulmonary dysplasia, scleroderma, restrictive lung disease or sickle cell disease.
Because pulmonary hypertension affects the heart and lungs, Children's Healthcare of Atlanta offers comprehensive care through a dedicated team of specialists, including cardiologists, pulmonologists, pediatric nurse practitioners, social workers and researchers.
What are symptoms of pulmonary hypertension?
Symptoms and signs of pulmonary hypertension may include:
Difficulty breathing
Dizziness
Fatigue
Fainting
How is pulmonary hypertension treated?
If pulmonary hypertension is being caused by another condition, treatment of that underlying disease may result in improvement or resolution of the pulmonary hypertension. While there is no cure for pulmonary hypertension that occurs on its own, there are treatments available to help relieve the symptoms your child may have. Our team will design a treatment plan to fit your child's specific needs.
Because our team uses a multidisciplinary approach, you will meet with a social worker, nurse practitioner, pulmonologist and cardiologist during every visit to our Pulmonary Hypertension Clinic. Together, we come up with an individualized plan of care for each child and make sure that this plan is shared with your child's other doctors, including his pediatrician, so that everyone is aligned.
What to expect before your outpatient clinic visit
Before your first visit, we will work with you and other medical providers to gather a comprehensive history of your child's health. We want to be sure we are familiar with your child's condition prior to his first appointment.
What to expect during your visit
Our team will perform the following, as needed:
Diagnostic testing
Echocardiogram
Electrocardiogram
Six-minute walk test
Routine lab work
After testing, you will meet with the pulmonary hypertension team to discuss the results and create a plan of care. Your doctors will make referrals for additional testing, such as cardiac catheterization, an MRI or a CT scan, when appropriate.
What to expect after your visit
Our team will be in frequent communication following your visit to make sure the treatment plan is providing the intended benefits, confirm that follow-up plans are in place and answer any other questions you may have. Because your child's health is our priority, we want to make sure we are available for you to contact at any time.
Pulmonary hypertension programs and services we offer
Weekly multidisciplinary clinic

Our Pulmonary Hypertension Clinic is open every Wednesday from 7:30 a.m. to 4:30 p.m. at the Emory Children's Center.

Inpatient consult service

Our team sees patients who are hospitalized with pulmonary hypertension. We work closely with the unit, managing each patient to determine their plan of care. Whether it is our first time meeting the patient or the patient is well-known to our team, we know coordinated care is important to all patients with pulmonary hypertension.

Teen transition program

We assist teenage patients, starting at 12 years old, to become more independent over time so that they are ready to transition to an appropriate center that provides care for adults with pulmonary hypertension. It is a step-by-step process that takes time, and we are there to help them along the way.

Annual Teen Clinic

We host an annual Teen Clinic that includes lunch and games so that teens with pulmonary hypertension can connect with one another. Pulmonary hypertension can often make patients and their families feel isolated, and this clinic may help families overcome that feeling.

Newsletters

We send quarterly newsletters to our patients and their families with helpful information and tips that make it easier to manage this complex disease.
Resources for Heart Families
Cardiology
Pulmonology
Other pulmonary hypertension staff
Amanda Brown, CPNP-AC, Lead NP
Anna Burnett Gay, CPNP-AC
Andi Loucks, CPNP-PC
Erica Walton, MPH
Victoria Labriola, LMSW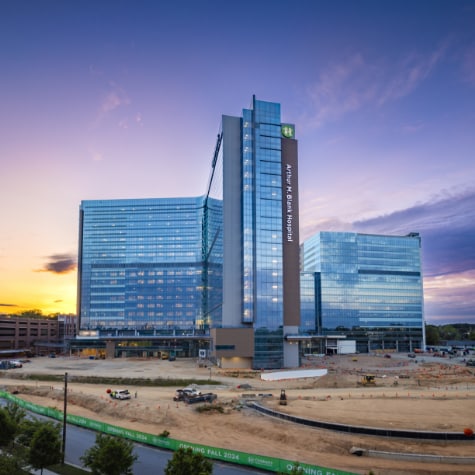 The Future of Pediatric Care
A hospital reimagined
Children's is building a new, state-of-the-art campus designed to improve outcomes, help clinicians deliver high-quality care and bring lifesaving research directly to our patients.
Learn More