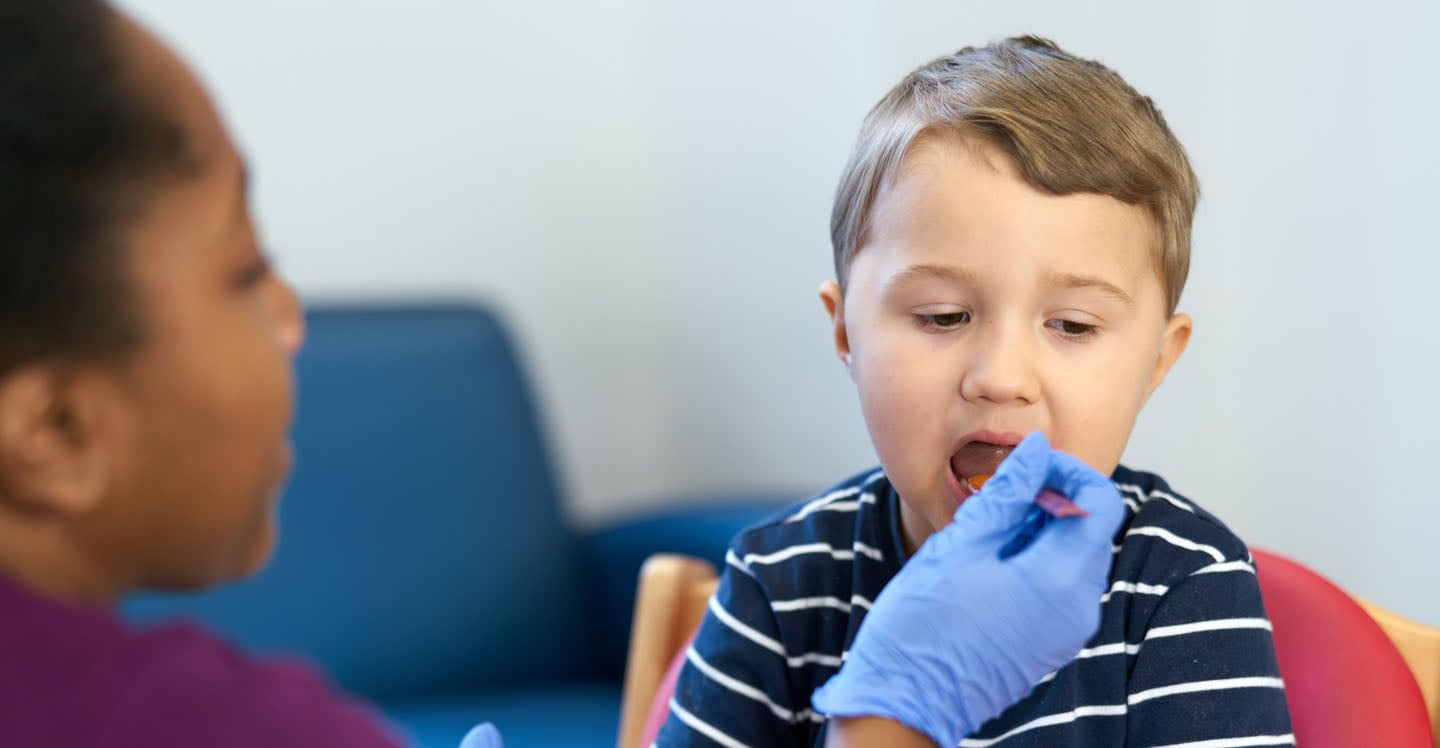 Eating is essential for growth and development, but it is also a common challenge for many children and a source of stress for parents. Your child may have a feeding disorder if they have difficulty with feeding skills (such as breastfeeding, taking a bottle, eating from a utensil, clearing food from their mouth, chewing food, or drinking from a glass) or have behaviors limiting participation with meals or acceptance of food. They may also have experienced a change in their ability to eat or drink and are now demonstrating new difficulty with these skills. Your child may have a swallowing disorder if they have difficulty moving food or drink safely from their mouth into their stomach.
How can feeding and swallowing disorders impact my child?
Difficulty with eating and drinking can significantly impact a child's overall health and development. It can lead to:
Dehydration
Malnutrition
Poor weight gain
Respiratory problems
Aspiration (when food or liquid gets into the lungs)
Food aversion
Psychosocial effects on the child and their family
What are some symptoms of feeding and swallowing problems in children?
According to the American Speech-Language-Hearing Association, these are some signs that your child may have a feeding or swallowing problem:
Stiffening or arching their back while feeding
Crying or fussing while feeding
Falling asleep while feeding
Having trouble breathing while eating and drinking
Refusing to eat or drink
Choosing to eat only certain textures, such as crunchy foods or soft foods
Holding food in their mouth, also known as pocketing
Having trouble chewing
Coughing or gagging during meals
Drooling excessively, or having liquid come out of their mouth or nose
Getting stuffy during meals
Having a gurgly, hoarse or breathy voice during or after meals
Spitting up or throwing up a lot
Not gaining weight or growing
At Children's Healthcare of Atlanta, we care for infants, children and teens with common and rare feeding and swallowing problems, including but not limited to:
Concerns for swallow safety
Concerns for food spilling from the mouth
Difficulty latching or efficiently transferring milk
at breast or with a bottle
Feeding tube dependence
Food selectivity or extreme pickiness
Restricting the volume of food accepted during meals
Difficulty chewing food
Lack of or difficulty self-feeding
Tantrums or protests during meal or snack times
Excessive time to consume meals or snacks
Poor weight gain
Nutritional deficiency
Structural differences negatively impacting the ability to feed safely and efficiently (such as cleft palate)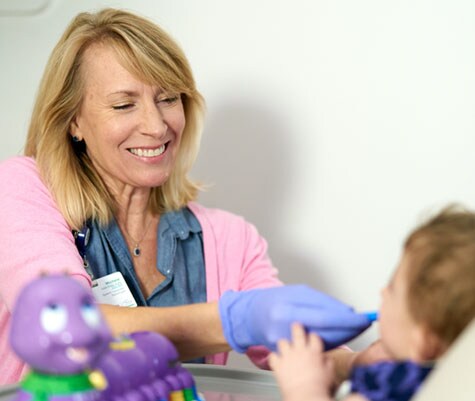 Feeding and nutritional resources for parents and caregivers
Read More
At Children's, we offer the following services for children with feeding and swallowing problems. Our services are provided by expert clinicians and providers who specialize in working with kids who have difficulty eating and drinking. Each child will receive services based on their individualized needs.
Outpatient rehabilitation: A speech pathologist or occupational therapist will provide an assessment and treatment that may include a clinical feeding and swallowing evaluation, feeding and swallowing therapy, preparation for an instrumental swallowing assessment, or outpatient rehabilitation case management and social work support. If there are concerns for nutritional status, a registered dietician may also be a part of this intervention.
Instrumental assessments of swallow function: Your child's doctor may refer your child for an initial or repeat instrumental swallowing assessment at one of our hospital campuses or outpatient imaging locations.

Oral pharyngeal motility study (OPMS) or modified barium swallow study (MBSS): This study takes an x-ray video of your child as they eat or drink. A speech pathologist and a radiologist will look at the movement of food and drink from your child's mouth to the tube that leads to their stomach (the esophagus).
Flexible endoscopic evaluation of swallowing (FEES): During the test, your child will be encouraged to eat or drink. The doctor will pass a thin, flexible tube with a light and camera attached through your child's nose. This will let the doctor and speech pathologist look at your child's throat as they swallow.

Multidisciplinary Clinics:

Aerodigestive Clinic: This multidisciplinary clinic includes nurse practitioners and physician assistants, physicians (ENT, GI, and pulmonology), registered dieticians, speech pathologists and social workers seeing the patient at the same time and discussing various risks and benefits of treatment options. Children referred to this clinic generally present with a congenital or acquired anatomical airway or esophageal anomalies (i.e. TEF, EA, severe malacia, subglottic stenosis, vascular rings, etc.), swallow dysfunction which is impacting their pulmonary status, recurrent pulmonary infections impacting ability to maintain development of normal oral feeding skills, or tracheostomies with difficulty progressing towards decannulation due to airway anatomy.
Craniofacial Lactation and Infant Feeding Clinic: This multidisciplinary clinic includes a dentist, nurse practitioner, registered dietician and speech pathologist. Neonates and infants referred to this clinic generally present with a birth defect that may interfere with feeding. Some of these include cleft lip or palate, small or retracted jaw, asymmetrical facial features or underlying genetic syndromes associated craniofacial differences. The team generally sees these infants within the first week of discharge home from their hospital birth. The craniofacial feeding team evaluates feeding skills, provides guidance to optimize growth, supports mothers' goals for use of their own milk, optimizes nutrition throughout the first year of life and supports families in the developmental feeding process in preparation for their infant's recommended surgeries.
Multidisciplinary Feeding Program: This multidisciplinary program includes behavioral psychologists, nurse practitioners, physicians (GI and ENT), registered dieticians, speech pathologists and social workers. Infants and children referred to this program have chronic and severe disruptions in their relationship with food, concerns for swallow safety, and medical complexity limiting food intake. Our team evaluates the factors contributing to feeding concerns, develops and implements individualized treatment interventions, trains caregivers to implement procedures as appropriate and provides long-term follow-up care when appropriate. Clinics offered within this program include Dysphagia Management Clinic and Complex Clinic among others.

Inpatient therapy: A speech pathologist may be consulted to evaluate acute (or new) feeding difficulties with recommendations for treatment based on the child's presenting symptoms and circumstance. Interventions may include clinical feeding and swallowing evaluation, treatment and instrumental assessments of swallow function.
We offer pediatric feeding and swallowing services at the following locations: