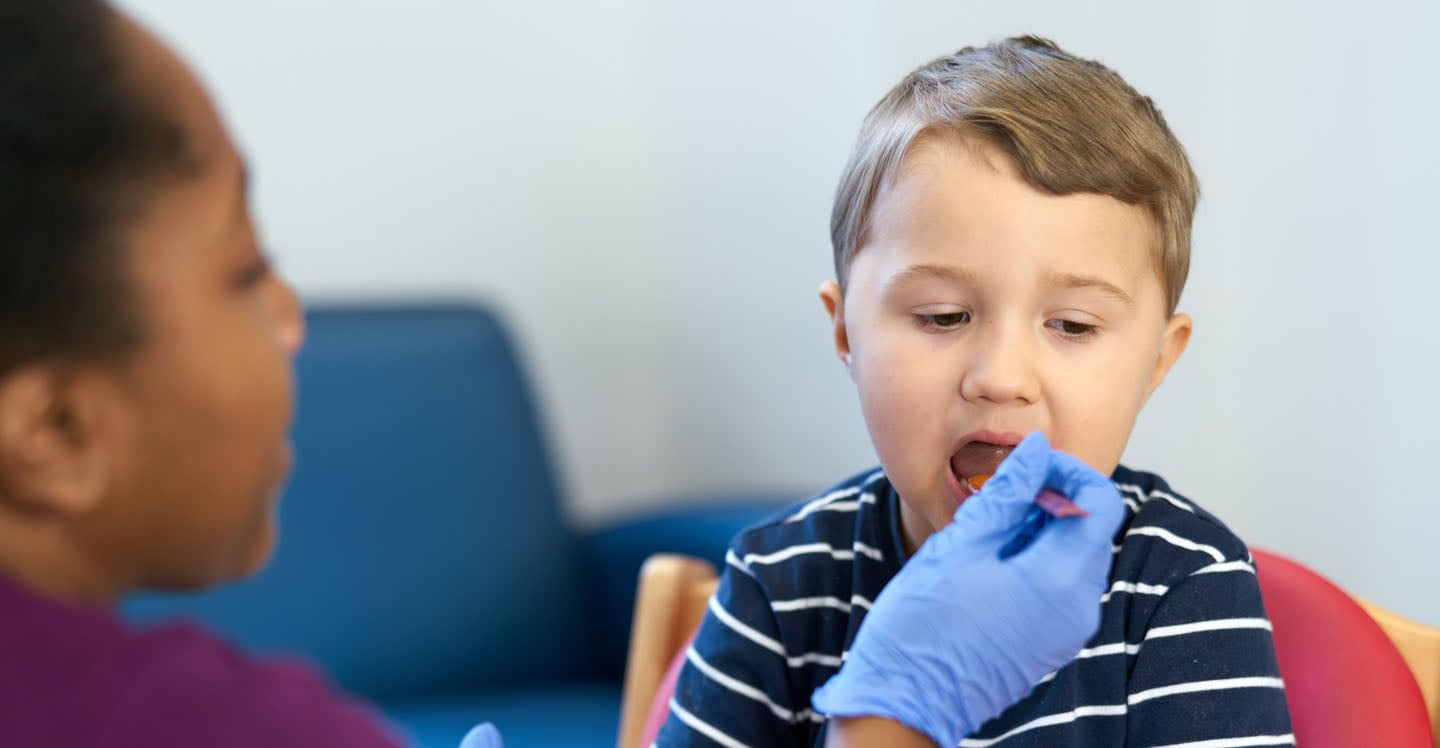 Your child may have a feeding disorder if he has problems developing his feeding skills, such as breastfeeding, taking a bottle, eating from a utensil, chewing food or drinking from a glass. A swallowing disorder occurs when a child's body has trouble moving food and liquids from the mouth to the stomach.
How can feeding and swallowing disorders impact my child?
Difficulty with eating and drinking can significantly impact a child's overall health and development. It can lead to:
Dehydration
Malnutrition
Poor weight gain
Respiratory problems
Aspiration (when food or liquid gets into the lungs)
What causes feeding and swallowing problems in children?
There are many different medical conditions associated with feeding and swallowing problems in children. Some of the common conditions include:
At Children's Healthcare of Atlanta, we care for infants, children and teens with common and rare feeding and swallowing problems, including:
Pediatric dysphagia
Feeding tube dependence
Food avoidance or restriction
Food selectivity or extreme pickiness
Difficulty chewing food
Lack of or difficulty self-feeding
Tantrums or protests during meal or snack times
Excessive time to consume meals or snacks
Poor weight gain
Nutritional deficiency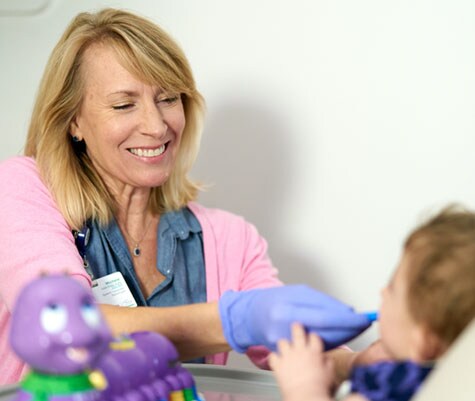 Feeding and nutritional resources for parents and caregivers
Read More
At Children's, we offer the following services for children with feeding and swallowing problems. Our services are provided by expert clinicians who specialize in working with kids who have difficulty eating and drinking. Each child will receive services based on their individualized needs.
Inpatient speech pathology: The following services may be ordered by your child's medical team during your child's hospital stay to help determine the most optimal nutrition and hydration plan of care.

Clinical evaluation and treatment
Video fluoroscopic swallow study (VFSS/OPMS)
Flexible endoscopic swallowing study (FEES)

Instrumental swallowing diagnostics: Your child's doctor may refer your child for an initial or repeat instrumental swallowing test at one of our hospital campuses or outpatient imaging locations.
Multidisciplinary Feeding Program: Some feeding and swallowing difficulties require a more intensive and structured approach. Our Multidisciplinary Feeding Program involves a team of specialists providing care within the same clinic.
Outpatient rehabilitation: A speech-language pathologist or occupational therapist will provide an assessment and/or treatment that may include:

Clinical feeding and swallowing evaluation
Feeding and swallowing therapy (speech and occupational)
Preparation for a VFSS/OPMS, which is a swallowing assessment in radiology
Outpatient rehabilitation case management and social work support
We offer pediatric feeding and swallowing services at the following locations: