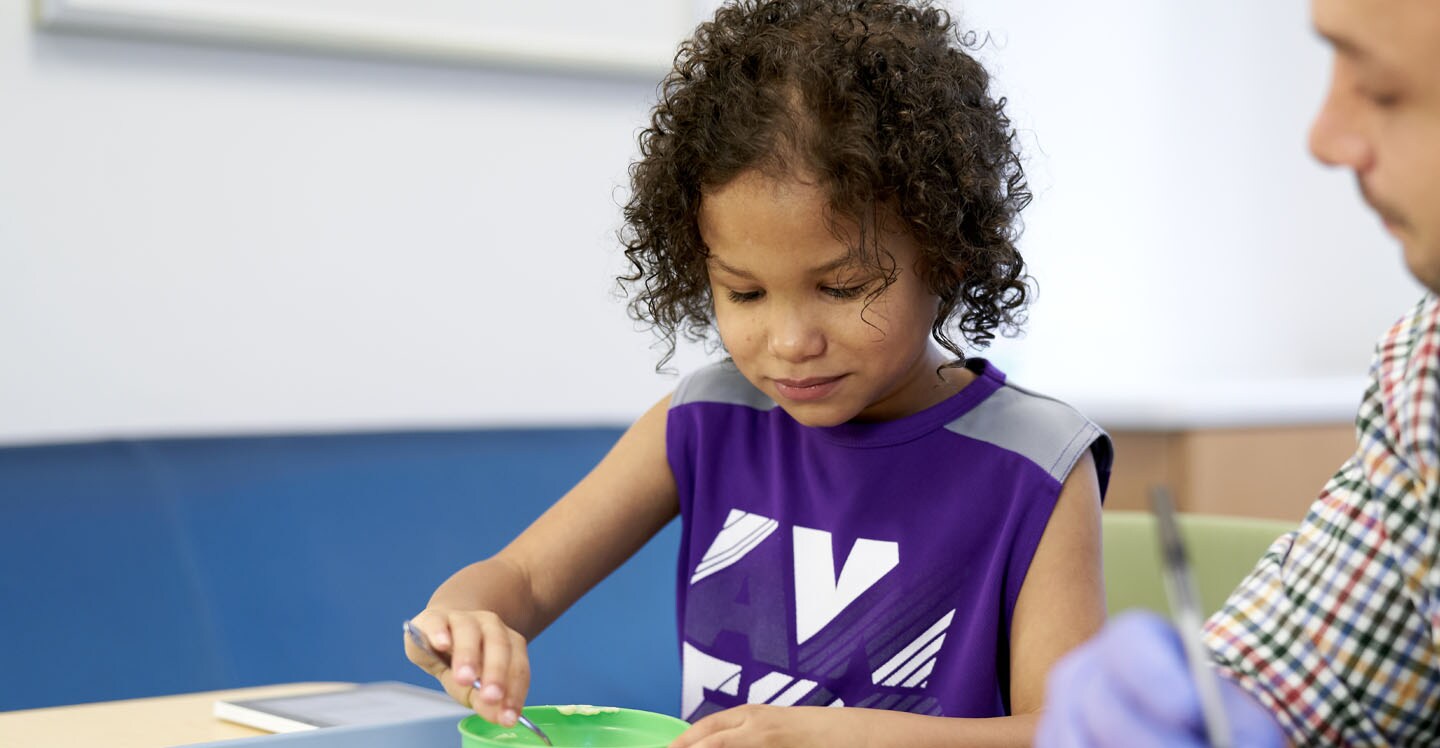 The Multidisciplinary Feeding Program at Children's Healthcare of Atlanta is designed for children with chronic and severe disruptions in their relationship with food, concerns for swallow safety, and/or medical complexity limiting food intake. Many of the children we treat struggle to gain weight because they eat too little or no food at all during meals or because they rely on formula from a bottle or through a tube. Other children may consume enough calories but will eat only a few types of food. They often reject one or more food groups, like fruits and vegetables.
Located at Children's Healthcare of Atlanta Center for Advanced Pediatrics, Children's at Forsyth, and Marcus Autism Center, our multidisciplinary program is one of only a few programs in the country to offer empirically supported, treatment for children 8 months to 21 years old who have a pediatric feeding disorder and/or avoidant restrictive food intake disorder (ARFID).
Coordinated care from specialized providers
Our team evaluates the factors contributing to feeding problems, develops individualized treatment plans, trains caregivers to implement procedures and provides long-term follow-up care when appropriate. The Multidisciplinary Feeding Program is comprised of a team of specialists, including:
Behavioral psychologists who use behavior analysis or related techniques to design a structure to help children and caregivers during mealtimes
Dietitians who ensure children are getting balanced nutrition, guiding adjustments to supplemental tube feedings, or feeding formulas
Physicians and nurse practitioners who monitor the impact of health and development on a child's feeding practices
Speech language pathologists who focus on the skills necessary to control and manipulate foods in the mouth and monitor swallow safety
Social Workers who provide support and resources to caregivers
How do I know if my child needs to be seen in the Multidisciplinary Feeding Program?
Common signs and symptoms of a feeding disorder may include:
Poor weight gain, weight loss or faltering growth
Dependence on formula delivered by bottle or feeding tube
Frequent mealtime tantrums
Refusing to eat
Distress and anxiety when trying new foods that interferes with social functioning
Inability to tolerate different textures
Extreme food selectivity or pickiness (eating fewer than 12 foods, rejecting one or more food groups)
Significant nutritional deficiency
Inability or refusal to feed oneself
Concerns for swallow safety
Why should my child be seen in the Multidisciplinary Feeding Program?
Avoiding and/or restricting food intake can negatively affect a child's physical, social and psychological well-being. It can also compromise growth and development and increase the risk for long-term health concerns.
The Multidisciplinary Feeding Program at Children's offers many levels of service to address each child's unique feeding needs.
Each child is screened dependent on their needs:
Medical Intake: All patients who enter the Feeding Program undergo a medical screening with a physician or nurse practitioner to rule out any conditions that may cause pain, discomfort, and/or safety concerns while eating.
Multidisciplinary Team Clinic: Children with complex feeding concerns benefit most from multidisciplinary care. Our team of dietitians, speech therapists, and psychologists assess your child's nutritional needs, swallow coordination and safety, and mealtime behaviors.
Single Discipline Evaluations: Single discipline evaluations with Behavior, Nutrition, or Speech are considered on a case-by-case basis when appropriate.
Day Treatment Program
Offers a medical program for children who require intesive daily therapy without 24-hour medical supervision, including multiple therapeutic meals per day, feeding skill oversight, psychosocial family support, and medical and nutritional monitoring.
Specialty Behavioral Clinics
Taste Clinic: Children who are typically developing and accept a limited variety or volume of food are seen under the direction of a Psychologist with Dietitian guidance.
Feeding Focused ABA: Children with autism and a limited variety of food accepted are seen using a structured approach to improve mealtime behavior and expand dietary variety under the direction of a Board-Certified Behavior Analyst with Dietitian guidance.
Specialty Medical Clinics
Dysphagia Management Clinic: Children with new concerns for pharyngeal dysphagia or those who would benefit from additional workup or collaborative oral feeding plan development are seen by Otolaryngology, Gastroenterology, Speech, and Nutrition.
Complex Clinic: Children who are tube dependent or nutritionally compromised secondary to decreased oral intake are seen by Gastroenterology and Nutrition.
Referrals
We accept referrals from Physicians, Advanced Practice Providers (NPs or PAs), or Psychologists. Families may also self-refer. Self-referrals are screened by our medical team. All referrals are processed through a central system. Location of service delivery (Marcus Autism Center, Center for Advanced Pediatrics, or Forsyth) is determined at the program level. Please direct your provider here to make a referral.
To submit a self-referral, please email us with your call back phone number or call us at 404-785-9400.
1. High volumes
We care for more than 1,000 children each year.
2. Patient satisfaction
Parents gave high ratings for program satisfaction (4.9 out of 5), program effectiveness (4.9 out of 5) and treatment acceptability (4.9 out of 5).
3. Proven outcomes
Approximately 90 percent or more of goals set by parents and the treatment team are reached at the completion of the Day Treatment Program.
Patients eat an average of only three foods upon admission, but they leave eating an average of 19 foods, including four fruits, four vegetables, four starches and four proteins.
More than half of our new patients have feeding tubes, and 70 percent of those patients are completely tube dependent. By discharge, 80 percent of patients need the feeding tube for less than half of their calories.
On average, tube feedings are reduced from 100 percent of a patient's daily calories upon admission to 30 percent upon completion of the Day Treatment Program.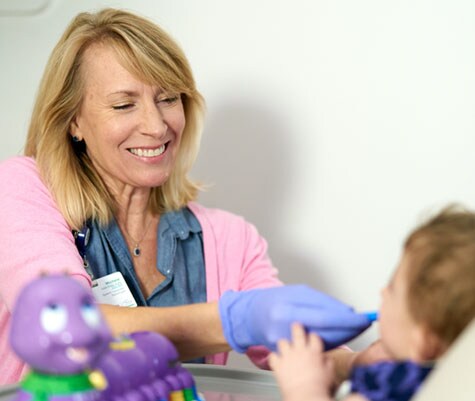 Feeding and nutritional resources for parents and caregivers
Read More
Our multidisciplinary team includes psychologists, dietitians, physicians, nurse practitioners, speech-language pathologists, occupational therapists and social workers who collaborate to deliver advanced, specialized clinical care.
Medicine
Our pediatric gastroenterologist and nurse practitioner assess medical needs to initiate feeding intervention and provide ongoing oversight during intervention.
Claire Dellecker, APRN, CPNP
Barbara McElhanon, MD, Medical Director, Multidisciplinary Feeding Program

Bonnie Minter, APRN, CPNP
Behavior
Our psychologists structure meals to promote intake of new foods and conduct caregiver training to support parents with implementing treatment in the home setting.
Nutrition
Our dietitians monitor growth and nutritional intake to promote balanced nutrition, appropriate growth and tolerance of new foods.
Rashelle Berry, MPH, MS, RD, LD
Corinne Jacobs, MS, RDN, LD
Emily Klc, MS, RDN, LD, CNSC
Ivanna Betancourt, MS, RDN, LD
Ana Kucelin, MS, MEd, RDN, LD
Skill
Our speech-language pathologists and occupational therapists focus on oral sensitivity, building oral-motor coordination (specifically coordination for chewing) and the introduction of new food textures for children with difficulty chewing.
Erin Gustafson, M.S., CCC-SLP
Erin Crane, M.Ed., CCC-SLP
Care coordination
Our social worker provides parent support and care coordination to connect families with resources, such as transportation and lodging. She also assists with transition planning.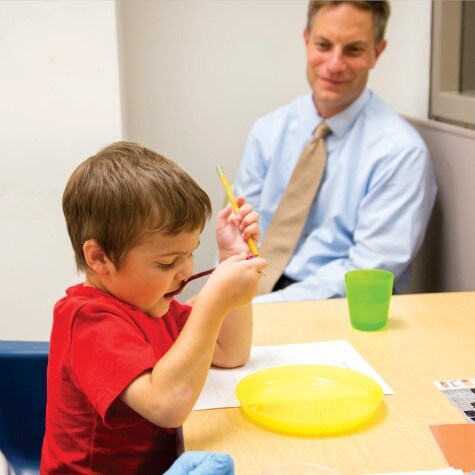 Research News
Congrats to William Sharp, Ph.D., Director of Marcus Autism Center's Multidisciplinary Feeding Program, who brought together experts from seven U.S. healthcare systems to develop a new case report form for Pediatric Feeding Disorder (PFD) described in a paper recently published in the Journal of Pediatric Gastroenterology and Nutrition.
About Our Program
Our pediatric multidisciplinary feeding clinics are offered at the locations listed below. Outpatient behavioral psychology and nutrition services are available in locations throughout metro Atlanta. Contact us for more information.
Center for Advanced Pediatrics
1400 Tullie Road NE
Atlanta, GA 30329
Children's at Forsyth
The Collection at Forsyth
410 Peachtree Parkway
Cumming, GA 30041-7407
Marcus Autism Center
1920 Briarcliff Road
Atlanta, GA 30329