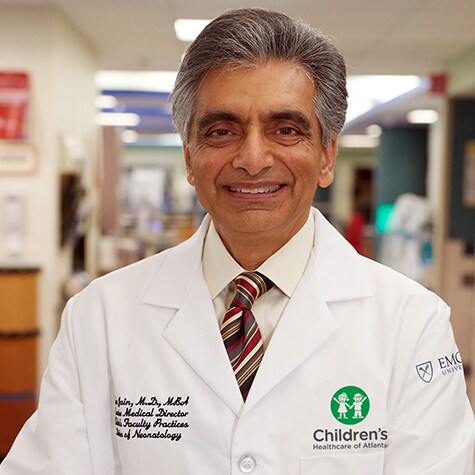 Message
A Message from Dr. Lucky Jain
From applying solutions found at the bench to the bedside, and changing the course of a pandemic, to achieving milestones in our regular research program, all culminating in $72.5 million in National Institutes of Health (NIH) funding, Children's and Emory form a hub of top pediatric research innovation in Atlanta.
read dr. jain's message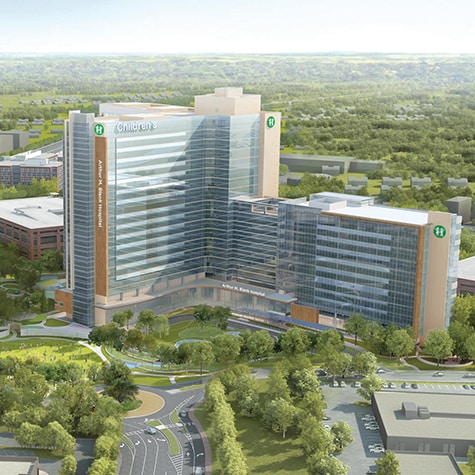 Construction Update
Research Growth, Brick by Brick
Children's new Arthur M. Blank Hospital will include space for innovative cellular therapy production, and more than 40,000 square feet of pediatric research labs will be housed at Emory's new Health Sciences and Research Building (HSRB) II. With infrastructure built for breakthroughs, our research teams are equipped for a healthier tomorrow.
read more
Children's and Emory University work together to facilitate leading-edge pediatric research, training and innovation. This long-standing partnership between one of the country's largest freestanding pediatric healthcare systems and a leading research university is mutually beneficial. Emory University's expertise and oversight are invaluable during clinical trials, and Children's provides a training site for the Emory University Pediatric Residency and Fellowship Program. Discoveries in Emory University's research laboratories are deployed in real lifesaving situations at Children's. Together, our partnership advances research and facilitates evidence-based quality care for children.
"We're innovating diagnostics and treatment of childhood and adolescent disease," says Wilbur Lam, MD, PhD, Pediatric Hematologist/Oncologist at the Aflac Cancer and Blood Disorders Center of Children's and Principal Investigator for the National Institutes of Health (NIH) Rapid Acceleration of Diagnostics (RADx) program in Atlanta. "The culture here that is so cooperative and so willing to help each other is unlike any I have seen in the rest of the country."
Pediatric Research, From Excellence to Eminence

Emory University, the primary academic partner of Children's since 1965, received the most federal research dollars from the National Institutes of Health (NIH) in 2020 for pediatrics departments. More united than ever, the partnership has continued to remain in the top five for national rankings of research dollars since 2016, together forging a path from excellence to eminence.
"What is so unique about Children's is that we have the clinical volumes to drive clinical trials," says James Fortenberry, MD, Chief Medical Officer of Children's. "As discoveries are made, we can quickly make them available to children."
From the moment COVID-19 turned the world upside down, Children's researchers joined the fight to meet it head on.
Sixty principal investigators from Children's and Emory have led projects to study SARS-CoV-2 producing 153 publications in high impact journals. Their work in 2020 and 2021 helped change the course of the pandemic and allow for the gradual return to everyday life, by leading to authorization of pediatric vaccines, availability of at-home tests, authorization of new drugs for treatment, assessing antibodies and variants, and identification of potential biomarkers. These discoveries have helped. Kids are back in the classroom and participating in social activities in person once again – and it was all made possible, in part, by discoveries made in our labs and clinics.
COVID-19 and MIS-C Biomarker Discovery

No reliable biomarker for predicting COVID-19 and MIS-C severity was available until a serendipitous discovery was made by the Children's Pediatric Neurotrauma Lab.

Recommending COVID-19 Diagnostics

The RADx program in Atlanta has contributed to the FDA, NIH and White House recommending and fast-tracking COVID-19 diagnostic tests, making them readily available nationwide.

Facebook Live: COVID-19 Vaccine for Ages 5-11

Pediatric Infectious Diseases Specialists Andi Shane, MD, and Evan Anderson, MD, answer most commonly asked questions about the COVID-19 vaccine available to kids ages 5 and older.
Pandemic-Friendly Autism Study Method
The earlier autism can be detected in children, the sooner they can begin treatment.
And autism researcher Gordon Ramsay, PhD, Director of the Spoken Communication Laboratory at Marcus Autism Center at Children's, is exploring novel ways to make early detection happen through the use of wearable sensors on babies.
Wearable Sensors Pick Up Early Signs of Autism
Research teams at Children's and Emory have seen exponential growth over the past 10 years and are eager to continue that trajectory into the future. By leveraging our nationally leading clinical volumes and the unique Atlanta partnership of Children's, Emory University and Georgia Tech, our investigators will continue to improve the health of children in Georgia, across the nation and around the world with a focus on seven main areas.