The Schirmer Girls Tackled Scoliosis—Three Times
Sisters Daniela, Elisa and Luisa were each diagnosed with scoliosis. Today, their mother's an advocate who teaches parents about the condition and the importance of early detection.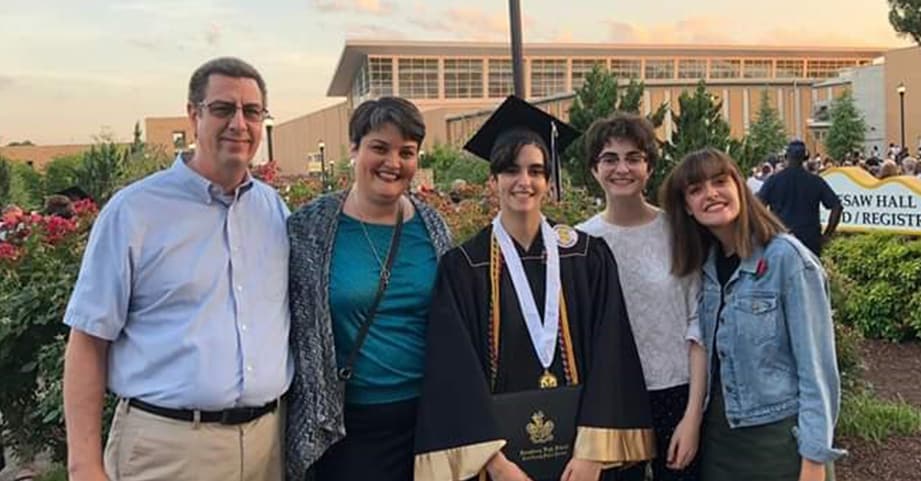 In 2010, Paula Schirmer had never even heard the term scoliosis. But during a well-check visit with her children's pediatrician, the word became a big part of her life.
"I didn't know anything about it," Paula says. "In Colombia, where I'm from, you used to see older people with a big curve in their back, but I never knew it was scoliosis."
Sisters diagnosed
Paula learned that her two oldest daughters, Daniela and Elisa, were both displaying signs of scoliosis, in which the spine curves, sometimes to a dangerous degree.
The family was referred to Children's Healthcare of Atlanta, where they met with Jill C. Flanagan, MD, FAAOS, an Orthopedic Surgeon at Children's. Both of the girls were prescribed a back brace for 20 hours a day.
"It was a tough adjustment at first," says Paula. "There was a lot of crying between the two of them in the first two weeks."
Despite the brace, 13-year-old Daniela's spine continued to curve, necessitating surgical intervention. In a spinal fusion surgery, two rods were placed along Daniela's spine. For a few days, she remained at the hospital and recovered.
For Elisa, brace therapy proved effective. Wearing the device for nearly 23 hours a day for nearly four years slowed the progression of her curve until she stopped growing.
A third diagnosis in the family
Paula's oldest two daughters successfully battled scoliosis in different ways. But their experience also sounded alarm bells for Luisa, the family's youngest daughter.
"The Schirmer sisters are awesome and a prime example of what good education and timely treatment can do to help a scoliosis diagnosis," says Dr. Flanagan. "The lesson here is that some families do have strong family histories of scoliosis and should be screened accordingly."
When Luisa was 8, she also started to see Dr. Flanagan. At 11, she started wearing a brace for more than 20 hours a day. Three years later, she was given the all-clear.
"I had been following Luisa closely," says Dr. Flanagan. "We braced her young, and she has had, of course, the best outcome! Her back did very, very well."
One family, many success stories
Today, Paula's daughters all live without restrictions, pursuing their passions and living their lives to the fullest. "It's amazing, especially with Daniela after surgery," says Paula.
Paula's experience at Children's has also had an effect on her professional life. A medical interpreter, Paula advocates for Spanish-speaking families like hers.
"I know the language barrier can be really tough to deal with, and since scoliosis diagnoses are not very common in our countries, it is a little shocking when you hear that your child has it," Paula says. "I try to write about it as much as I can and share as much support as I can online."
Scoliosis and Spine Program
Where you take them matters.
Request an appointment with the only nationally ranked orthopedic program for kids and teens in Georgia, and we'll help you understand your child's diagnosis and create a comprehensive treatment plan.
Make an Appointment
Helping Parents Spot and Manage Scoliosis