Scoliosis Screening: What to Expect
Updated 4/5/21
A scoliosis screening is a short, noninvasive test performed by a trained professional, like your child's pediatrician or a school nurse, to determine if your child's spine may have a curve that would need to be examined by a pediatric orthopedic specialist. The earlier scoliosis is diagnosed, the better.
As your child approaches age 10, you may notice a new component in his or her annual well visit: a scoliosis screening. Scoliosis is a condition that causes the spine to curve into an S or C shape rather than stay straight, and it typically becomes noticeable between the ages of 9 and 16. As with many conditions, the earlier scoliosis is diagnosed, the better.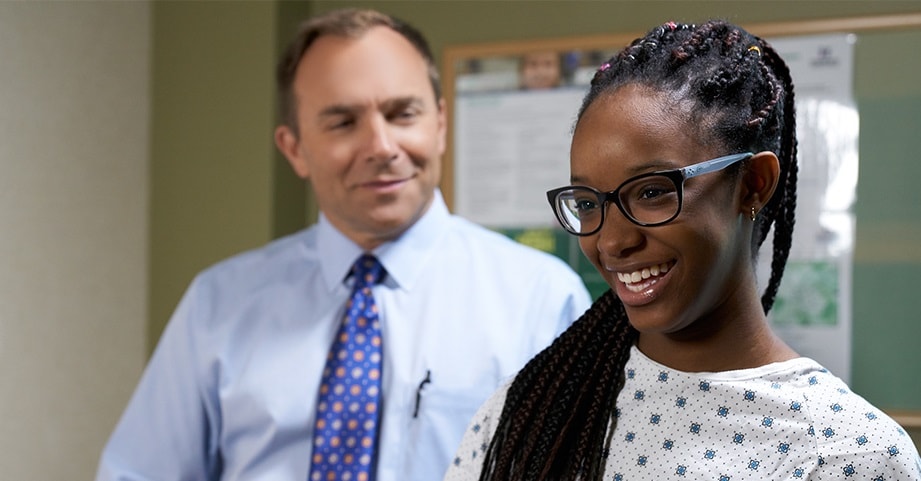 A scoliosis exam should be performed by someone trained in scoliosis screening, whether that's a pediatrician, a school nurse, a nurse practitioner or a physical therapist. The exam often happens as part of a pediatrician well visit but may also be offered in a school with a trained nurse or volunteer, in a clinic or in a specialist setting. It should take just a few minutes to complete.
"People should understand that this is a noninvasive screening—there are no needlesticks," says Jorge Fabregas, MD, a Pediatric Orthopedic Surgeon at Children's Healthcare of Atlanta. "The reason for the screening is to observe the spine and try to catch a condition that may be able to be treated before causing any further damage or pain."
During a scoliosis exam, the screener will:
Observe your child from the front, from the back and from the side.
Look at posture: Where is the head in relation to the pelvis? Is the head centered over the spine or slightly to one side?
Look for asymmetries: Is one shoulder or shoulder blade higher than the other? Are the hips uneven? Is there more space between one arm and the torso than the other?
Ask your child to lean forward and try to touch his or her toes (known as the Adams Forward Bend Test).
Kids who are being screened should wear clothing that allows them to stand level on the ground and gives the screener easy access to the back, like gym clothes. Your child may be asked to remove high heels and heavy layers or expose his or her back during the screening.
If your child screens positive for scoliosis, do not panic. There are many ways to treat scoliosis, and early detection of the condition can give you more treatment options.
Medical professionals screening for scoliosis are looking for specific signs. If a curve is detected in your child's spine, the screener will notify you and give you information on what to do next.
If the test takes place at school, the screener will send a letter home telling the family to contact their pediatrician or the pediatric spine specialists at Children's for further evaluation.
The screener may order an X-ray, depending on the severity of the curve. An X-ray allows your child's doctor to get a better look at the spine and creates a record of the spine so your child's doctor can see if the curve progresses or improves over time.
If the screener detects a curved spine, your child's doctor may also use a scoliometer—a special level that the screener places on the child's back—to measure the degree of the curve. A healthy spine will typically curve up to 5 degrees; any curve greater than 5 to 10 degrees will screen positive for scoliosis and require treatment.
There are multiple treatment options for idiopathic scoliosis, or scoliosis for which there is no definite cause. In general, the sooner scoliosis is diagnosed, the more treatment options you will have. Treatments will vary depending on how much growing the child has left to do and how big the curve is.
If the curve is less than 25 degrees, your doctor may just watch the curve and order another X-ray later to see how the curve progresses.
If the curve is between about 25 and 45 degrees and your child has any growth remaining, your doctor may consider bracing to prevent the curve from getting worse.
If the curve is greater than 50 degrees, surgery may be recommended.
Dr. Fabregas strongly recommends that anyone with a positive scoliosis exam seek out a pediatric orthopedic surgeon. Because pediatric specialists like Dr. Fabregas only treat kids, they know how to tailor treatment to each child's needs and development.
"Scoliosis is a condition that we treat on a daily basis, essentially," Dr. Fabregas says. "We are very comfortable with assessing the growth of a child and very in tune with the needs of kids and adolescents in terms of what their expectations are. All we do is treat kids."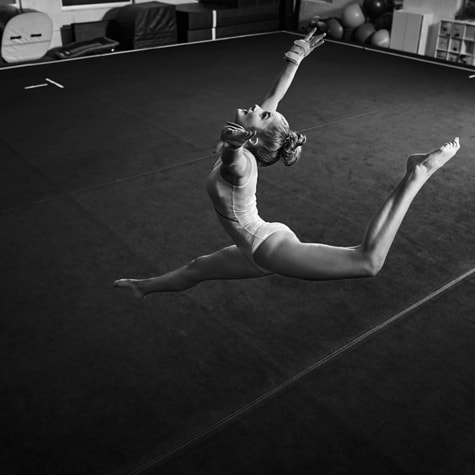 More Experience Matters
Leaders in pediatric spine surgery
We perform more spinal fusions on kids and teens than any other children's hospital in the country. In fact, we are Georgia's only nationally ranked orthopedics program for kids and teens.
Learn More
Jorge Fabregas, MD, is a Pediatric Orthopedic Surgeon at Children's Healthcare of Atlanta. Dr. Fabregas specializes in spinal deformity, tumors, trauma, limb deficiency and cerebral palsy. In addition, Dr. Fabregas is a consulting associate for the Duke University School of Medicine Department of Orthopaedic Surgery. He currently serves as immediate past president of the Association of Children's Prosthetic-Orthotic Clinics (ACPOC) and is a board member of the Georgia Pediatric Neuromuscular Care Committee.
This content is general information and is not specific medical advice. Always consult with a doctor or healthcare provider if you have any questions or concerns about the health of a child. In case of an urgent concern or emergency, call 911 or go to the nearest emergency department right away. Some physicians and affiliated healthcare professionals on the Children's Healthcare of Atlanta team are independent providers and are not our employees.