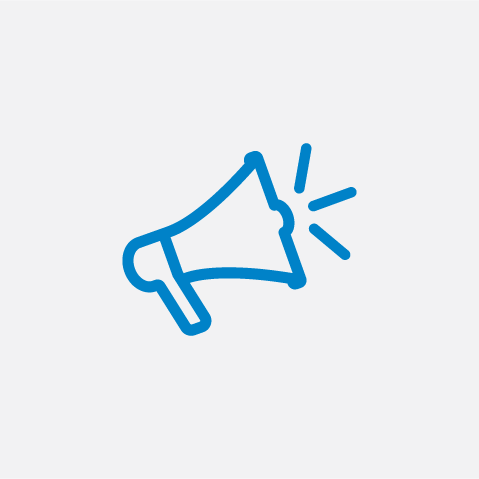 Now Open
Our New Osteogenesis Imperfecta Clinic
Our multidisciplinary Osteogenesis Imperfecta (OI) Clinic brings together specialists from orthopedics, otolaryngology (ENT), pulmonology, endocrinology, dentistry, orthotics, and physical and occupational therapy to provide the most comprehensive care possible for patients with OI. Our clinic staff is specially trained to care for growing kids and teens with OI, from birth to age 21.
Make an Appointment
Osteogenesis imperfecta (OI) is a genetic disorder that impacts how the body produces collagen, a protein that helps strengthen bones. OI can be a mild bone disorder, resulting in a few fractures in a child's lifetime. In more severe cases, the disease can cause hundreds of fractures and even affect other organ systems.
At Children's Healthcare of Atlanta, we're dedicated to treating children with OI. In collaboration with Children's Metabolic Bone Program, we are one of the highest volume pediatric hospitals in the country treating OI patients. Our team will teach children with OI and their parents what they should expect living with this diagnosis.
OI affects how a child's body produces Type I collagen, the protein that forms bone structure. It is caused by either a lack of collagen or collagen that is abnormally formed. Since Type I collagen is also located in teeth, the whites of the eyes, ears, skin, ligaments, heart valves and blood vessels, the disease can also impact other organ systems.
OI is an inherited disorder. Typically, it's passed down through families, but not always. Therefore, it is possible for your child to have OI without other family members being affected by it. Approximately 1 out of every 20,000 live births results in osteogenesis imperfecta.
There are more than 300 known genetic mutations associated with the disorder, and some forms are more severe than others. There are four types of OI:
Type I OI (mild)
This is the most common and mildest type of OI, and it is likely to be inherited. Children with mild OI can have blue sclera, meaning the whites of the child's eyes are blue, and teeth can also be affected (dentinogenesis imperfecta). Fractures do not usually occur until preschool, when the child is walking.
Type II OI (most severe)
With Type II OI, the collagen is extremely abnormal, causing the bones to be very weak. Fractures to the skull and ribs can occur while a baby is still in utero, causing respiratory failure and/or stroke. While the disorder was previously considered fatal, children now have a much better outlook thanks to advances in medical treatment.
Type III OI (severe)
Children with severe OI often have fractures when they are born and are frequently short and have a deformed spine. In the past, this condition decreased life expectancy, often because of respiratory illness, but with medical advances, patients with Type III OI are living longer, richer lives. Medications known as bisphosphonates make bones stronger and can be started as early as infancy.
Type IV OI (moderate to severe)
Children with Type IV OI are usually short in stature, and their teeth are affected by the disorder. Fractures and crooked bones are common. Pediatric orthopedic surgery is often required to protect bones against future fractures and straighten out crooked bones. Like children with Type III OI, children with Type IV OI can benefit from bisphosphonates, medications that make bones stronger and can be started as early as infancy.
Bone Health Specialists
Our pediatric bone specialists know how to treat bone disease in growing kids and teens.
We work closely with our endocrinology bone health specialists to offer your child comprehensive care. When it comes to bone health, it's important to remember that children are not just small adults. Kid bones differ from adult bones in significant ways, and that's why they need our care.
Learn More
A diagnosis can be overwhelming. Children's is here to support your child and family every step of the way. We'll help you understand your treatment plan and work with your schedule, including by offering same-day appointments. Children's has resources to help your children live with OI, minimize fractures and find a good balance.
While there is no known cure for OI, current treatments focus on minimizing pain, maximizing function and decreasing rates of fractures and bony deformities. Our goal is to help children with OI live better, more fulfilling lives. Treatments include physical therapy, bracing, medications to make bones stronger and, occasionally, surgery.
Strategies to improve bone in patients with OI include (but are not limited to):
Encouragement of weight-bearing activities.
Use of braces, when necessary.
Exercise and/or physical therapy–either on land or in the water.
Taking adequate levels of daily calcium and vitamin D.
When appropriate, medications to make bones stronger (for example, bisphosphonates).
When appropriate, surgery to implant rods to straighten bones and protect them from future fractures.
Children with OI are initially seen at a Children's Physician Group–Orthopaedics and Sports Medicine location near you. Patients with more moderate to severe disease may be referred to Children's endocrinology, physical therapy, dentistry, and possibly other specialists along the way. Our teams work together to create comprehensive treatment plans for your child.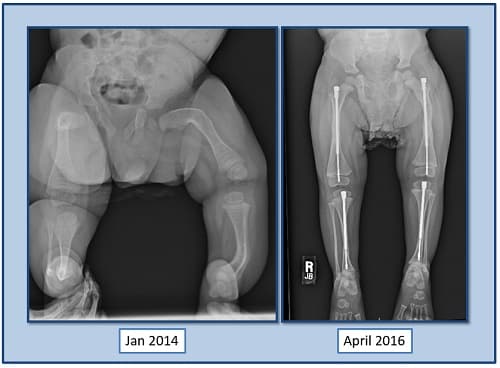 There are two care phases for OI: the maintenance phase, in which our team evaluates your child's bones and develops a treatment plan, and the acute fracture phase, in which your child has suffered from a broken bone.
Maintenance phase
During this phase, all efforts focus on strengthening the bones as much as possible, including through physical therapy and bracing.
For children with moderate to severe OI, we typically start physical therapy around 3 to 6 months of age. Therapy can either be "land therapy" or "aqua therapy," depending on your and your doctor's preferences. Keep in mind that access to pools can be limited in the greater Atlanta area, but children with OI have high priority. Other creative therapeutic activities include dance, ballet and martial arts.
Physical therapy is imperative for a young child with OI. Children learn balance skills to prevent falls and gain muscle strength and endurance. For an older child, there may be anxiety about walking and running. Working with an experienced therapist will get your child moving and keep him moving. Once you have a prescription from your provider, we'll help you figure out therapy options.
Your provider may also recommend braces for your child's ankles. Many children with OI have very flexible joints and flat feet, and braces provide additional support for walking and running.
A supramalleolar orthosis (SMO) is the most common brace prescribed. It provides support for the ankle and can fit into most sneakers. The brace comes up to just above the ankle bones (known as malleoli). If your child benefits from an SMO when he is younger, he will likely transition to a shoe insert as he gets older.
Acute fracture phase
We take steps to develop the right solution and treatment plan when your child has suffered a broken bone. Treatment options to address fractures in children with OI include treatment through medications known as bisphosphonates or surgical treatment.
Bisphosphonates have revolutionized care for children with OI and helped previously wheelchair-dependent kids walk. Children previously in chronic pain now live with less pain and fewer fractures.
Bisphosphonates are medications that can be used to strengthen bones. In a process known as turnover, your body constantly breaks down old bone to make new bone. The medicine inhibits bone turnover to improve bone density, which can benefit children with more severe forms of OI.
Bisphosphonates, which come in either oral or I.V. form, are considered if your child has:
Obvious crookedness to the bone.
Multiple long-bone fractures (e.g., femur, tibia, humerus) in one year.
Any pathologic back fracture.
These medications are not without risk and must be discussed with your doctor before starting treatment. Typically, endocrinologists prescribe bisphosphonates. If the decision is made to consider bisphosphonates, you will be referred to an endocrinologist specially trained in treating bones.
For children with the more severe types of OI in which the bones are too crooked to stand on, your doctor may recommend placing rods in all four portions of the lower limbs.
Surgery is usually performed once your child is pulling up to standing position (which is between 18 and 24 months, on average, in the more moderate to severe forms of OI). The rods most commonly used in this surgery are called Fassier-Duval rods.
The surgery is designed to not only straighten the bones but also to protect them from bending and breaking in the future. Positive results are not guaranteed, and not every child with OI should be considered for surgery. The child in the images shown here is now able to walk and rarely suffers the fractures that previously slowed him down.
Living with osteogenesis imperfecta can be a balancing act. At Children's, we are here to answer your questions and help your child find the right mix for a healthy lifestyle.
Common conditions
While no child's situation is the same, there are conditions common to a collagen disorder in the body. These can include:
We focus on strengthening OI bones as much as possible. Our team uses a multidisciplinary approach to optimize your child's bone health. This includes proper nutrition information, sometimes through physical and aquatic therapy, and some children will receive medications (such as pamidronate) to help strengthen bones. At times, we recommend rodding surgeries to straighten the bones and decrease the risk of future fractures.
Children's is home to Georgia's only nationally ranked orthopedics program for kids and teens. Our orthopedics team is specially trained to treat kids and teens who are still growing.
Our surgeons are actively involved in research, making sure sure your child receives the most up-to-date and informed treatment possible.