What is a congenital single ventricle heart defect?
Babies born with single ventricle heart defect have only one working pumping chamber (ventricle) in their heart, while the normal heart has two ventricles. As a result, the heart cannot pump blood to the lungs and the body in the usual way.
Some examples of congenital single ventricle heart defects include hypoplastic left heart syndrome (HLHS), pulmonary atresia, double outlet right ventricle, double inlet left ventricle, and unbalanced atrioventricular canal defect. A series of three heart surgeries are necessary to re-route the blood flow and provide the best possible blood circulation for a baby's body.
For hypoplastic left heart syndrome, the most common type of single ventricle, a baby will undergo a Norwood procedure shortly after birth. The second heart surgery (Glenn procedure) is completed at about four months of age. The third heart surgery in the series (Fontan procedure) is completed between three and four years of age.
About the Single Ventricle Program at Children's
The Single Ventricle Program at the Children's Heart Center cares for children with the most complex congenital heart defects. Our program is part of the National Pediatric Cardiology Quality Improvement Collaborative, whose mission is to improve the care and outcomes of infants with hypoplastic left heart syndrome from prenatal diagnosis through one year of age. Neonatal surgery is performed by our team of experienced cardiothoracic surgeons and postoperative care is provided by our team of skilled intensive care physicians. Each child's needs are addressed by a multidisciplinary team experienced in all aspects of single ventricle care with focus on the challenges of growth and development. This includes a comprehensive approach to feeding difficulties by speech language pathologists and registered dietitians. Additional rehabilitative needs are addressed with physical therapy and occupational therapy and a cardiac neurodevelopmental clinical psychologist. Support for the entire family is provided by social workers, chaplains, parent education coordinators, case managers and interpreters alongside the medical and surgical teams.
Our program places a particular focus on the interstage period, a high-risk period of time between a baby's first heart surgery and second heart surgery. The home monitoring program provides each family with an infant scale and pulse oximeter at the time of hospital discharge. This allows the single ventricle team to assess progress remotely and detect problems early. Families enter data daily using the patient portal, and the single ventricle team reviews the home data and maintains at least weekly contact with the family. Access to the medical team is seamless with frequent outpatient clinic visits, routine testing, and 24-hr availability by phone. Frequent outpatient clinic visits and routine testing allows early detection of problems.
What to expect at the Single Ventricle Program
Personalized care

Your child's care plan will be adjusted based on his or her specific needs throughout the entire interstage period.

Treatment from a multidisciplinary team

Your child's team will consist of a surgeon, a cardiologist, nurses, a social worker, a nutritionist and a nurse practitioner to help meet your child's and family's needs.

We are ranked as one of the top pediatric cardiac programs in the country by U.S. News & World Report.

Consistent nurse practitioner care

A dedicated nurse practitioner will be available to your family as a familiar face throughout the entire interstage period.

Accessibility to your child's healthcare provider

Your child's care will include weekly phone calls and cardiology appointments. A 24-hour call line is available to you for any questions or concerns.

Education

Before your child is discharged, you will be educated about how to care for your child at home.
How can I care for my child at home?
Our team works closely with patient families to set up a home monitoring plan that allows them to track their baby's weight, oxygen levels and fluid intake while at home. Extensive education and home monitoring helps parents and caregivers actively participate in the care of their babies outside of the hospital and ease their transition to the second surgery.
Tips for successful home monitoring after hospital discharge
Communicate with your child's medical team.

Let us know about any concerns, questions or accomplishments.

Don't be afraid to ask for help.

We know that it can be scary and hard to go home. We encourage you to rely on us to provide you with any help or resources that you may need.

Keep a calendar.

A calendar will help you keep track of important details and dates regarding your child's treatment, such as medications, feedings, home monitoring and appointments.
Nicole Coolidge, CPNP-AC
Katherine Mackowiak, RN
Sherry Smith, RN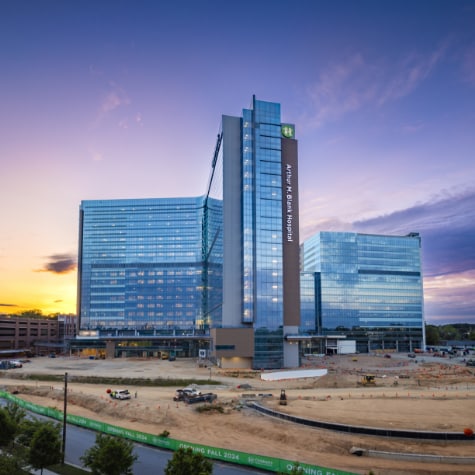 The Future of Pediatric Care
A hospital reimagined
Children's is building a new, state-of-the-art campus designed to improve outcomes, help clinicians deliver high-quality care and bring lifesaving research directly to our patients.
Learn More
Resources for Heart Families