What is an arrhythmia?
An arrhythmia is an abnormality in the electrical system of the heart causing it to beat in an abnormal way. These abnormal heart beats may be too fast, too slow or irregular. Arrhythmias can vary in severity, from mild and undetected to life threatening.
If your child has been diagnosed with an arrhythmia, palpitations or chest pains, it is critical they receive coordinated, specialized care. Arrhythmias may be congenital (present at birth), or they may develop at any time during childhood. At the Children's Healthcare of Atlanta Heart Center, we have an internationally recognized arrhythmia program and are the largest clinical program in the Southeast, caring for more than 1,000 patients with arrhythmias from before birth through adulthood, as well as treating children who have palpitations or chest pains and turn to our providers to determine if an arrhythmia is present.
What services does the Children's Arrhythmia Program offer?
Our Arrhythmia Program provides dedicated outpatient and inpatient services for patients with:
A family history of arrhythmia or sudden unexpected death possibly caused by an arrhythmia
Bradycardia (slower than normal heart rate)
Supraventricular tachycardia (faster than normal heart rate)
Wolff-Parkinson-White syndrome
Ventricular tachycardia
Syncope
Brugada syndrome
Arrhythmogenic right ventricular cardiomyopathy (ARVC)
Catecholaminergic polymorphic ventricular tachycardia (CPVT)
Long QT syndrome
Patients with arrhythmias often require specialized and targeted expertise. Our outpatient services include:
Exercise stress tests, including stress echocardiograms
Implantable cardiac device management
Pacemakers
Implantable cardioverter defibrillators
Loop recorders
Remote home monitoring of all devices
Electrocardiograms (ECGs)
Genetic testing for familial arrhythmias, including genetic counseling
Medical management of arrhythmias
Extended ambulatory heart rhythm monitoring
Electrophysiology studies and ablation
Inpatient procedures are performed in our dedicated pediatric electrophysiology lab using state-of-the-art equipment. Specific tests may include:
Electrophysiology studies
Radiofrequency and cryoablation therapies
Implantable event monitors
Pacemaker and implantable cardioverter-defibrillator implantation
Drug testing for inheritable arrhythmias
What are the exercise stress tests offered at the Heart Center?
Cardiopulmonary exercise stress test (bike or treadmill)
Exercise stress echocardiogram
What is a cardiopulmonary exercise stress test?
A cardiac exercise stress test with metabolic gas analysis examines how the heart and lungs work together during and after exercise. Every few minutes, the exercise increases in difficulty, varying in speed and elevation on a treadmill and in resistance on a bike until the patient reaches a maximal effort. A patient is hooked up to an electrocardiogram to monitor heart rate and rhythm throughout the exercise. Additionally, a mask covers the nose and mouth and is used to monitor breathing and how the body uses oxygen and removes carbon dioxide during exercise.
What is an exercise stress echocardiogram?
An exercise stress echocardiogram is a maximal-effort test that examines heart and lung function during and after exercise. An echocardiogram is performed at each work stage of the exercise protocol or just before and at immediate peak exercise.
Why are these tests ordered?
Many heart tests are performed at rest; however, the heart and lungs work harder during exercise. These tests examine how the heart functions at increased heart rates and how the lungs function at higher breathing rates. These tests are used to:
Evaluate congenital heart disease.
Assess aerobic conditioning.
Evaluate for exercise-induced arrhythmias.
Evaluate cardiac and pulmonary response to exercise.
Assess cardiac and pulmonary functional capacity.
Assess symptoms and exercise-induced symptoms.
Evaluate for asthma and exercise-induced asthma.
Assess sports clearance.
How are the tests performed?
The exercise tests can be performed on a bicycle or treadmill. The stress echo is usually performed on a bicycle but can be performed on a treadmill. The tests consist of progressive stages of exercise that increase every few minutes in speed and elevation (treadmill) or in resistance (bicycle).
Where do I take my child for the tests?
Exercise tests are performed at Children's Egleston Hospital:
1405 Clifton Road NE
Atlanta, GA 30322
404-785-6476
How long do the tests take?
Prepare to be available for one to one and a half hours for the exercise stress test and two to two and a half hours for the stress echo. The exercise time itself depends on a patient's level of conditioning but, on average, lasts about 20 minutes. The total time in the lab is used for test setup, test explanation, exercise and recovery.
Who interprets the tests, and how long until I receive results?
A pediatric cardiologist will interpret test results, and your ordering physician will contact you with the results within two weeks of the test. If the results yield something dangerous, a physician will review the test before the patient leaves the exercise lab.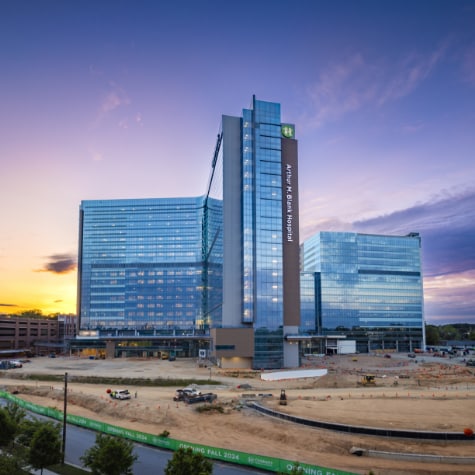 The Future of Pediatric Care
A hospital reimagined
Children's is building a new, state-of-the-art campus designed to improve outcomes, help clinicians deliver high-quality care and bring lifesaving research directly to our patients.
Learn More
The Device Clinic includes evaluation and interrogation of pacemakers, implantable cardiac defibrillators (ICDs) and loop recorders. Regular follow-up is important, as the doctor will check battery life, how often your child is using the device and lead functionality. The team will also process remote home monitor transmissions between in-clinic visits.
Address:
Egleston Hospital
1405 Clifton Road NE
Atlanta, GA 30322
Office hours:
Monday through Friday, 8 a.m. to 5 p.m.
404-785-6476
After hours, weekends and holidays:
Resources for Heart Families
Robert Whitehill, MD, Medical Director, VAD Program
Jessica Posey, MSN, FNP-C
Patricia Simpson, MSN, FNP-C, RN
Erin Demo, MS, CGC
Linda Knight, MS, CGC
Megan Stark, MS
Goutham Vennapusa, MS
Julie Morris, CCT
Sarah Parkerson, RN, CCDS