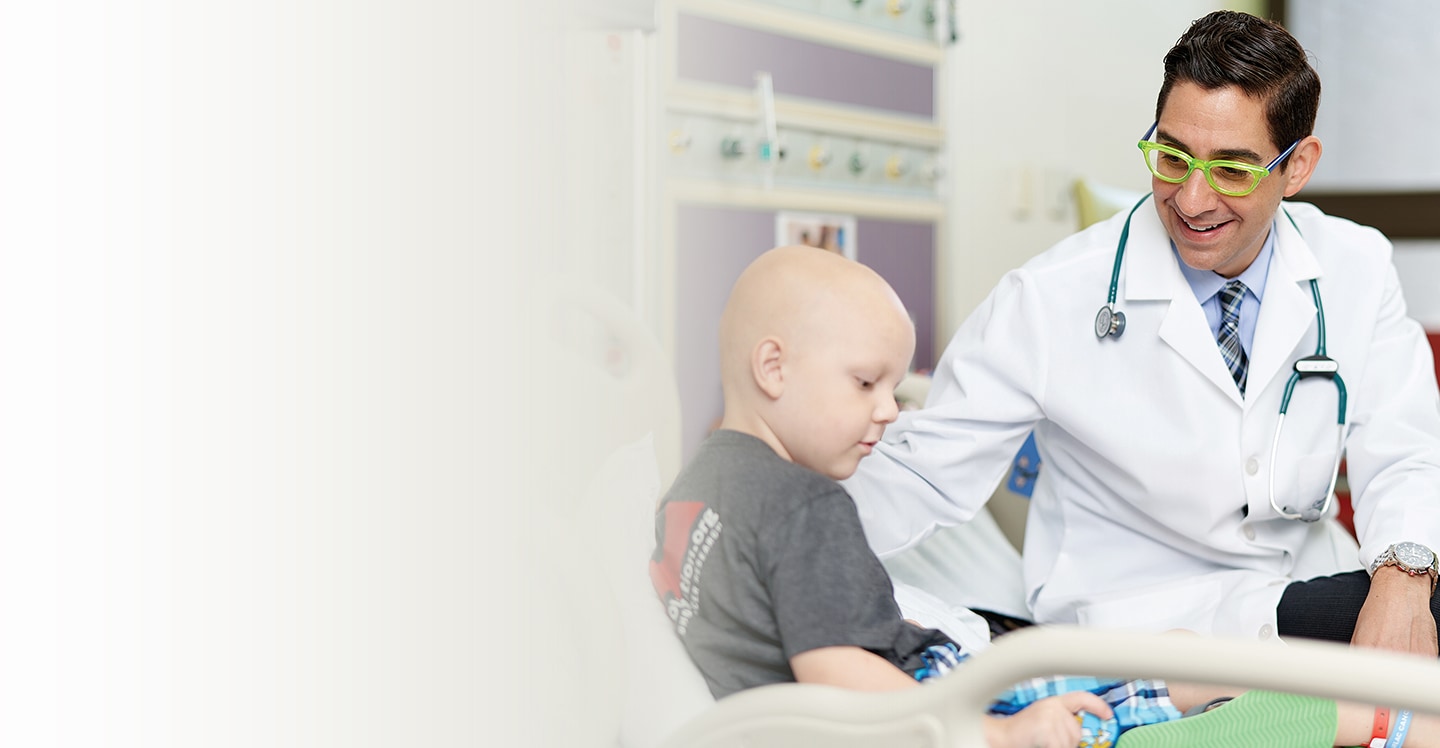 Developmental therapeutics is clinical research aimed at finding new and innovative anti-cancer therapies. It includes the exploration of new drugs, new combinations of drugs, new technologies, and new cell and immune therapies for cancer treatment. Once identified, these new therapies are tested in patients for safety, appropriate dosing and efficacy within the confines of a clinical trial. The ultimate goal of developmental therapeutics work is to identify novel therapies that are safe and effective in treating children with cancer while also preserving their quality of life.
Clinical trials are research studies that help researchers evaluate how a specific medical, surgical or behavioral intervention affects human health outcomes. Clinical trials are the primary way researchers find out if a new treatment, such as a new drug to fight leukemia, is safe and effective in patients. There are four phases of clinical trials, each with specific goals.
The developmental therapeutics team at the Aflac Cancer and Blood Disorders Center of Children's Healthcare of Atlanta treats children and young adults enrolled in Phase I and Phase II clinical trials. These patients typically have cancer that has not responded well to or has progressed after what is considered the best therapy. We may also treat children with a specific diagnosis that has a poor outcome despite the best known therapies.
Phase I and II clinical trials evaluate new and innovative treatments. They provide additional options for children who have had limited treatment choices outside of standard therapy. These trials allow researchers to better understand new treatments, including their side effects and the most appropriate dosages to use in children and young adults, and learn how a specific tumor or disease responds to these new therapies. This process helps inform more effective future treatments for children and young adults with cancer.
While we have several open trials that are currently accepting new patients, we typically need to assess your child's cancer, previous treatments and medical history to determine if your child is eligible for a specific trial.
Call or email our developmental therapeutics clinical nurse coordinator with questions regarding your child's eligibility for a specific trial.
Kate Glasscox, BSN, RN, CPN
Developmental Therapy Clinical Nurse Coordinator
Aflac Cancer and Blood Disorders Center
Office: 404-785-0002
Email: Katherine Glasscox
Cancer and Blood Disorders Research
We're committed to finding innovative treatments for children with cancer and blood disorders.
As Georgia's top pediatric cancer research center, we are committed to excellence and innovation in pediatric cancer and blood disorders research.
Read More
We are proud to provide numerous unique local trials developed and led by our very own clinical research team members. These include trials treating children with a variety of recurrent and high-risk cancers.
We are a member of the Children's Oncology Group (COG) Pediatric Early Phase-Clinical Trial Network (PEP-CTN)—one of only 21 centers nationwide. This prestigious membership allows us to offer novel and innovative therapies to children and young adults with a wide range of cancer diagnoses.
We are one of 11 national members of the Pediatric Brain Tumor Consortium (PBTC), a multidisciplinary cooperative research organization dedicated to providing new and innovative therapies to children with recurrent or progressive high-risk brain tumors.
We are a member of the New Approaches to Neuroblastoma Therapy (NANT), a consortium dedicated to developing new therapies specifically for children with neuroblastoma that improve outcomes and minimize side effects.
We are a member of Therapeutic Advances in Childhood Leukemia (TACL), a consortium dedicated to developing innovative therapies for incurable leukemia and lymphoma.
The developmental therapeutics team partners with our blood and marrow transplant (BMT) team to provide patients with new and innovative cellular therapies.
The Aflac Cancer and Blood Disorders Center has dedicated providers who specialize in palliative care to help support our developmental therapeutics patients and their families.
Receiving a cancer diagnosis for your child can be an emotional and overwhelming experience. At the Aflac Cancer and Blood Disorders Center, we are here to support you and your family. We make it our mission to provide the best care—and best experience—for every child, whether treating a toddler during an emergency or helping a teen through chemotherapy treatments. Family plays an important role in your child's well-being. Not only are you a vital part of your child's healthcare team; you are a source of security and comfort.
We work to support your whole family while your child is in our care—and after she goes home.
Developmental therapeutics physicians
Advanced practice providers
Erin Connelly, APRN, PNP, CPON
Stacy Senn, APRN, PNP, CPHON
Patient care navigator
Kate Glasscox, BSN, RN, CPN
Research coordinators
Amy Autry-Bush, BS, CCRP, Lead Research Coordinator
Melissa Schink, MSN, RN
Olivia Floyd, BSN, RN
Christie Frick, BSN, RN, CPN
Amber Kaminski, MSN, RN
Bailey Sturdivant, BS, CRC
Solid tumor and MIBG clinical nurse coordinator
Sarah Carlin, BSN, RN, CPHON