Germ cells are cells in a fetus that eventually make sperm in boys and eggs in girls. Germ cell tumors happen when germ cells cluster together abnormally. These tumors usually develop inside the gonads (ovaries for girls and testes for boys), and they can be cancerous or noncancerous. The cause of most germ cell tumors is not fully understood.
Types of germ cell tumors:
Ovarian cancer
Testicular cancer
Germinoma
Yolk sac tumor
Embryonal carcinoma
Choriocarcinoma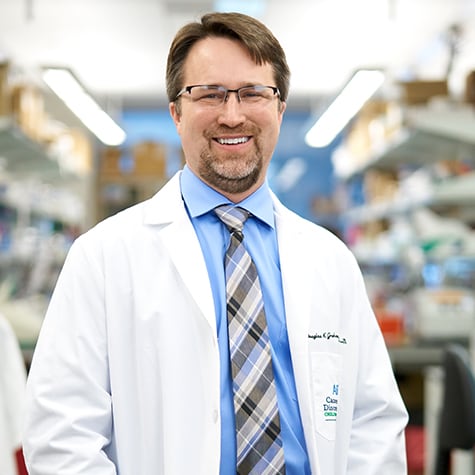 Cancer and Blood Disorders Research
We're committed to finding innovative treatments for children with cancer and blood disorders.
Home to one of the largest clinical trial programs in the country, we offer our patients access to some of the most novel treatment options.
Learn More
At the Aflac Cancer and Blood Disorders Center of Children's Healthcare of Atlanta, we offer a full range of treatment options for kids and young adults with germ cell tumors. We will create a treatment plan for each patient, as approaches to treatment can vary. Our team works closely with each family to determine the best course of action. Treatment options may include:
Chemotherapy (chemo): A group of medicines that kill or damage cancer cells.
Radiation therapy: The use of high-energy rays to kill or damage cancer cells.
Surgery: A procedure to remove as many of the cancerous cells as possible.
A child with a germ cell tumor may undergo any one of these treatments or a combination of them.
We are home to one of the leading childhood cancer programs in the country. Combining the latest proven technology and research with a caring, child-friendly approach makes the Aflac Cancer and Blood Disorders Center a top choice for the treatment of pediatric germ cell tumors.
Our highlights
U.S. News & World Report ranks us among the top pediatric cancer programs in the country.
Our program is led by Thomas Olson, MD, an internationally recognized expert in pediatric germ cell tumors.
We offer some of the most promising new cancer treatments for children who have relapsed or who have difficult-to-treat cancers through our Developmental Therapeutics Program.
We are members of the Malignant Germ Cell Tumors International Collaborative (MaGIC).
Receiving a cancer diagnosis for your child can be an emotional and overwhelming experience. At the Aflac Cancer and Blood Disorders Center, we are here to support you and your family. We make it our mission to provide the best care—and best experience—for every child, whether treating a toddler during an emergency or helping a teen through chemotherapy treatments. Family plays an important role in your child's well-being. Not only are you a vital part of your child's healthcare team; you are a source of security and comfort.
We work to support your whole family while your child is in our care—and after she goes home.