Arriving at work for her 7 a.m. shift, she sits in her car for a moment of peace and silent meditation. She reflects on her husband and their two school-age daughters who are back at home still asleep and all cozy in their warm beds, and who she left while it was still dark outside and there were stars in the sky.
She steps out of her car, slips on her mask, crosses the parking deck and snakes through the halls of the hospital until she reaches her unit. She doesn't know what the day will bring, but she knows she's right where she's supposed to be. And although it might be tough to be away from her own family right now, she is here to take care of our kids. She is one of the true stars at Children's Healthcare of Atlanta who shines so brightly during this unprecedented time.
COVID-19 has been a poignant time for our employees on the front line, and many of you have rallied around our healthcare heroes. You asked what you could do to help and you came through, providing meals, masks, smiles and applause. We can't thank you enough.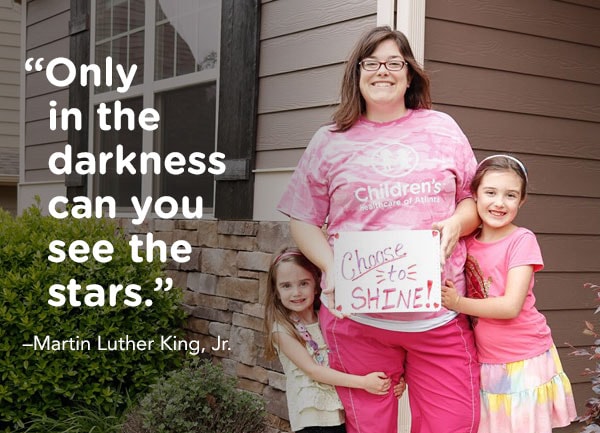 For this Giving Tuesday Now, we are asking you to help shine a bright light on our stars—and help keep them shining. At Children's, we are committed to supporting the emotional wellbeing of our teams and COVID-19 has brought to light the need to continue to fiercely care for our caregivers. We've opened respite rooms for clinical staff to get rest throughout their shifts, and we've provided ongoing resiliency training that teaches coping skills to help them stay strong—even on the toughest days.
We are asking you to help fund one of our upcoming resiliency training sessions for our frontline staff during COVID-19. A donation of any size will help them shine. Can you help us this #GivingTuesdayNow?