Clark Leaps Into Leg Lengthening
Born with fibular hemimelia, Clark's right leg was on track to be 3 inches shorter than his left. His care team fitted him with an external fixator to address the discrepancy.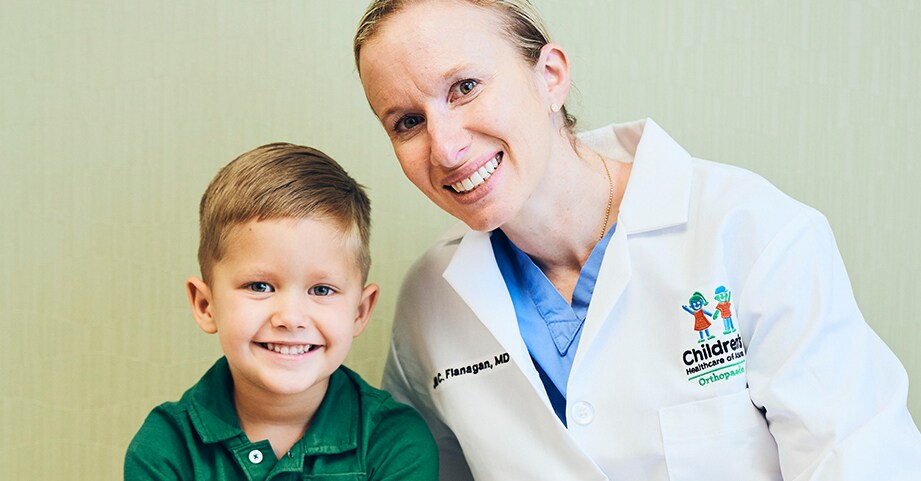 Soon after she gave birth to her fourth child, Clark, Ellen Jeffers heard her husband, Brian, make a startling observation: "He only has four toes on his right foot."
But when Clark's parents took him to see an orthopedist when he was a week old, the doctor didn't express significant concern. Six months later, Clark's 11-year-old sister Anna noticed something else about the growing boy. His right leg was shorter than his left.
A significant second opinion
When their orthopedist remained unconcerned, Clark's parents took him to see Jill Flanagan, MD, an Orthopedic Surgeon at Children's, for an informed second opinion.
At 9 months old, Clark was diagnosed with fibular hemimelia, a condition that affects about 1 in 40,000 births.
"Despite the difference in his limb lengths, Clark is a normal, healthy boy," Dr. Flanagan says. "His anticipated final limb length difference was less than 3 inches—which is a great enough difference to need treatment but not so extensive that lengthening would not be possible."
Correcting that difference in length would take a personalized treatment plan, spanning from surgery to supportive physical therapy.
A series of surgeries
Initially, Clark underwent SUPERankle surgery (Systematic Utilitarian Procedure for Extremity Reconstruction). "His ankle was not completely straight, so I first performed an ankle surgery to better align it," says Dr. Flanagan.
In a second surgery, Clark was fitted with an external fixator, which uses cranks to help grow new bone. The procedure required breaking Clark's tibia and subsequently expanding the fixator twice a day afterward, extending the still-healing bone.
Clark was a champion through surgery and was off his pain medicine within two weeks. Far from being laid low by the experience, Clark's parents had to actively rein in his enthusiasm.
"The whole process is absolutely miraculous," Ellen says. "The external fixator is this large contraption, but Clark can still walk around. In fact, we have to keep him from running, doing karate kicks and other crazy things."
Amazing results
"Limb lengthening on children is an extraordinary experience," Dr. Flanagan says. "Children have an amazing ability to adapt. While applying an external fixator to a 4-year-old child may seem crazy to some, it is the perfect time for Clark."
Once the fixator came off, Clark's newly grown bone was stabilized with a rod. He participated in another round of physical therapy and wore a cast to protect his leg.
Clark's family is enthusiastic about the experience. "It's just been amazing to see how well he's done," Ellen says. "And while the days seem long when you're counting down, it's gone by faster than I could have expected."
One more round
Clark will have a second leg lengthening procedure once he's finished growing—likely between the ages of 14 and 16.
But until then, he's busy being a kid—playing sports, chasing his siblings and being his spirited, tender self.
Specialized Orthopedic Care
Restoring lives and limbs for kids and teens.
Our Comprehensive Limb Difference Program provides specialized care for children, teens and young adults who have crooked, uneven or missing limbs.
See More