Caleb's Standing Tall After Limb Lengthening
Due to fibular hemimelia, Caleb's right leg was 2 inches shorter than his left. To prevent further issues, his care team did something remarkable: They helped him grow his leg longer.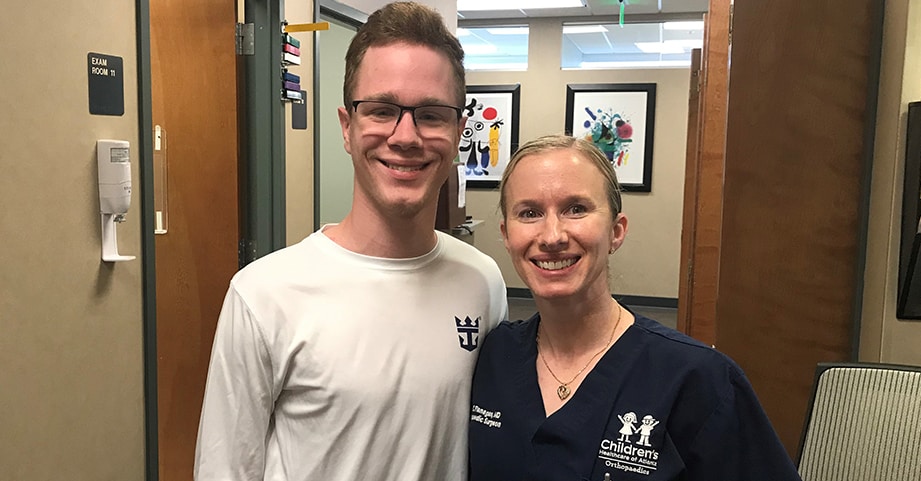 Due to a rare condition known as fibular hemimelia, Caleb was born with both a foot deformity and a limb length discrepancy (LLD). While these conditions would discourage most from active pursuits, Caleb wasn't so easily swayed.
"People often asked if it hurts because I had a big limp, but I controlled that limp and it didn't bother me," Caleb says. "I played soccer, basketball, football and my junior year of high school I did pole vault. It never stopped me from doing sports."
Exploring leg lengthening
Growing up, Caleb's right leg has always been two inches shorter than his left. In 2009, Caleb's family turned to Children's Healthcare of Atlanta to monitor the discrepancy. "My doctors wanted to see how my leg was growing and if my right leg would ever catch up," Caleb says. "But it always stayed 2 inches shorter."
Eventually, Caleb's orthopedic team began to discuss the possibility of lengthening surgery.
Jill Flanagan, MD, a Pediatric Orthopedic Surgeon at Children's with special training and expertise to treat LLD, saw long-term benefits to correcting the discrepancy. "With a leg 2 inches shorter, Caleb would always have a limp," Dr. Flanagan says. "In addition, he is at a higher risk for hip, knee or back pain due to his compensatory gait mechanics."
So, Caleb's care team discussed two options to lengthen Caleb's leg: a more-common procedure using an external fixator or a newer method that uses an internal, magnet-powered nail.
An intricate process
Actively involved in limb lengthening research, Dr. Flanagan is familiar with developing approaches—and with the expertise required to carry them out. "Limb lengthening is an evolving field," she says. "There are still relatively few orthopedic surgeons who have the expert training needed for such intricate procedures."
As a result, Children's is one of the few healthcare systems in the Southeast capable of offering limb lengthening. Dr. Flanagan explains: "Just as important as the surgery is the need for a physical therapist that understands the nuances of lengthening. Children's has the right level of expertise in both, which Caleb needed to make his lengthening possible."
Limb lengthening requires that patients be done growing or skeletally mature. Caleb opted to wait until after his high school graduation to have his surgery, opting for the internal lengthening device. "It's cool that I was able to decide which option to do," he says.
A successful procedure
During surgery, doctors were able to lengthen Caleb's right tibia nearly 6 centimeters. Afterward, Caleb would use an external magnet each day to activate the device's magnetic gears and extend the nail inside. The resulting new bone growth would gradually lengthen his leg, and allow for new growth.
For several months after surgery, Caleb relied on crutches. But just after Christmas 2018, he began walking on his own once again, visiting Children's for physical therapy once a week.
"It's been an amazing adventure," says Caleb.
It's also been an experience that may have inspired a future healthcare professional. All of his exposure to X-rays and imaging at Children's led Caleb to attend Lanier Technical College, where he planned to study radiology.
Specialized Orthopedic Care
Restoring lives and limbs for kids and teens.
Our Comprehensive Limb Difference Program provides specialized care for children, teens and young adults who have crooked, uneven or missing limbs.
See More