Surrounded by Support, Alison Conquers an ACL Injury
When she tore her ACL playing soccer, Alison was devastated—but the best-in-class sports medicine care team at Children's Healthcare of Atlanta helped her recover fully and quickly.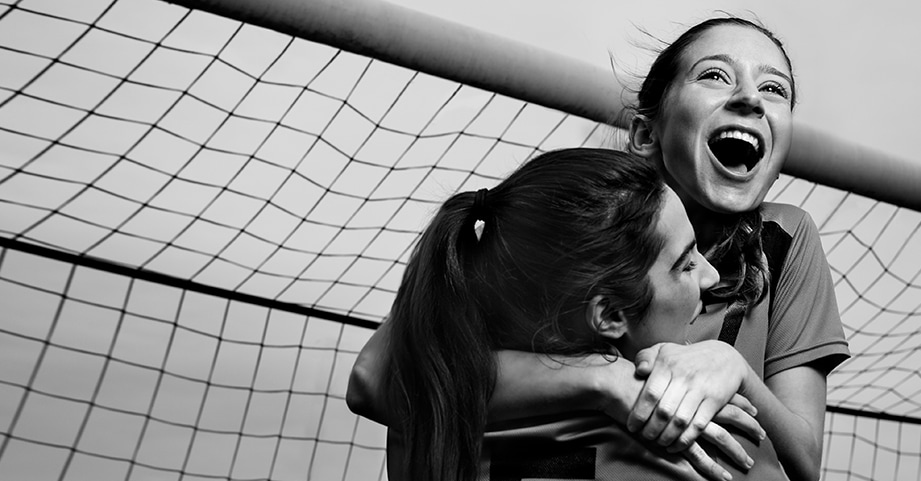 When the injury struck, Alison had just made the cut for her high school soccer team.
Her club soccer team was competing in one of the last tournaments of the season. Alison collided with another player, and both went down hard. In the midst of the accident, she could hear a telltale pop in her knee.
Alison tore her anterior cruciate ligament (ACL) and her medial collateral ligament (MCL). "We knew right away," says her mom, Michelene—who was watching from the sidelines. "She was crying because she knew she had injured her knee. Not so much because it hurt, but she was just devastated."
Sidelined by a torn ACL
A torn ACL can take a young athlete off the field for as long as a year, demanding surgery, sports physical therapy and plenty of hard work to recuperate. In Alison's case, the swelling in her knee was so severe that she had to wait more than a month before surgery was possible.
Alison's care team at Children's helped keep her spirits up. Eva Beaulieu, one of our certified athletic trainers, was on the sidelines the day Alison was injured. S. Clifton Willimon, MD, a Sports Medicine Orthopedic Surgeon at Children's, performed the surgery and worked closely with sports physical therapists Doug Hattermann and Kari Hammond for months afterward.
"Dr. Willimon took really good care of Alison," says Michelene. "He called her to make sure she was doing well. He's very caring and dedicated to the kids' recovery. Plus, he's an excellent surgeon. It's difficult to find that combination."
Making recovery fun
Alison also relied on the ongoing emotional support of her therapists. "They made it fun. I actually wanted to go all the time," Alison says. "I felt comfortable there, and it wasn't like I was being forced to go. They definitely help you push through to get all the way better and get back to playing."
A year after her injury, Alison made her enthusiastic return to soccer. Fully recovered, she sought out colleges with competitive club-level soccer teams so she could keep playing after graduating from high school.
A family connection
"Coming to Children's really helped her. I think that if she had gone to an adult sports medicine program or an adult doctor, she would have had a different experience," says Michelene. "That extra touch of working with kids and giving encouragement that Children's has is what made Alison's comeback so successful."
In fact, the experience with the Sports Medicine Program made such an impression on Alison's family that Michelene—who happens to be a physical therapist herself—ended up joining the sports team at Children's at Fayette as soon as a position opened.
Today, the therapists who treated her daughter are her colleagues.
Winning Techniques
Our program is as dedicated as your teen athlete.
Growing athletes have specific needs. Our Sports Medicine Program is one of the only programs in the country dedicated to the needs of emerging champions.
Get in the Game
Another Dose of Inspiration—Be Part of Our Story