Posted on 6 Jun 2018
This content has been clinically reviewed by Tracy Nailor, MD.
"I just looked away for an instant.''
No adult wants to be the one saying this after a child drowns, but it happens every year.
Drowning is a leading cause of death among young children, and nearly nine out of 10 drownings occur during a brief lapse in supervision.
Most babies who drown do so in bathtubs and buckets. Most toddlers drown after falling into swimming pools. Children older than 5 tend to drown in rivers and lakes.
When a child is in the water, an adult should be within arm's length and watching at all times—no texting, dozing, reading a book or talking to someone else when kids are splashing around.
It's also a good idea for adults to take a CPR class, just in case.
Swimming lessons won't prevent your child from drowning
All children should be taught to swim starting at about age 4. But even after they've taken lessons, parents shouldn't let their guard down. Swimming lessons don't increase the poolside safety of young children. Lessons may, in fact, embolden a child who is a weak swimmer.
Also, don't rely on lifeguards or other children to watch your kids. If you have to leave the pool, designate another adult who knows how to swim to watch them.
Most drownings happen in home swimming pools
If you have a pool, it should be fenced completely at a height of at least 4 feet so that kids can't climb it. It should also have a self-latching gate.
Establishing and enforcing strict rules like these for your pool can also help keep kids safe:
No toys in the pool when the pool isn't in use
No electrical appliances near the pool
No diving in water that isn't deep enough
No running on the pool deck
No chewing gum while swimming
No pushing or rough play in or around the water
Also, don't let kids rely on water wings, rafts or inflatable toys for flotation. If a child needs a flotation device, make sure it's Coast Guard-approved and fits properly.
Shallow water can be dangerous, too
A child can drown in less than 2 inches of water, which means you should never leave a baby alone in the bathtub, even if he's propped up.
Kiddie pools are also especially dangerous and should be emptied after each use. Make sure to turn them upside down, too, so they don't fill with rainwater.
At the beach, be aware of currents and tides that can knock a small child off of his feet, even in shallow water. The water in lakes can also drop off quickly, so be alert and vigilant with your child.
When boating, make sure life jackets fit properly
Kids should always wear a Coast Guard-approved life jacket when they're on or around boats. Make sure the life jacket fits by having the child raise his hands above his head. If the top of the life jacket hits his chin, it's either too big for the child or not fastened tight enough.
Adults should wear life jackets, too, especially if there is an infant onboard. Don't put infants in car seats, since these will sink immediately if a boat capsizes.
Another note: It often gets chilly on the water. While this may not bother an adult, children can quickly succumb to hypothermia. Be sure to bring extra blankets and jackets, and wrap up a child who starts to shiver.
Finally, many boat accidents occur due to alcohol consumption. Keep your children safe by abstaining while boating.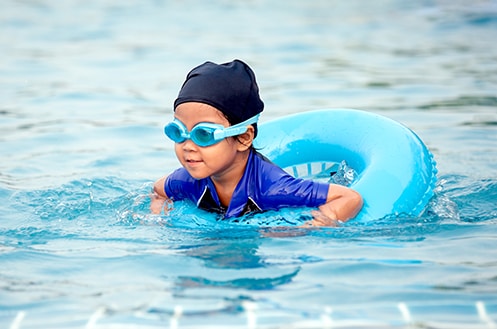 Drowning is a leading cause of death among young children, and nearly nine out of 10 drownings occur during a brief lapse in supervision.
Follow the rules in water parks
Before you take your kids to a water park, make sure it's monitored by qualified lifeguards. Read up on age, height and weight requirements for rides.
You should also go over park rules with your kids, such as always going down the water slide feet first and face up.
Be aware that young kids can quickly become overwhelmed with splashing and carousing by older kids at water parks. Even a good swimmer can become disoriented in wave pools.
What to do in a drowning emergency
If a child goes missing anywhere near a pool, always check the deep end of the pool first.
If you see a child whose head is low in a body of water with her mouth at water level, or he is trying to float on his back, get him out of the water immediately. Yell for someone to call 911.
If the child is not breathing, begin CPR immediately. Don't waste time trying to find someone to help or trying to drain water from the child's lungs. Be sure the child is completely out of the water and placed on a firm surface on his back before starting CPR.
Concentrate on giving the child rescue breathing and CPR until he is breathing on his own. He is likely to vomit swallowed water during CPR.
Don't stop CPR until the paramedics arrive.
And finally, a word about "dry drowning" and "secondary drowning."
Dry drowning happens when a child breathes in water, but water hasn't reached the lungs, which causes the vocal cords to spasm. Be concerned if your child has difficulty breathing just after getting out of the pool, as dry drowning typically occurs immediately.
Secondary drowning occurs when a child gets water in his lungs. Water then irritates the lining of the lungs, causing fluid to build up in the lung tissues. This condition is called pulmonary edema and can be fatal. Symptoms can happen right away, but usually occur within 24 hours after the incident and in some cases, days later. They include:
Coughing
Chest pain
Difficulty breathing
Extreme tiredness
Irritability
Mood swings
Extreme tiredness, irritability and mood swings can occur due to the brain not getting enough oxygen.
Although dry drowning and secondary drowning are rare, occurring only in 1 to 2 percent of drowning cases, they're both considered medical emergencies. If you notice these symptoms in your child, go directly to the emergency department.
And as always, the best prevention is keeping a close and diligent eye on your kids while they're on or near the water, and making sure they're well even after the fun has ended.
This content is general information and is not specific medical advice. Always consult with a doctor or healthcare provider if you have any questions or concerns about the health of a child. In case of an urgent concern or emergency, call 911 or go to the nearest emergency department right away. Some physicians and affiliated healthcare professionals on Children's Healthcare of Atlanta team are independent providers and are not our employees.