Does My Child Need to See a Chiropractor?
Chiropractic care has been around for more than a century, and many adults find it helpful for relieving aches and pains. But is it safe for children and teens to see a chiropractor? The spine specialists at Children's weigh in on the most common questions they get from parents about chiropractic care.
When your back is sore or your hips are tight, you may benefit from a visit to a chiropractor. But just because a quick adjustment works for you doesn't necessarily mean it's the best option for your child.
There's a lot of information out there about the benefits of chiropractic treatment, so it's important for you to do a bit of research to determine if it's the right choice for your child or teen. The best place to start your fact-finding: Schedule a visit with your pediatrician. Your child's doctor knows his health history and can help refer you to an appropriate specialist if needed, such as a pediatric orthopedic specialist.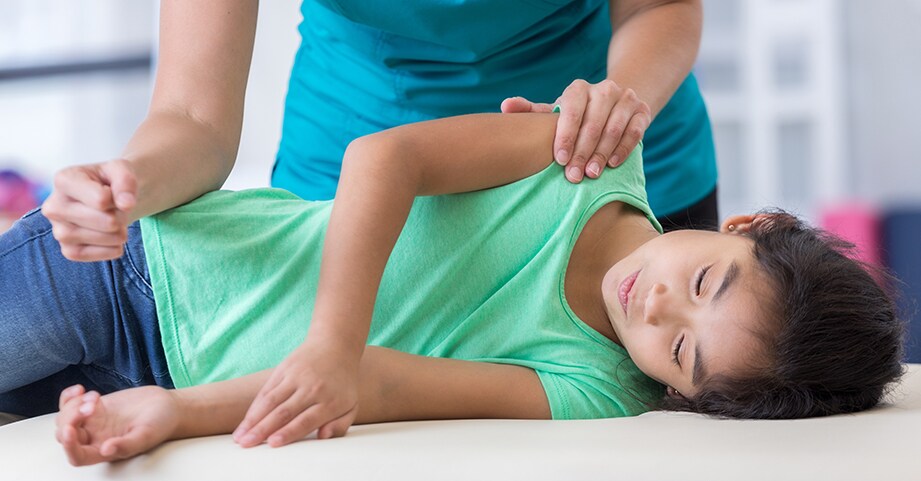 How are chiropractors different from pediatric orthopedic specialists?
Chiropractic care is strictly nonoperative, which means that chiropractors do not perform surgery. Their approach to treatment is hands-on and based on the belief that when the spine is properly aligned, the body is better able to heal itself without the need for medication or surgery. Orthopedic doctors also offer a range of nonsurgical treatment options, but, unlike chiropractors, they are able to perform surgery if needed.
"Chiropractors and orthopedic surgeons see the world through different lenses," says Michael Schmitz, MD, Chief of Orthopedics at Children's. "A pediatric orthopedist has a number of tools in their toolkit for care. When you go to a chiropractor, their tools are a little different."
A chiropractor may use manipulation (applying pressure to the spine), massage, acupuncture or ultrasound to help relieve back pain, for example. Our spine team collaborates with national leaders in pediatric spine care and offers evidence-based treatments that have been heavily researched and are shown to be effective. These treatments include activity modification, physical therapy, bracing and dry needling, all proven in scientific studies to safely treat growing bones. When surgery is needed, our specially trained orthopedic surgeons can surgically repair the bones of babies, kids and teens.
Our pediatric orthopedic specialists create comprehensive treatment plans that are tailored specifically for each child. We take your child's age and activity level into account, as well as the condition itself, to address your child's symptoms for lasting bone and joint health.
After a week of sleepless nights trying to calm a colicky baby or one too many frustrating and heartbreaking moments soothing a toddler struggling with constipation, you may be desperate for a solution. Turn to your search engine or your walking buddy for answers, and chiropractic care may come highly recommended. In fact, some parents swear by gentle chiropractic adjustments as a cure-all for their little ones.
Before you pursue any new treatment method, we recommend that you talk to your child's pediatrician or a Children's specialist first rather than relying solely on your social network for guidance. Some forceful methods may be dangerous for babies.
"The physicians at Children's evaluate published studies to create risk-benefit ratios for various conditions and treatments," says Dr. Schmitz. He points out that the evidence on spinal manipulation in infants, children and teens is mixed: A combined analysis of more than 1,200 published studies showed that the effectiveness of gentle adjustments in infants and children is uncertain, and forceful adjustments have, in some cases, led to significant harm. Because of this potential risk, Children's specialists advise against forceful adjustments for kids of any age.
The short answer: We recommend consulting your child's medical doctor first.
If your child is experiencing pain, stiffness or cracking of the spine or joints, Children's specialists recommend starting with a visit to your child's pediatrician or an orthopedic specialist who can help determine the root cause of your child's symptoms. The orthopedic specialists at Children's are specially trained to diagnose and treat babies, kids and teens, so they have a deep understanding of growing bones, growth plates, and conditions that are common among kids and teens but may go undiagnosed by providers who mainly treat adults.
Conditions like scoliosis, spondylolysis, spondylolisthesis and general joint pain can be common among kids and teens, and early diagnosis helps ensure your child has access to the widest range of treatment options. Our orthopedic specialists offer comprehensive, individualized care for each and every child.
We also collaborate with other doctors, nurses, physical therapists, radiologists and clinicians from other specialties, so we are equipped to care for the whole child, not just manage symptoms.
If you feel chiropractic care can help your child, we recommend it be used in addition to—not as a replacement for—visits to your pediatrician or orthopedic specialist.
For example, a parent might take their child with scoliosis to see a chiropractor for a spine adjustment. This and other chiropractic techniques have not been proven to slow down the curving of the spine, but some people find seeing a chiropractor might be helpful in controlling pain symptoms.
"I tell parents, 'It's OK to go see a chiropractor, but you still need to come back and see us so we can monitor your child's condition and symptoms—be it hip, back or other joint pain—to make sure your treatment plan is working as it's meant to,'" says Dr. Schmitz.
Scoliosis and Spine Program
Where you take them matters.
Request an appointment with the only nationally ranked orthopedic program for kids and teens in Georgia, and we'll help you understand your child's diagnosis and create a comprehensive treatment plan.
Make an Appointment
Michael Schmitz, MD, is Chief of the Orthopedics and Sports Medicine Center at Children's Healthcare of Atlanta. He is also Co-Director of the Spasticity clinic at Children's as well as Medical Director of the Fracture Program.
This content is general information and is not specific medical advice. Always consult with a doctor or healthcare provider if you have any questions or concerns about the health of a child. In case of an urgent concern or emergency, call 911 or go to the nearest emergency department right away. Some physicians and affiliated healthcare professionals on the Children's Healthcare of Atlanta team are independent providers and are not our employees.