How Do You Spot Hyperglycemia in Children with Diabetes?
Recognizing the signs of hyperglycemia, also known as high blood sugar, in diabetic children will allow you to respond quickly and lower the risk for complications, especially if your child has diabetes.
When the body doesn't produce enough insulin or doesn't use it effectively, glucose or sugar builds up in the blood. This spike in blood sugar is called hyperglycemia. Hyperglycemia is often the first sign of diabetes and can occur for many reasons after your child is diagnosed as well.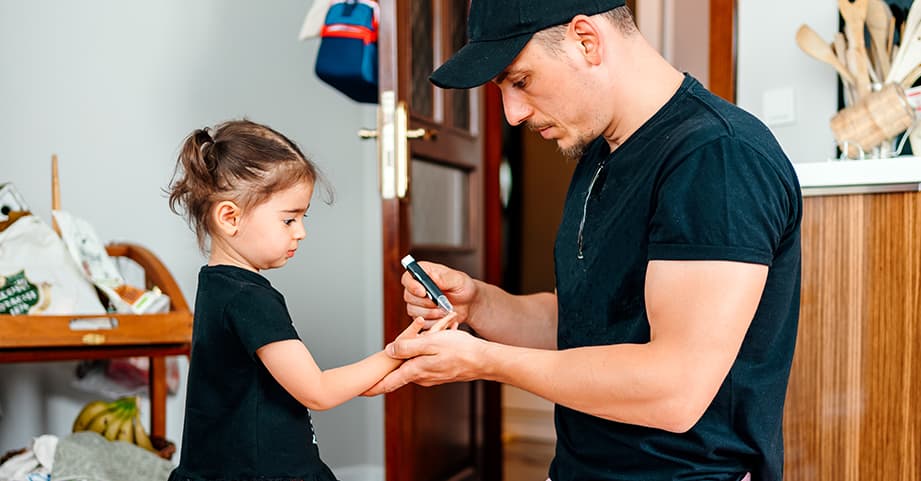 What causes hyperglycemia or high glucose levels?
A few common causes of hyperglycemia in kids with diabetes include:
Not taking enough insulin
Getting less exercise than normal
Eating or drinking too many carbs
Stress
Illnesses
Emotions such as excitement or anger
Growth and hormones
Some of these causes can be controlled or treated as needed to maintain blood sugar levels. Others, like illnesses or growth spurts, however, can be tough for parents and kids to predict and prepare for. That's why it's important to know the signs that your child's blood sugar levels are well above their target range.
Hyperglycemia often comes on slowly, but may lead to a medical emergency if left untreated. Signs that indicate your child might be experiencing hyperglycemia include:
Excess thirst
Frequent urination
Headache
Feeling tired or irritable
Blurred vision
Hunger
Dry skin
Weight loss
Upset stomach
Vomiting
You can't always tell your child's blood sugar is high just by the way they are feeling. In fact, some of the signs of high blood sugar and low blood sugar overlap. So if you have any reason to suspect your child's blood sugar is abnormal, do a blood glucose check to rule out a problem quickly.
What are the risks for kids with hyperglycemia?
"When there's not enough insulin in the body to trigger sugar to move into the cells, the body looks for another fuel source," explains Andrew Muir, MD, Medical Director of Endocrinology and Diabetes.
What it finds is fat. And when that fat breaks down, ketones or acids build up in the blood. The result is a condition called diabetic ketoacidosis (DKA), a serious condition that can lead to coma, kidney damage or even death.
The sooner hyperglycemia is treated, the better. If your child is showing any signs of high blood sugar, take these steps:
Always check your child's blood sugar first.
Check for ketones :
If your child's blood sugar level is more than 300 mg/dL.
If your child has an insulin pump and their blood sugar level is more than 250 mg/dL.
Call your doctor if your child has moderate to large ketones.
If your child does NOT have ketones and their blood sugar level is:
240 mg/dL or higher 3 times in one day—call your doctor. Your child's insulin dosage may need to be altered.
Above your child's target range—use your correction formula or sliding scale the next time your child takes rapid-acting insulin. This should help bring your child's blood sugar reading down.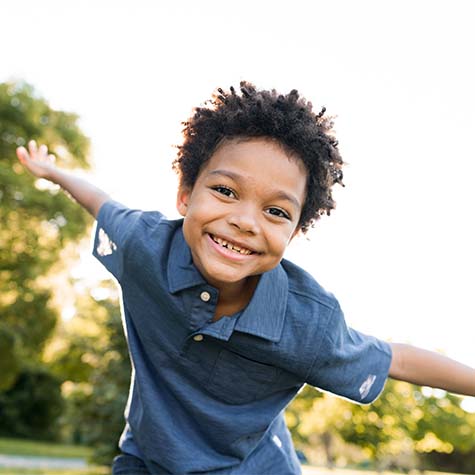 Specializing in Diabetes Care
Here to help kids and families adapt to life with diabetes
A diabetes diagnosis can be life-changing for a child and their family. At Children's, kids receive care, but also the guidance and resources they need to confidently manage diabetes and live a normal life.
Get Support
Andrew Muir, MD, is a board certified physician in pediatric endocrinology. Dr. Muir earned his medical degree at the University of Toronto Faculty of Medicine, and completed his residency at the Hospital for Sick Children in Toronto. He then completed a fellowship in pediatric endocrinology at the Washington University School of Medicine in St. Louis, Missouri, and then worked as a clinical research fellow at the University of Florida College of Medicine in Gainesville. Dr. Muir serves as the medical director of the Endocrinology and Diabetes Program at Children's, and holds an academic appointment as an endocrinology professor at the Emory University School of Medicine. His research aims to understand the causes and effects of diabetes in children, and he has published numerous articles and authored or co-authored book chapters.
This content is general information and is not specific medical advice. Always consult with a doctor or healthcare provider if you have any questions or concerns about the health of a child. In case of an urgent concern or emergency, call 911 or go to the nearest emergency department right away. Some physicians and affiliated healthcare professionals on the Children's Healthcare of Atlanta team are independent providers and are not our employees.